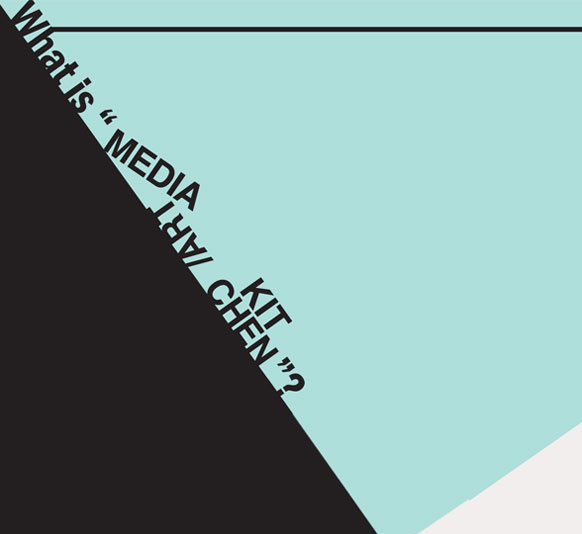 ' Media/Art Kitchen' Curator Interview (complete version)
Get more insight into Media/Art Kitchen Bangkok!
An exclusive interview with Thai and Japanese curator- Pichaya Aime Suphavanij and HATTORI Hiroyuki
The Bangkok version, underpinned by the idea that "Media Shapes Mind: Mind Shapes Choice: Choice Shapes Future", comprises an Exhibition, Single-Channel Screening and Activities. Interesting pieces of work by various artists from Thailand, Japan, Indonesia, Malaysia, the Philippines, Singapore, and Vietnam will be exhibited at Bangkok Art and Culture Center (BACC) for nearly two months.
Thai Curator – Pichaya Aime Suphavanij
1) What does the term "media art" mean from your perspective?
The idea of media art has changed quite fast and indeed drastically in the past few years. What do we do when 'new' media is not new anymore? It has been here long enough to leave reflections and effects on our lives. That is for me interesting to see how an artist perceives him or herself in association with the media, rather than perceiving only media itself. Still, my perspective towards media and art is positive, only that as we progress we need at the same time to be critical.
2) How would you explain the concept "Media Shapes Mind : Mind Shapes Choice : Choice Shapes Future" ?
This term is actually not a statement, more like a question. If we look around, we are surrounded by media. It is especially so in Thailand where we often are immersed in media. At the same time, we don't ask questions about how we are shaped and changed by media, whether it is our social structure, our way of communicating, or our behavior. The concept for Bangkok is to ask people to take a critical look at the stage that we are at as an approach to one's life in the technological era.
3) How did you select the artists for the Bangkok venue?
We have gone through various meetings and processes with the selections of artists preselected by other curators from Japan and SEA countries. It is a very dynamic and appropriate process for this kind of project. The process of selection is like any curatorial process in that it starts from an idea, then comes the artists and the artworks and/or the other way around. At the end, it becomes eclectic in the sense that we don't even try to create a uniform picture. Still, it represents the 21st century that we are in now, so it is about a network of like-minded people. All of them will find some way of connecting.
4) What are the highlights of the whole project in Bangkok?
I am biased towards sound art so I have to say we are very lucky to have Otomo Yoshihide here in Bangkok, as he is one of the pioneers in the field of experimental music. Also the performance of contact GONZO is interesting. It is the idea of human physicality that represents the opposite side of media. Also game art by Thai artist Kamol Phaosavasdi is an artwork to look forward to as he combines his social approach to the mechanical form of game playing. For sure, there is quite a lot to see, to think about, and to experience.
Japanese Curator – HATTORI Hiroyuki
1)What does the term "media art" mean from your perspective?
We started this project with the question "What is 'media art ?" When we think about "media art", we tend to imagine so-called "new media art" which is a way of expression through new technology. However, when it comes to the word "media", the meaning varies from person to person such as mass media, the internet or recording media like DVDs. According to the dictionary, "Media(plural of "mediun")" means "in-between, channel, measure". In addition, the word "art", in origin, includes the meaning of "technology". We therefore separate the word "media art", which seems like established as one genre of artistic expression, into "media/art = media and art" and read it as "things that function as intermediaries and the art of such intermediaries". Based on that explanation, we would like to think together with audience about the present and the future of the media itself and what sort of "art" can emerge from media, or by means of the media through this whole project.
2)How would you explain the concept "Media Shapes Mind : Mind Shapes Choice : Choice Shapes Future" ?
Our life is civilized through many things, and our way of thinking is formed based on that civilization. In our life, we think a lot, face decisions about things and build the future depending on those decisions. We infuse this concept with the hope that the audience can become aware of those processes practiced unconsciously under the name of daily life, every day, and "how and what we use" to survive this world by showing the activity of the artists who are consciously working with "media".
3)How did you select the artists for the Bangkok venue?
Based on above-mentioned perspective, we selected those artists who are giving a great deal of thought to our lives and society through "media". We have variety of artists who have developed unique activities such as the performance unit "contact Gonzo" who use their bodies as "media".
4)What are highlights of the whole project in Bangkok?
"Media/Art Kitchen" was held in Jakarta, Kuala Lumpur and Manila before coming to Bangkok and featured the 'concepts' of each city. The Bangkok venue, which is the last one in the project, will be the grand sum of them all. We will have the largest number of artists with a great variety of styles. For example, "quartets" produced by OTOMO Yoshihide is a sound installation in collaboration with professionals from several artistic genres, such as musicians, painters and programmers; OTOMO himself functions as the media to make it work. Over the duration of the exhibition, we will organize a "Lab Project" in a 'work-in-progress style' in collaboration with Thai and Japanese artists. This 'event' is much more than an exhibition – it's a social and cultural happening!
---
Curator Profile
ead of Exhibition Section /
Curator, Bangkok Art and Culture Centre [BACC]Graduated with a BFA in Interior Design from Bangkok University, MFA in Museum Exhibition Planning and Design and another MA in design from the University of the Arts in the US and Domus Academy Italy, respectively, prior to returning to Thailand, she has assumed the position of Head of Exhibition Department at Bangkok Art and Culture Centre since 2008.
Curator, Aomori Contemporary Art Centre [ACAC], Aomori Public University

He received his MA in Architecture from Waseda University in 2006. His recent activities including a one-year Artist-in-Residence program Re-Modernologio (ACAC / MAC, 2011-2012) re-examined our daily lives after the Great East Japan Earthquake.