130th Anniversary of Japan-Thailand Diplomatic Relations
Commemorative Symposium
People and Cultural Exchanges for Our Future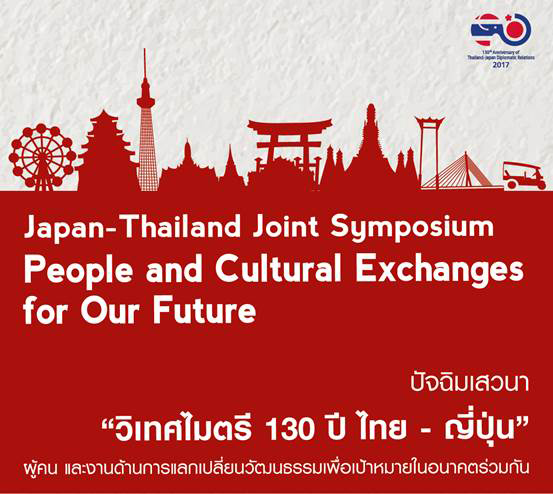 Schedule  
December 21, 2017 (Thursday), 9:00~17:30
*Registration opens at 8:30
Venue
InterContinental Bangkok, Grand Ballroom 1, 4th Floor
Organizer
The Japan Foundation, Bangkok
Embassy of Japan in Thailand
Institute of East Asian Studies, Thammasat University (IEAS)
Old Japan Students' Association, Kingdom of Thailand (OJSAT)
The session will be provided in Thai and Japanese.

– Free of Charge
In order to commemorate the 130th anniversary of Japan-Thailand diplomatic relations, the Japan Foundation, Bangkok, together with Embassy of Japan in Thailand, Institute of East Asian Studies, Thammasat University (IEAS) and Old Japan Students' Association, Kingdom of Thailand (OJSAT) will proudly organize the commemorative symposium titled People and Cultural Exchanges for Our Future.
In this symposium, as one of the "finale" events of this anniversary year, we invite experts in the field of Japan-Thailand's exchanges as honorable speakers, aiming at; (1) rediscovering the two countries' long and profound relationship in various aspects, (2) sharing the new ideas of communication for our future development, and (3) emphasizing the importance of maintaining multilevel cultural exchanges and intellectual dialogues from long-term perspective.
We hope that this symposium will provide insight into the importance of Japan-Thailand's people and cultural exchanges and will inspire the participants to be more interested in thinking about both countries' future collaboration and development.
Free admission but advanced reservation is highly recommended via phone at 02-260-6560~3 or e-mail at booking_acd@ba.jpf.go.jp . (We might close the entries in case it reaches maximum enrollment.)
Detailed information of Sessions and Speakers
For more information:
Japan Foundation Bangkok
10th Fl. Serm-Mit Tower, 159 Asoke-Montri Road, Bangkok 10110
Tel: 0 2260 8560-3 Fax: 0 2260 8565
Co-organized by: