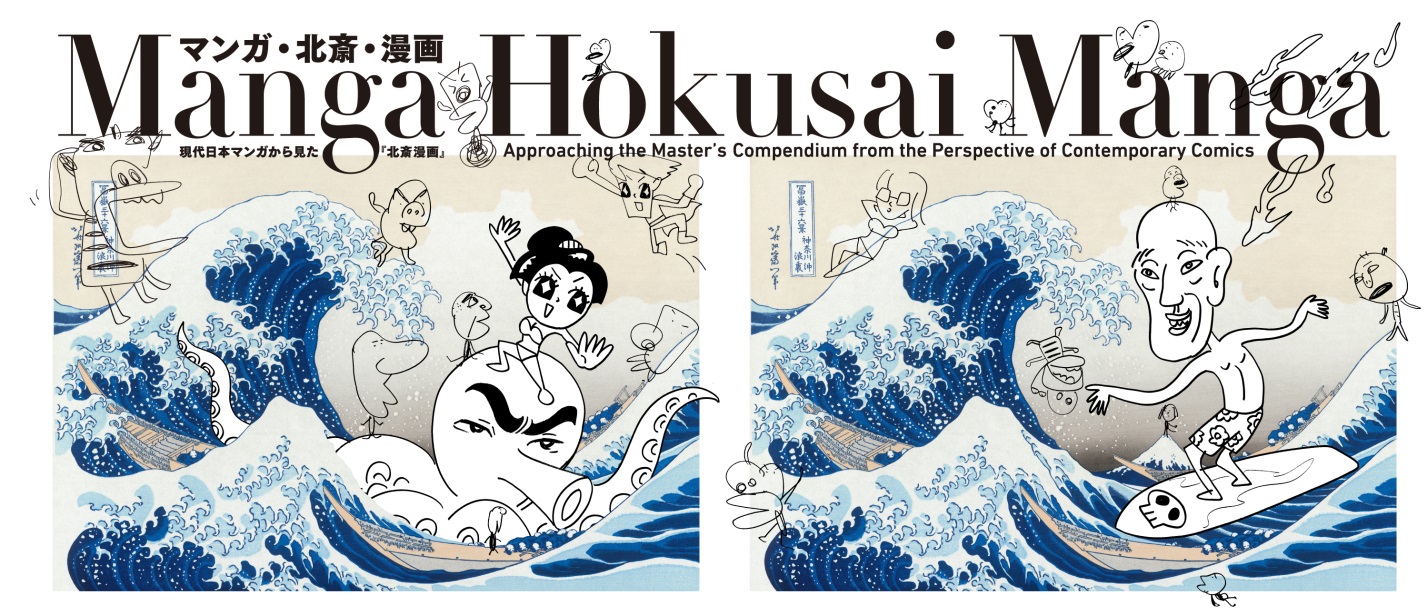 Bangkok
[Opening]
19:00 Thursday 17 August 2017
[Duration]
Thursday 17 August – Friday 22 September 2017
[Venue]
Srinakharinwirot University
[Participants]
240 people (Opening)
1500 people (whole period)
[Media coverage]
Bangkok Post, WOM Japan, Lisa, Rabbit Daily, The Cloud, Arayz, Global News Asia, A Day magazine, The Nation, Thai PBS, and Akibatan
See N:2 AC Dept1 Arts and Cultural ProjectsFY2017201708 Manga Hokusai Manga exhibitionReportBangkokClipping
Chiang Rai
[Opening]
17:00 Saturday 7 October 2017
[Duration]
Saturday 7 October – Thursday 2 November 2017
[Venue]
ArtBridge ChiangRai
[Participants]
150 people (Opening)
1552 people (whole period)
[Media coverage]
Matichon Weekly, Artbridge Chiang Rai, Exhibition Contest War
See N:2 AC Dept1 Arts and Cultural ProjectsFY2017201708 Manga Hokusai Manga exhibitionReportChiang RaiClipping
Hat Yai
[Opening]
18:00 Tuesday 14 November 2017
[Duration]
Tuesday 14 November – Tuesday 5 December 2017
[Venue]
Prince of Songkla University (Hat Yai Campus)
[Participants]
256 people (Opening)
812 people (whole period)
[Media coverage]
Samila Times, Gimyong News, Than Setthakij, Prince of Songkla University
See N:2 AC Dept1 Arts and Cultural ProjectsFY2017201708 Manga Hokusai Manga exhibitionReportHat YaiClipping
Time trip over 200 years
Hokusai and contemporary manga artists

The Japan Foundation, Bangkok, proudly presented a unique exhibition "Manga Hokusai Manga: Approaching the Master's Compendium from the Perspective of Contemporary Comics" to commemorate the 130th Anniversary of Japan – Thailand Diplomatic Relations from August to December this year in three cities; Bangkok, Chiang Rai and Hat Yai respectively.
Katsushika Hokusai (1760 – 1849) is one of the most versatile and innovative painter-illustrators gained renown not only in Japan but also in Europe and North America in the late 19th century. Broadening the scope of ukiyo-e (literary translated as "pictures of the floating world"), he depicted courtesans and stage actors, published landscapes series, illustrated entertaining narratives, and even held painting performances. His most well-known and popular work is The Great Wave or Under a Wave off Kanagawa [Kanagawa Oki Namiura], which was released as the 21st print of his series, Thirty-Six Views of Mount Fuji [Fugaku Sanju Rokkei] (1830-33).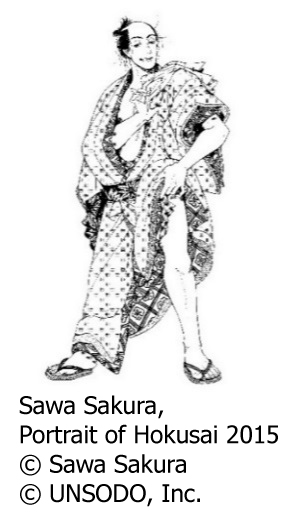 Another great achievement of Katsushika Hokusai is his collection of illustrations called Hokusai Manga, which is regarded as one of the origins of Japanese Manga or cartoons. The rich visual expressions in the Hokusai Manga have been, in spite that over 200 years have passed since its first publication, inspiring a plethora of Japanese contemporary manga artists. Even Hokusai himself is often appeared as one of the characters in many of Japanese contemporary comics.
In this exhibition, we explored not only about the original Hokusai Manga but also its connection with the contemporary Japanese manga created by seven manga artists. By introducing some of the similarities and differences between modern Japanese manga and Hokusai's manga, this exhibition approached the Hokusai Manga from the perspective of contemporary Japanese comics, focusing on genre, pictorial storytelling and participatory culture rather than the integration of word and image of the role of popular characters. And instead of aiming at a historiographical verification of influences, the exhibition invited viewers to ponder their own notions about manga by comparing works from different periods while exploring the diversity therein.
We hoped that the viewers would gain a deep knowledge on the relationship between Katsushika Hokusai and Japanese contemporary manga artists and enjoy exploring the world of manga as a subject of a serious study.
Profiles on special guest speakers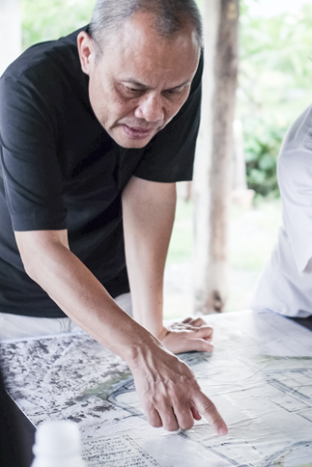 Bangkok
[Date & Time] 17:30 Thursday 17 August 2017
[Venue] Srinakharinwirot University
[Speaker]
Chaiyosh Isavorapant, Ph. D.
Assistant Professor
Faculty of Painting Sculpture and Graphic Arts, Silpakorn University
Chaiyosh Isavorapant received the scholarship from the Japanese Government Scholarship (Monbukagakusho: MEXT) during 1989 – 1996 and graduated his Bachelor's and Master's degrees in architectural history at Waseda University in 2005. Since then, he has continued his research on Japanese art and culture until today. His publication works include the first Thai book about Japanese garden, "Snow, Moon, Flower: Japanese Garden" and the book on Hokusai's biography and works, "Katsushika Hokusai." He also has been doing research on art museums and art festival in Japan and giving lectures in universities across Thailand on art, architecture and Japanese garden for over 20 years.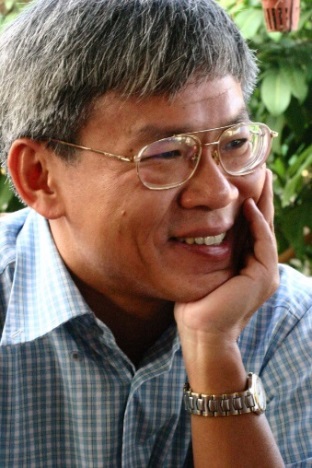 Chiang Rai
[Date & Time] 14:30 Saturday 7 October 2017
[Venue] Art Bridge Chiang Rai
[Speaker]
Prasert Palitponganpim, M.D
Psychiatrist
Prasert Palitponganpim, M.D., Psychiatrist, graduated from Sahapanich School, Premrudeesuksa School, Suankularb Wittayalai School, Faculty of Medicine of Siriraj Hospital and Somdet Chaopraya Hospital and has worked as a psychiatrist since 1989. His interest in comics began when he was at very young age starting with 'Gomin Gumarn,' 'Walt Disney Magazine' which was 2 baht then, as well as Thai magazines such as 'Dek Kao Nar', 'Kong Nar Larleung' and 'Weeratham Weekly Magazine'. At that time, he barely read Japanese comics which were very rare and costly. His interest in reading Japanese comics developed when he entered the medical school. The titles he read were various such as 'Doraemon', 'Fist of the North Star', 'Cobra' and 'Dragon Ball'. He began writing critiques on comics in 1996 as requested by the 'Life & Family' magazine's editor, Ms. Subhawadee Harnmethee. In that year, he wrote critiques on Japanese comics such as 'Detective Conan' and 'JoJo's Bizarre Adventure' which was monthly published and the column was named 'Cartoon Ga Luk Rak – Comics and Children'. A few months later, Mr. Sathien Chantimathorn from 'Matichon Weekly' contacted and requested him to write for a weekly column 'Cartoon Thiruk – Comics My Love' which has still been published until now for 22 years, equivalent to a total of 10 issues.
Bangkok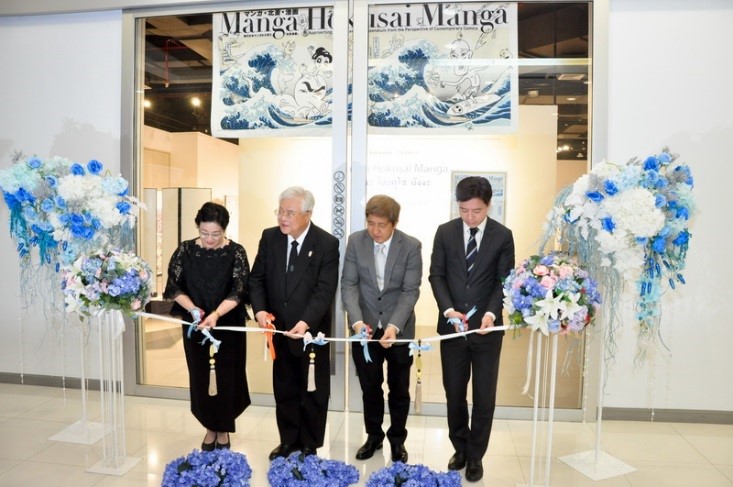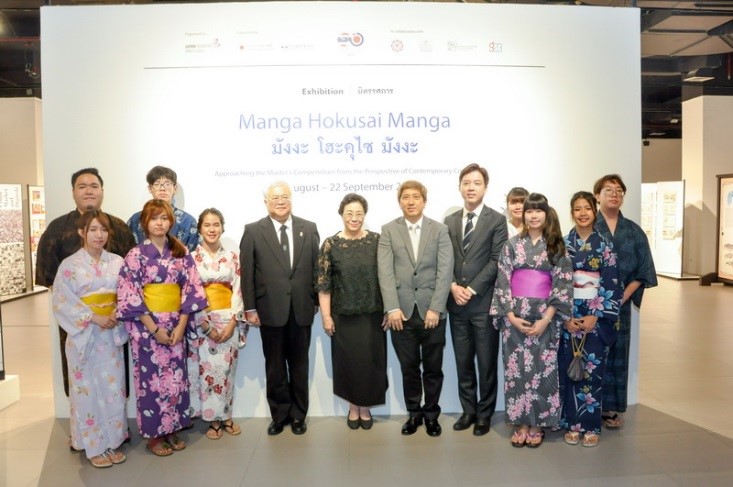 Opening and ribbon cutting ceremony of Manga Hokusai Manga exhibition at g23 Art Gallery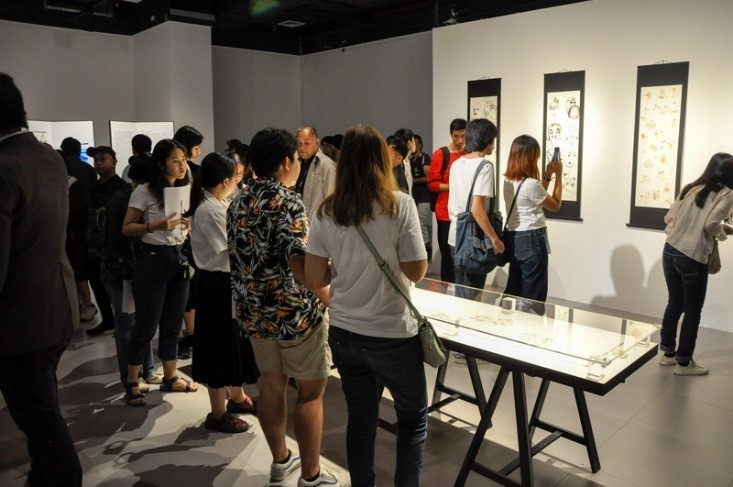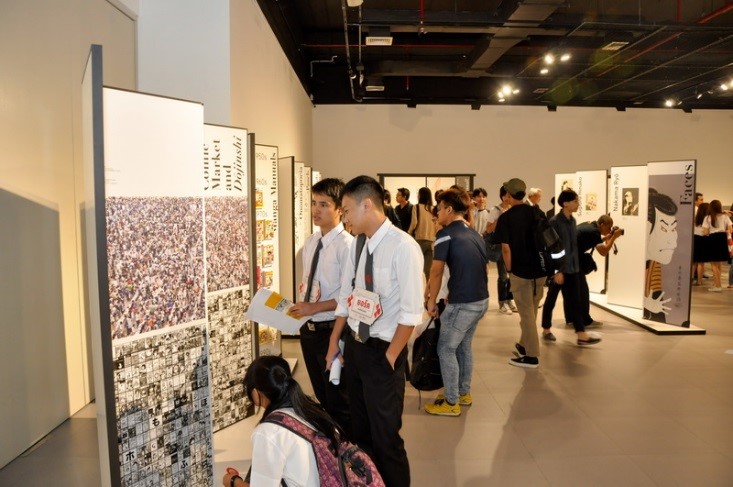 Visitors showed their interests in viewing various sections of Manga Hokusai Manga Exhibition
Chiang Rai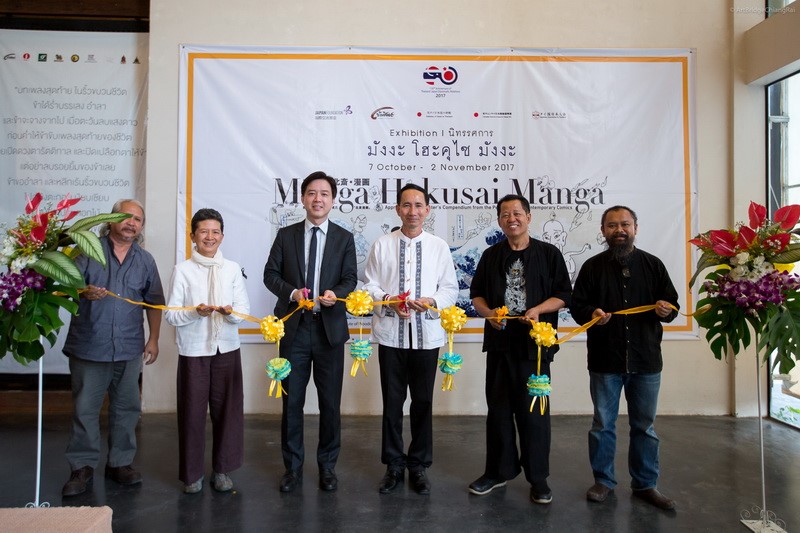 Opening ceremony of the exhibition at Artbridge Chiang Rai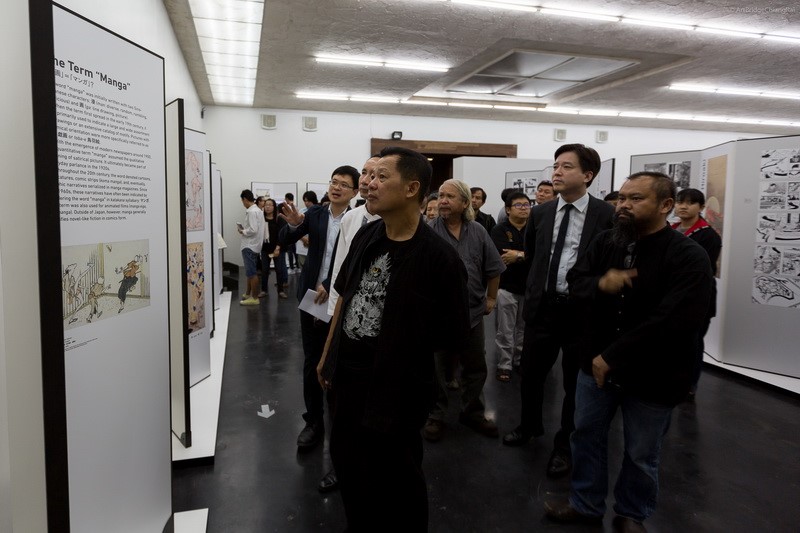 Exhibition tour for VIP guests, including Mr. Chalermchai Kositpipat, the famed artist of Chiang Rai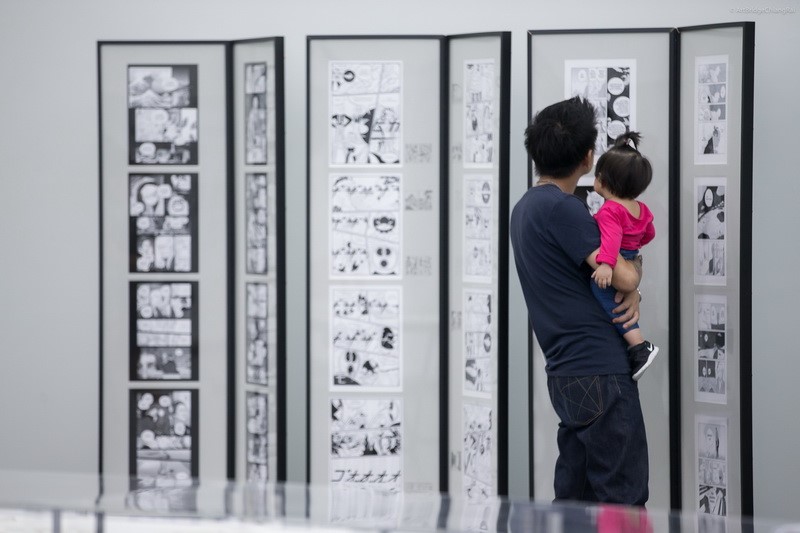 A father and his daughter watched the story of contemporary manga related to Hokusai.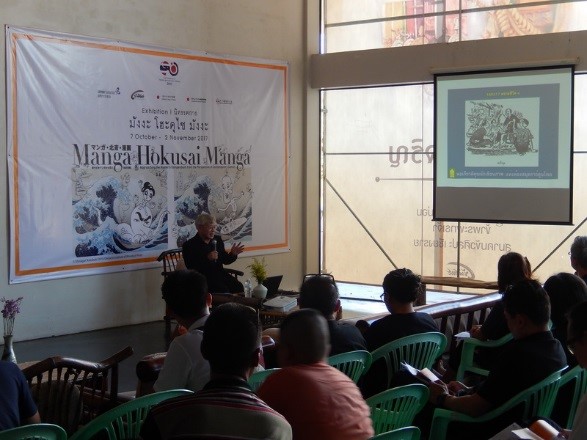 Mr. Praset Palitponganpim, the cartoon columnist and psychiatrist,
gave a talk about the connections between Japanese Manga and Thai cartoons.
Hat Yai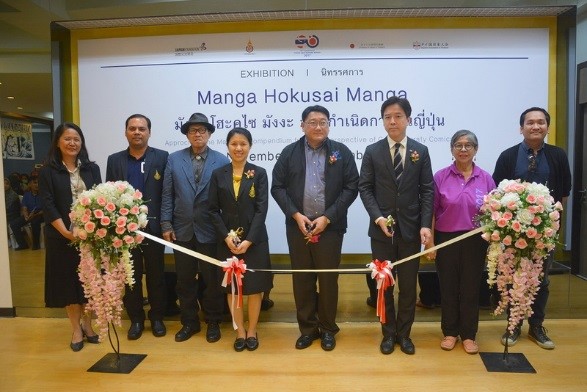 Opening ceremony of the exhibition at
PSU Art Gallery, Arts and Cultural Center, Prince of Songkla University (Hat Yai)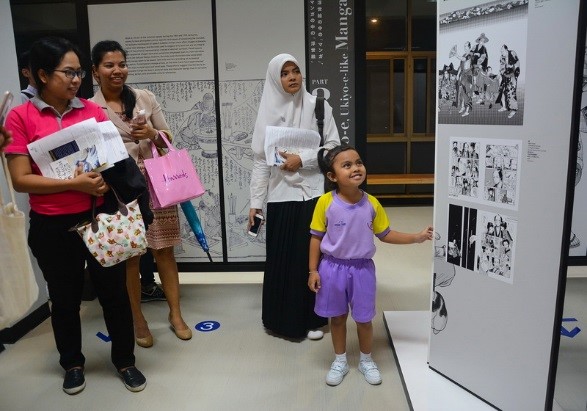 The display of exhibition captured the attention of audiences, especially children.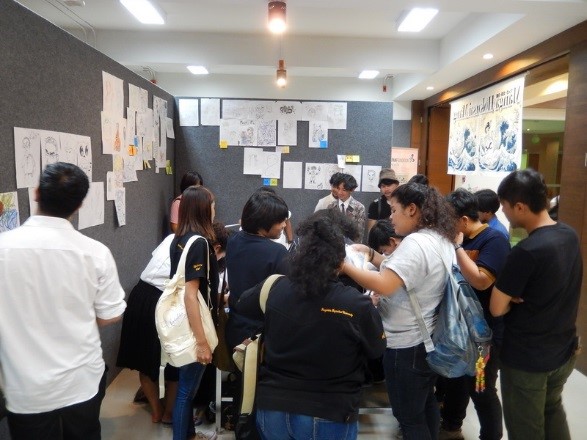 Students gathered to share their impression about Hokusai Manga.
Photos for reference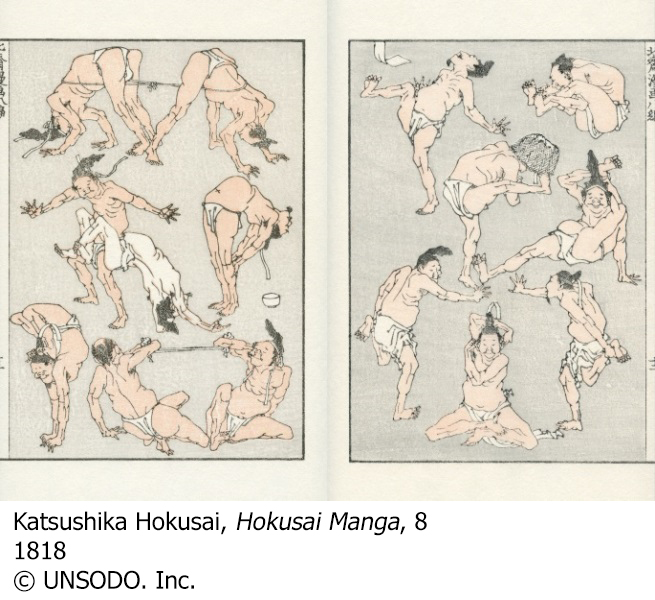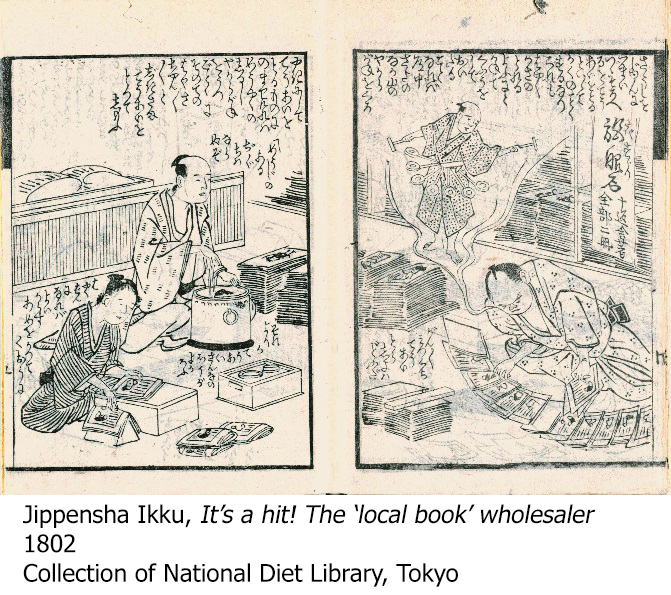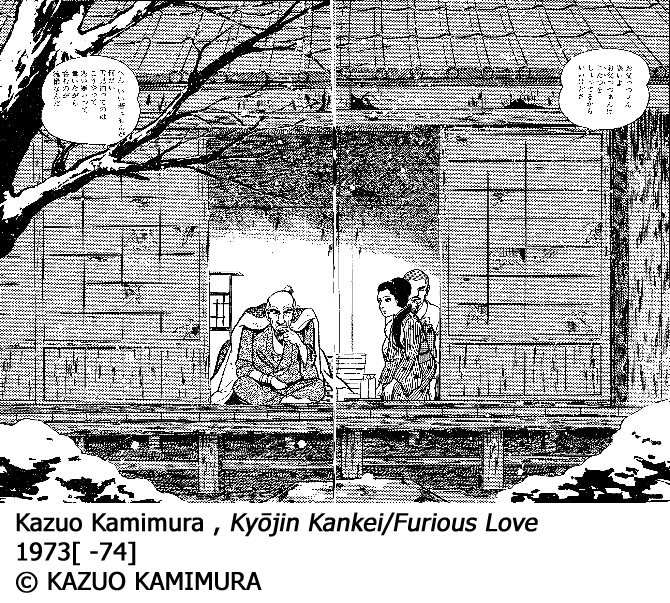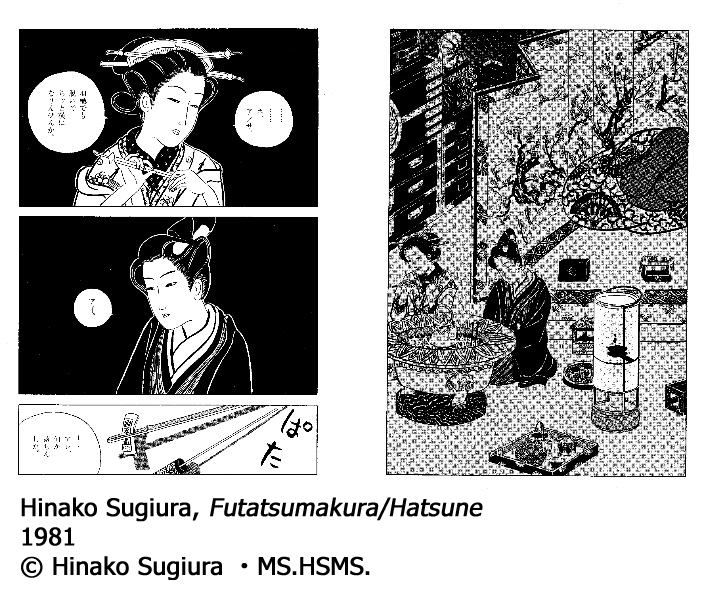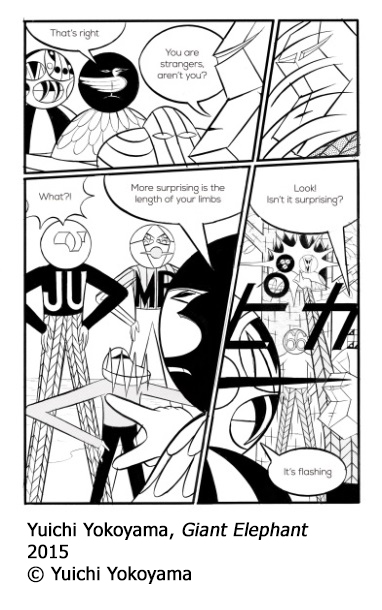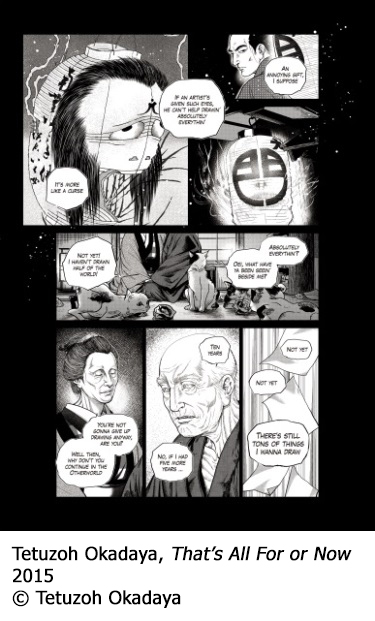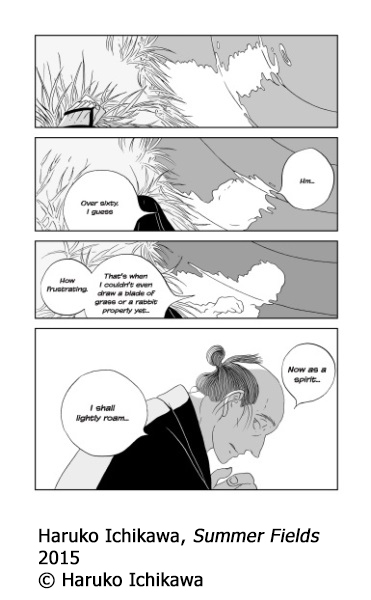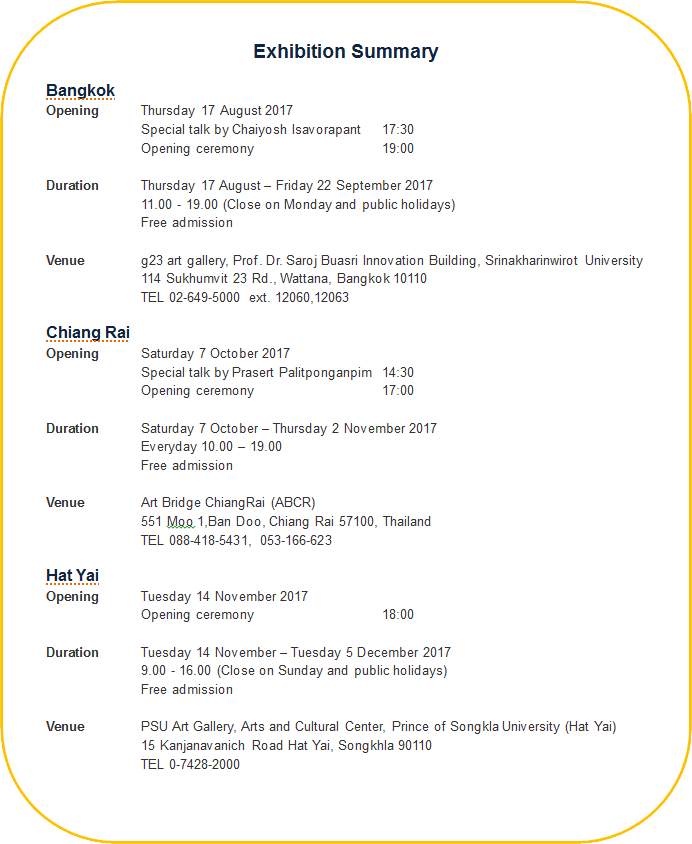 Contact
The Japan Foundation, Bangkok
10th Fl. Serm-Mit Tower,
159 Sukhumvit 21 Rd.,
Bangkok 10110, Thailand
Tel: 02-260-8560-4/
Fax 02-260-8565
Facebook: jfbangkok
Co-organized by: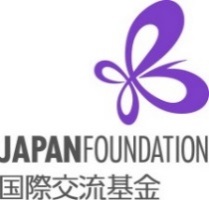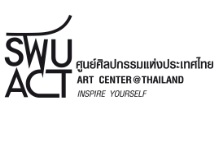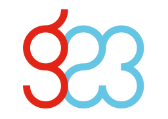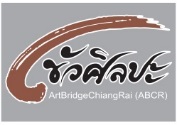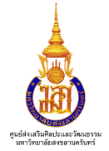 Supported by: