Online Talk sessions:
"Conversation Series at Asia Lounge"
Co-presented by The Japan Foundation Asia Center & Tokyo International Film Festival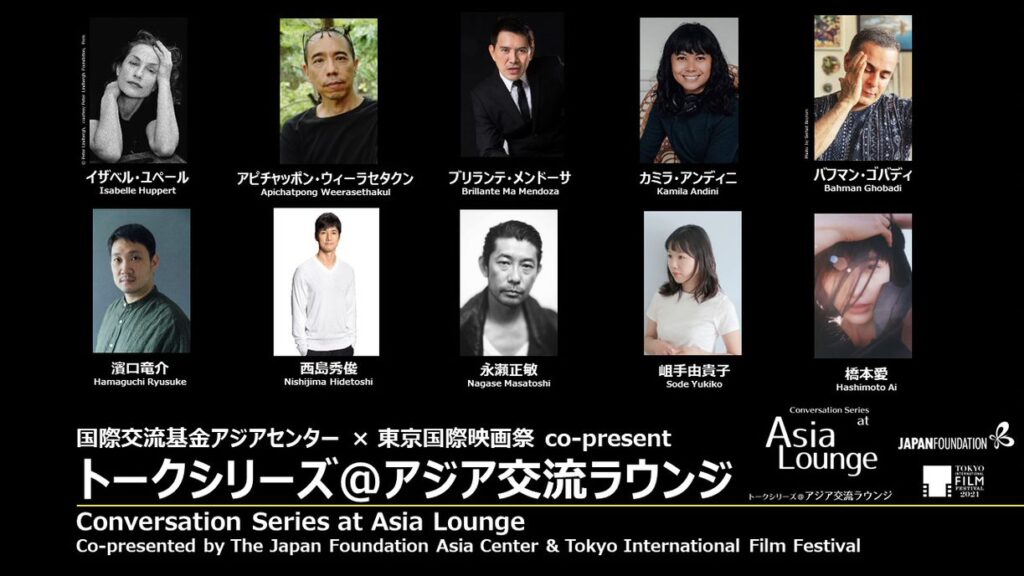 [Dates]

Sunday, October 31 to Sunday, November 7, 2021

[Language]

Interpretation into Japanese and English.

[Platform]

Zoom webinar

[Registration]
will be announced on

TIFF official webpage..
*Free of charge
*Registration for online viewing is open until the end time of each session.
The Japan Foundation will present the "Conversation Series at Asia Lounge", as part of the 34th Tokyo International Film Festival (TIFF). This year's Conversation Series, following the 2020 series, will be advised by a committee led by filmmaker KORE-EDA Hirokazu. Directors and actors from various countries and regions in Asia and beyond will gather at the Asia Lounge to engage in discussion with their Japanese counterparts. We hope the event will be as vibrant as last year's, which had over 12,000 viewers and received many questions during the live sessions.
This year's theme will be "Crossing Borders". Guests will share their thoughts and sentiments about film and filmmaking and discuss what it takes to transcend borders. The organizers will invite as many international guests as possible to Japan so that they can engage in face-to-face conversations at the Asia Lounge. The sessions will be broadcast live from the festival venue in Tokyo Midtown Hibiya every day for 8 days.
Talk session: Mr. Apichatpong Weerasethakul x Nishijima Hidetoshi
November 6, 11:10 a.m.–12:40 p.m.
Moderator: ICHIYAMA Shozo
This session will bring together one internationally-acclaimed director from Thailand, Apichatpong Weerasethakul and one well-known Japanese actor, Nishijima Hidetoshi from the movie "Drive My Car". Apichatpong released his first short film in 1994 . In the same year, Hidetoshi officially made his debut from the movie "Ghost Pub" . In 2021, the latest film of Apichatpong, "Memoria", and the movie starring Nishijima Hidetoshi, "Drive My Car", both had its world premiere at Cannes Film Festival 2021.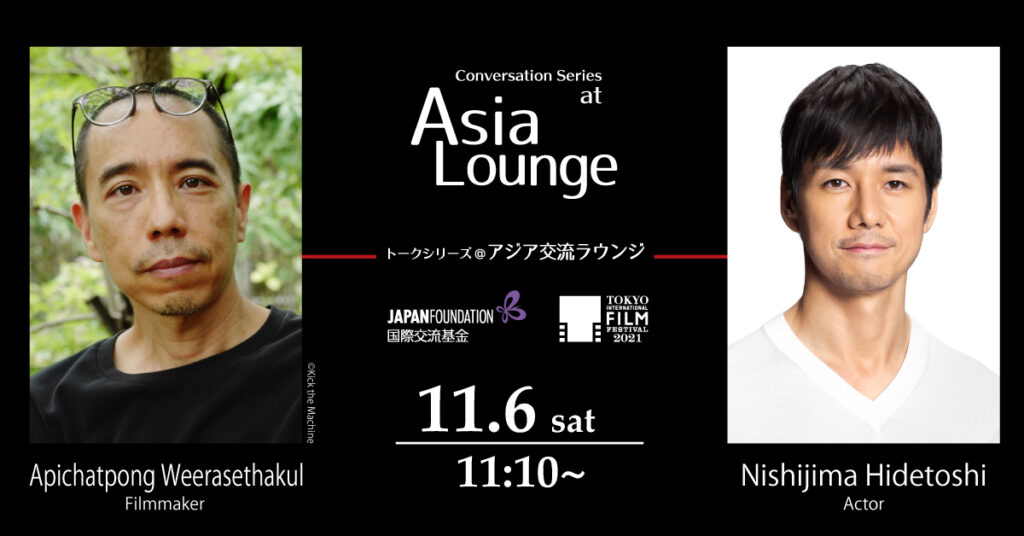 "Asia Lounge" Trailer|34th TIFF
Program:
October   31, 14:30-16:00(JST)
Isabelle HUPPERT and HAMAGUCHI Ryusuke 
November 1, 14:00-15:30(JST)
CHANG Chen and KORE-EDA Hirokazu 
November 2, 14:00-15:30(JST)
Special session "Sharing Cinema Internationally"
HARUMOTO Yujiro, XU Haochen and TAKATA Shiori 
November 3, 14:00-15:30 (JST)
Kamila ANDINI and SODE Yukiko 
November 4, 14:00-15:30(JST)
Bahman GHOBADI and HASHIMOTO Ai 
November 5, 14:00-15:30(JST)
Brillante Ma MENDOZA and NAGASE Masatoshi 
November 6, 11:10-12:40(JST)
Apichatpong WEERASETHAKUL and NISHIJIMA Hidetoshi 
November 7, 14:00-15:30(JST)
BONG Joon Ho and HOSODA Mamoru
For more information of the programs,
please follow https://bit.ly/3nwhNzQ
The Japan Foundation, Bangkok
10th Fl. Serm-Mit Tower, 159 Sukhumvit 21 Rd.,
Bangkok 10110, Thailand
Facebook: jfbangkok / Website: www.ba.jpf.go.jp
Co-organized by: