International Public Symposium
Culture and Diplomacy II:
Reviewing Role of
Public Institutes and Cultural Exchanges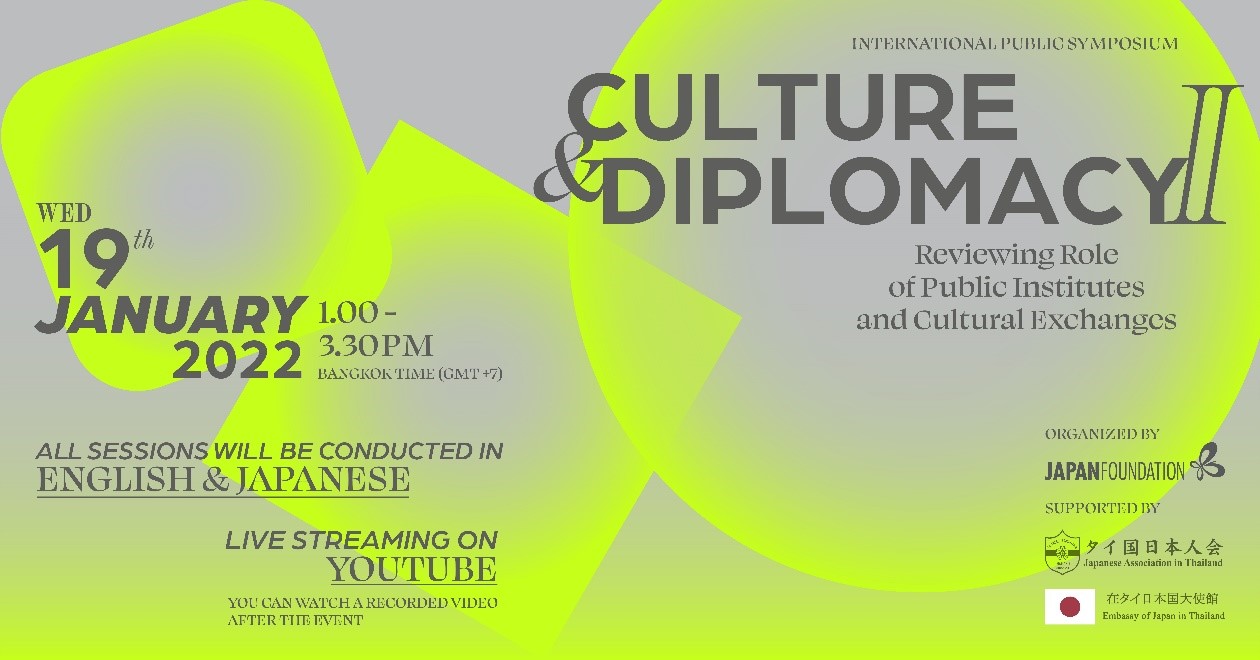 Date & Time:
19th January 2022 (Wed.) from 13:00 – 15:30 PM (Bangkok Time, GMT+7)
Venue:
YouTube Live (You can watch a recorded video after the event)
Language:
All sessions will be conducted in ENGLISH/JAPANESE (Simultaneous Interpretation)
Program:
13:00-13:05
Opening
13:05-13:50
Keynote Speech by Prof. Dr. Ogawa Tadashi
"The Japan Foundation's Approach to Asia—Half a Century History and Challenges"
13:50-14:50
Panel Discussion moderated by Dr. Rungthip Chotnapalai
"Review Role of International Cultural Exchanges"
14:50-15:25
Q and A session
15:25-15:30
Closing
Registration:
Please register via the link or QR code.

https://bit.ly/3yObZqo


The YouTube link will be sent 1 day before the event to those who register.
Rationale:
The Japan Foundation was founded in 1972 and will mark its 50th anniversary in 2022. From the time of its establishment 50 years ago until the present, the environment surrounding international cultural exchange has changed significantly. Asian countries, including Thailand, are important cultural exchange partners for Japan. However, what are the vision and policies that the Japan Foundation (JF) and the Government of Japan have been implementing in international cultural exchange towards Asia? While giving an overview of JF's history over the past 50 years, experts from various fields in Japan and Thailand will talk about the roles that international cultural exchange can play and the changes in the environment surrounding it.
Profile of Keynote Speaker: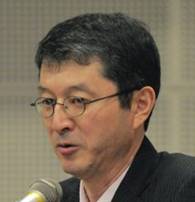 Prof. Dr. OGAWA Tadashi
Professor at the Faculty of Letters, Atomi University, Japan
Since entering the Japan Foundation in 1982, Dr. Ogawa has been engaged in international exchange for the enhancement of mutual understanding and has introduced Japan overseas for over 35 years. Prior to joining as a professor at Atomi University in 2017, he served as Director General at the Japan Foundation in New Delhi as well as in Jakarta, and Managing Director for the Planning Department at the Japan Foundation HQ. His research covers international cultural exchange policy, contemporary cultures of Southeast and South Asia, and comparative religion and sociology based on the observations on the relationship between culture, religion, and society accumulated in Indonesia and India. He has a Ph.D. from the Graduate School of Asia-Pacific Studies, Waseda University, and has written several books including "Indonesia, The transformation of Islamic power: a new crisis brought about by breakthroughs."
Profile of Panelists: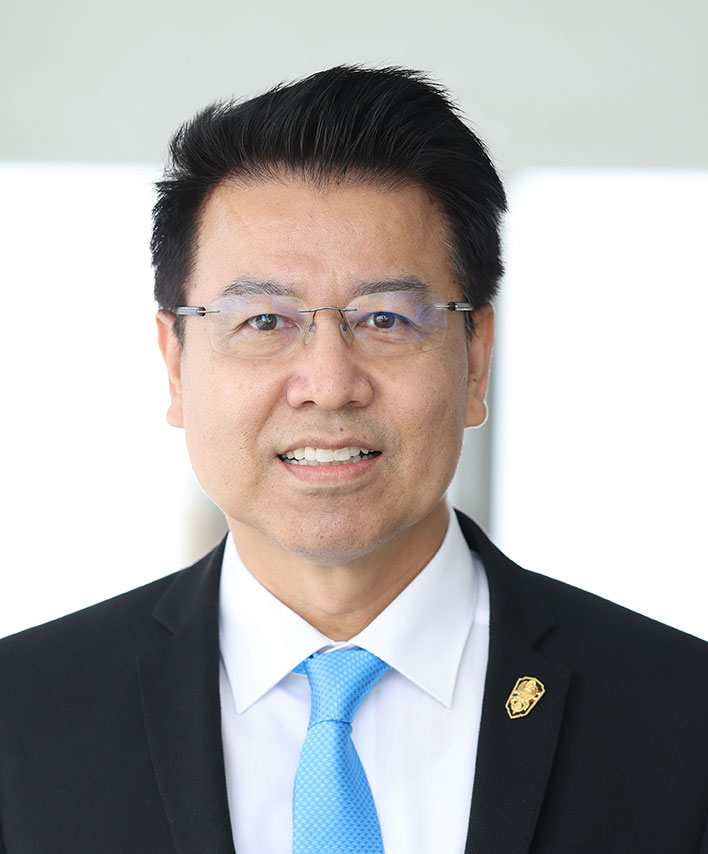 Prof. Dr. Kitti Prasirtsuk
Professor at the Faculty of Political Science, Thammasat University, Thailand
He is Professor of Political Science at Thammasat University in Thailand. He received his B.A. from Thammasat, an M.A. from Keio University, and a Ph.D. from the University of California, Berkeley. His areas of interest span from international relations in East and Southeast Asia, Japanese politics and foreign policy, and ASEAN. His work experiences include Vice Rector for International Affairs (2018-2021) and Director at the Institute of East Studies (2013-2018) at the university. He is currently an advisory committee at the International Studies Center of the Thai Ministry of Foreign Affairs, and used to serve as a strategic committee at the Thai Ministry of Defense (2014-19).
Kitti was a visiting professor at UC Berkeley, teaching "International Relations in Southeast Asia," and gave lectures at various universities, such as ANU, Munich, Peking, Waseda, Korea, and Yonsei. Apart from having published in various international journals and books, he is regularly invited to speak, including at Columbia University, Nikkei Forum, Beijing Forum, Jeju Forum, and the Korea National Diplomatic Academy (KNDA).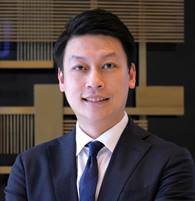 Mr. Kantatorn Wannawasu
Representative Director, Mediator Co., Ltd., Thailand
Mr. Kantatorn Wannawasu was born in 1980. After graduation from the Faculty of Engineering at Saitama University in 2004, he joined the Embassy of Thailand in Tokyo as an assistant to the Counselor Ambassador of Industry, responsible for industrial cooperation between Thai and Japanese government agencies. He also had experience as an escort interpreter for the Thai royal family during their visits to Japan. He returned to Thailand in 2009 after 10 years of studying and working in Japan and founded Mediator Co., Ltd. The firm provides services in the fields of business matching between the Thai and Japanese private sectors and consultation on investment in Thailand. In addition, he has given numerous lectures on the differences in values between Japan and Thailand and on cross-cultural understanding for Japanese companies in Thailand and those considering expanding into Thailand.
Profile of Moderator: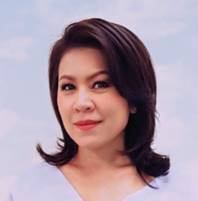 Dr. Rungthip Chotnapalai
After graduation from the Faculty of Arts at Chulalongkorn University, Dr. Rungthip Chotnapalai obtained a master's degree and a Ph.D. in Sociology and Media Theory at Osaka University as a scholarship student of the Government of Japan (MEXT). With over 25 years of experience as a news anchor for 3 major news agencies like ITV, Thai PBS, and Thai TV Channel 3, she received many awards, including an honorary award for Best Narrator (Team) at the Golden Television Awards in 2009 and Best Analytical News Program in 2013. She is now serving as an academic consultant in communication arts for Chulalongkorn University and Dhurakitbandit University.
For any inquiry: acdept@ba.jpf.go.jp
Organized by The Japan Foundation, Bangkok
The Japan Foundation, Bangkok
10th Floor, Serm-mit Tower, 159 Sukhumvit 21 Rd., Wattana, Bangkok 10110
Tel: 02-260-8560/3
Facebook: www.facebook.com/jfbangkok/
Website: https://ba.jpf.go.jp