Solidarity in Social Distancing: Cultural Exchanges in the New Normal Life
Deep South – Deep South Movie Matchmaking:
Cerebration of Okinawa and Thai Deep South Filmmakers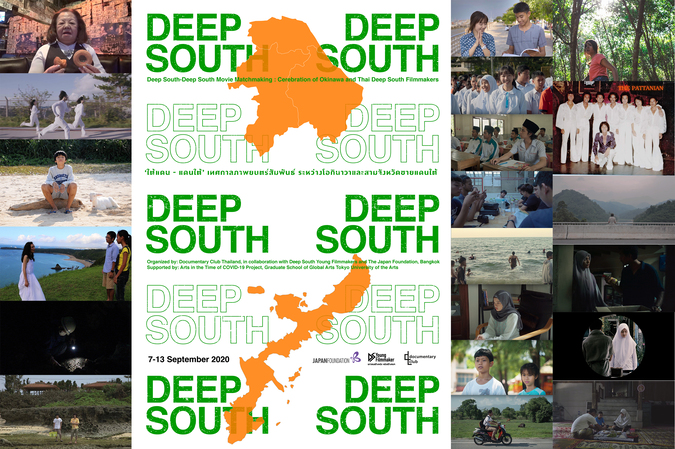 Event summary
[Date]
September 7 to 13, 2020
[Venue]
Online
The movies were able to watch with the specific URL upon registration.
The talk events were live-streamed at the Facebook page of

Documentary Club

and shared to the

the Japan Foundation, Bangkok

.
[Ticket]
Free admission
[Language]
Thai / English / Japanese
Thai films are with subtitles in English and Japanese while Japanese films are with subtitles in Thai and English.
[Participants]
Overall registration: 1,007 persons (registered online)
Opening lecture: approximately 90 persons (observed during FB Live)
Program 1-7 : 2,455 persons ( recorded via vimeo)
Director Talks: approximately 70 persons (observed during FB Live)
The Japan Foundation, Bangkok invited the project proposals to raise up new ideas and approaches on how to implement and/or experiment cultural exchange projects during COVID-19 pandemic. We initiated the new program called "Solidarity in Social Distancing: Cultural Exchanges in the New Normal Life" in May 2020.
"Deep South – Deep South Movie Matchmaking: Cerebration of Okinawa and Thai Deep South Filmmakers" project was proposed by Documentary Club, a Bangkok-based organization whose mission was to promote documentary films in Thailand, in collaboration with Deep South Young Filmmaker project, a film workshop set up to encourage and train youths in the southernmost provinces of Thailand to express their thoughts and imaginations through short movies, as well as Art in the time of COVID-19 project by Graduate School of Global Arts, Tokyo University of the Arts.
Thailand's Deep South stretches from the border with Malaysia up through the provinces of Pattani, Yala and Narathiwat. More than 80% of the population in this area are Muslims while 94% of the national population are Buddhists in Thailand. This area was ruled by a Malay dynasty, Pattani Kingdom from 14th to 19th century. These factors made this area unique where the strong influence by Malay culture can be observed. Against this historical and cultural background, a series of violent resistance attempts by the extremists were being made to claim the independence. Therefore, the Ministry of Foreign Affairs of Japan issued the level 3 security alert and restricts the travel to this area.
Okinawa is one of the 47 provinces of Japan and consists 160 islands. It is located in the southernmost and easternmost area in Japanese territory. Okinawa was occupied by the United States for 27 years after the end of World War II until it was returned to Japan in 1972. Okinawa comprises only 0.6% of Japan's total land area, but the about 70% of US force facilities are concentrated to this prefecture. The presence of US base in Okinawa is controversial. Further back in history, this region existed as an independent kingdom called the Ryukyu Kingdom over 450 years from 1929 to 1879 and developed its unique culture under the influence of Japanese and Chinese cultures. Due to such historical background, there are large differences from the four major islands of Japan in terms of culture, customs and dialects as well as industries, population composition and income disparity."Deep South" is the common key word to connect Thailand's Deep South and Okinawa. Through this Deep South – Deep South Movie Matchmaking project, we introduced the movies dealing with the two regions and promoted the cultural exchange among the filmmakers online. The two "Deep South" regions were interconnected through maritime trade when both of them were independent. This online film festival provided the platform to reconsider the similarities and differences in the two regions and successfully explored the new connections.
Program
Program 1
Endless Past  KAWADA Jun (72 mins/2016)
Program 2
Making a Perfect Donut Kyun-Chome (95 mins/2018)
Program 3
The Catcher on the Shore*  NAKAMURA Ryugo (84 mins/2010)
*this film has no Thai subtitles. English subtitles are available.
Girl of the Sea  NAKAMURA Ryugo (93 mins/2016)
Program 4
Boundaries  FUKUCHI Riko (20 mins/2019)
Clear  FUKUCHI Riko (44 mins/2015)
Program 5
I'm Not Your F***ing Stereotype Hesome Chemamah (29 mins/2019)
Neverland Samak Kosem, Narasit Kaesaprasit, Anuwat Apimukmongkon (13 mins/2017)
The Journey of Isolation Bhandavis Depchand (25 mins/2018)
So-Khin Chaweng Chaiyawan (18 mins/2018)
Ar-Por Paisit Wangrangseesthit (21 mins/2017)
Program 6
The Life Young Yim Team(17 mins/2019)
Youth TL Production Team(17 mins/2019)
Learning With You Nayu Rama Team(20 mins/2019)
Haleem and Fern Happy Sad Sunday Team(12 mins/2019)
Melagu Beawalk Film Team(12 mins/2019)
Program 7
Ka-Pho Smart End Game Team(13 mins/2019)
The Ghost's View Dek Film Team(17 mins/2019)
Dek Ponok Hi Sun Flower Team(16 mins/2019)
End Game Wesion Team(12 mins/2019)
When the Fish Sauce Was Illegal  Tum-naung-set-laew-lung-yang-yoo-mai Team(14 mins/2019)
Introduction of the main films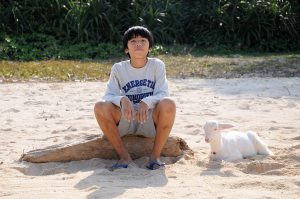 Born in 1996 in Okinawa, NAKAMURA Ryugo made his debut as the youngest director in Japan with "The Catcher on the Shore" when he was 13 years old. He has been producing the films since he was an elementary student and published more than 30 short and long films. We will screen "The Catcher on the Shore" and "Girl of the Sea".
"Making a Perfect Donut" is a video work focused on US military base issue in Okinawa by Kyun-Chome, a contemporary art unit. This project started with their question; "If an American donut with a hole in the center and a rounded shape Okinawan donut are combined, it would be a perfect hole-less donut". It is a documentary film.
Fifteen (15) Thai films composed of five (5) films from Documentary Club and ten (10) films from Deep South Young Filmmakers Project. This project was initiated by Pimpaka Towira known as a pioneer of female film director in Thailand. It aims to encourage and train youths in the Deep South provinces to express their thoughts, ideas and imaginations through short films.
"Journey of Isolation" by Bhandavis Depchand is a documentary film about the suspect of 2017 Pattani Bombing at Big C supermarket. Pauji Tasamoh was suspected for planting a bomb. He was later shot dead by military personnel during the crime scene investigation. A young journalist interviews the suspect's family to discover the fact.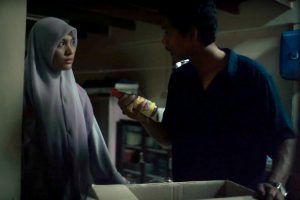 "When the Fish Sauce Was Illegal" by Tum-naung-set-laew-lung-yang-yoo-mai Team picked up a story around Budu, popular fish sauce for Southern cuisine. One day, a mysterious man called a Budu shop run by a brother and a sister with financial problem to put a large amount of order. They decided to deliver Budu to this person, but something unexpected were waiting for them.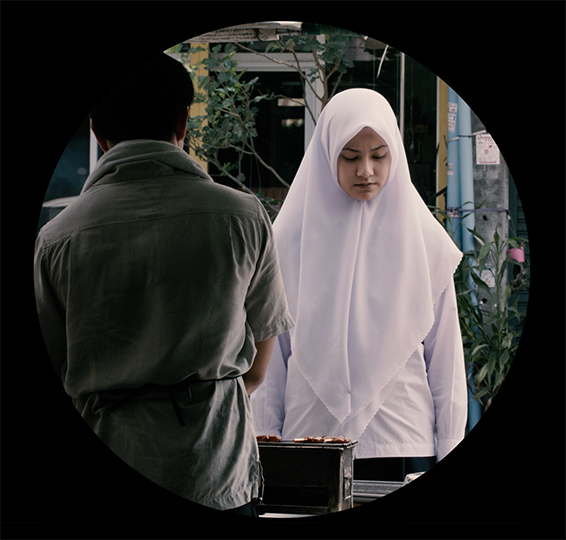 "I'm Not Your F***ing Stereotype" is a personal self-therapy of Hesome Chemamah based on his own experience of being a subject of Islamophobia. A Muslim girl Maryam who moved from Deep South to Bangkok suffers the prejudice and harassment against Muslims.  Deep South is often associated with extremists, terrorists and bombing incidents, but you can enjoy the beautiful sceneries of this area in the films. You should be moved by the friendship, love, respect and nostalgia presented in the films, which are universal regardless to the ethnic group and/or religion.
Talk Event *Consecutive interpretation in Thai and Japanese were available.
1. Opening Lecture "Towards New Deep South: Turning Adversities into Creative Exchange"
Monday, September 7, 2020 19:00-22:10 (3 hours 10 minutes)
Link: https://youtu.be/2jMnqhDM7bA
This opening event helped the audiences to understand how the concept of "Deep South" connected Okinawa and Thailand's Deep South and deepen the understanding of the program. We invited two experts and let them discuss about the history, culture and current situation in these areas.
Lecturer:
Prof/ Thanes Arpornsuwan (Professor, Thammasat University)
Prof. WAKABAYASHI Chiyo (Professor, University of Okinawa)
Moderator:
Mr. Wiwat Lertwiwatwongsa (Organizer of this project / Documentary Club)
Ms. IHARADA Haruka (Curator of this project / Research associate, Tokyo University of Arts)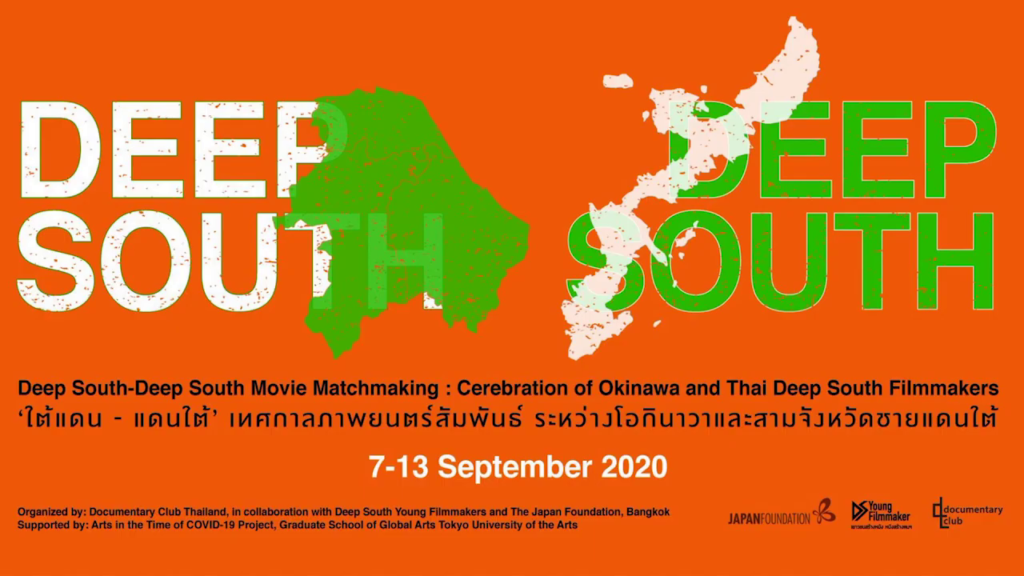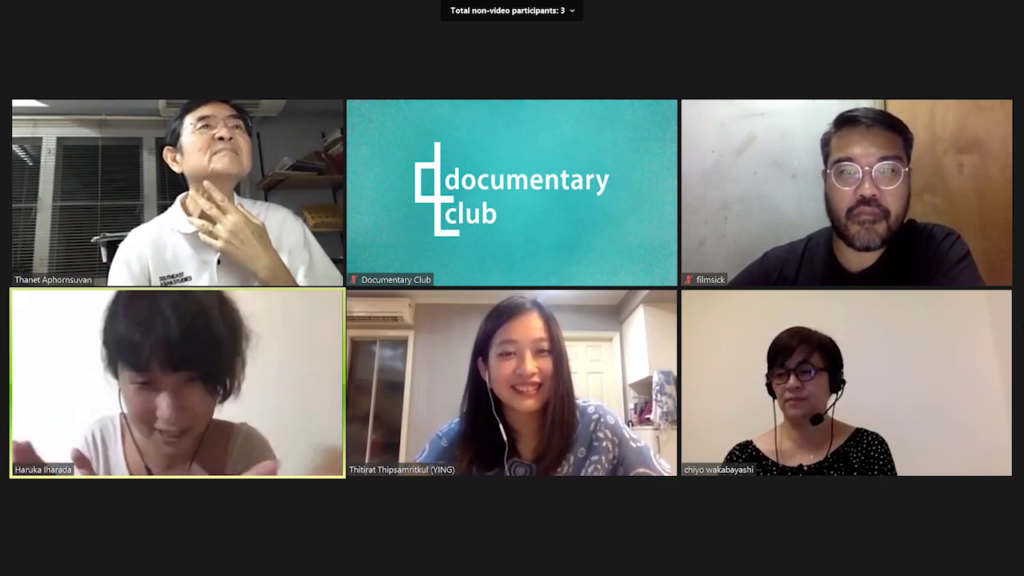 2. Director's Talk Session
Sunday, September 13, 2020 19:00-22:04 (3 hours 4 minutes)
Link: https://youtu.be/Yph6iiqReCo
The film directors from Thailand and Japan talked about their films and their perception towards "Deep South" exchanging ideas and opinion through the discussion after watching festival films.
Speaker:
(Thailand)
Ms. Pimpaka Towira (Deep South Young Filmmakers Project / Film director)
Mr. Paisit Wangranseesathit (Director of "Ar-Por")
Ms. Ameena Alae (Director of "End Game")
Mr. Muhamasubay Deng (Director of "The Life")
Mr. Wiwat Lertwiwatwongsa (Organizer of this project / Documentary Club)
Speaker:
(Japan)
Mr. KAWADA Jun (Film director)
Kyun-Chome (Artist)
Mr. NAKAMURA Ryugo (Film director)
Ms. FUKUCHI Riko (Film director)
Ms. IHARADA Haruka (Curator of this project / Research associate, Tokyo University of Arts)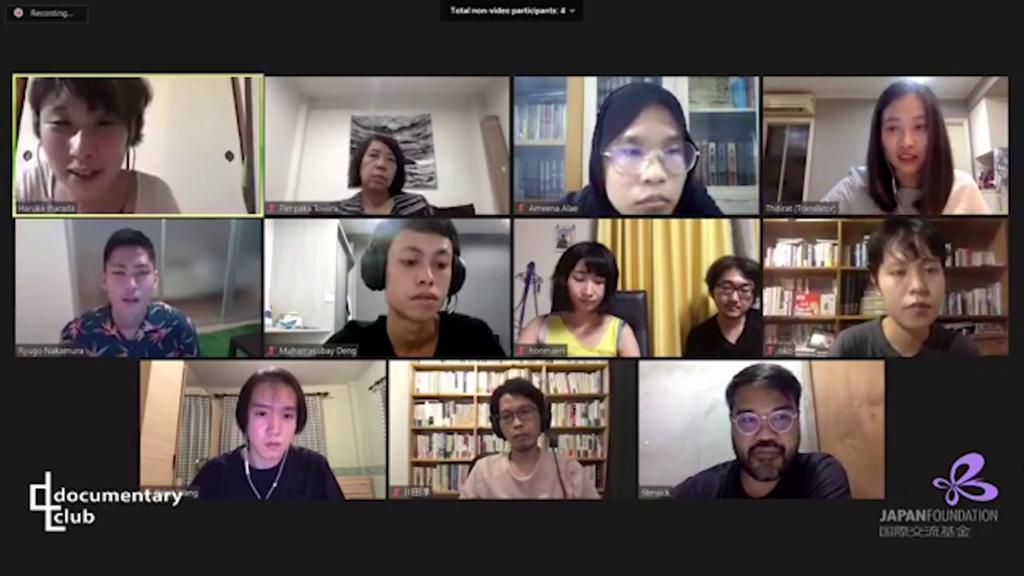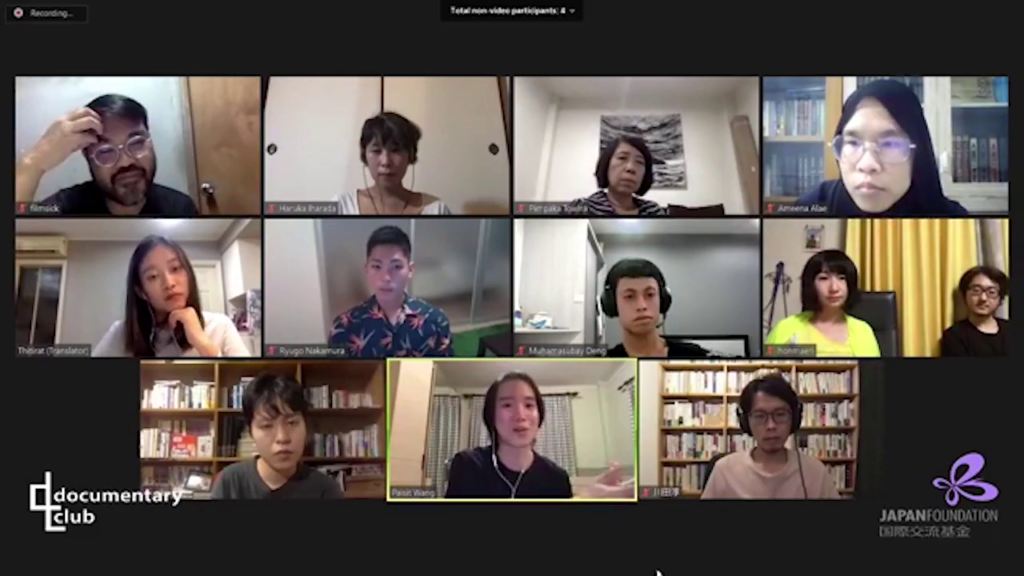 Organized by:
The Japan Foundation, Bangkok
Documentary Club in collaboration with Deep South Young Filmmakers Project
Supported by:
Art in the time of COVID-19 project, Graduate School of Global Arts, Tokyo University of the Arts