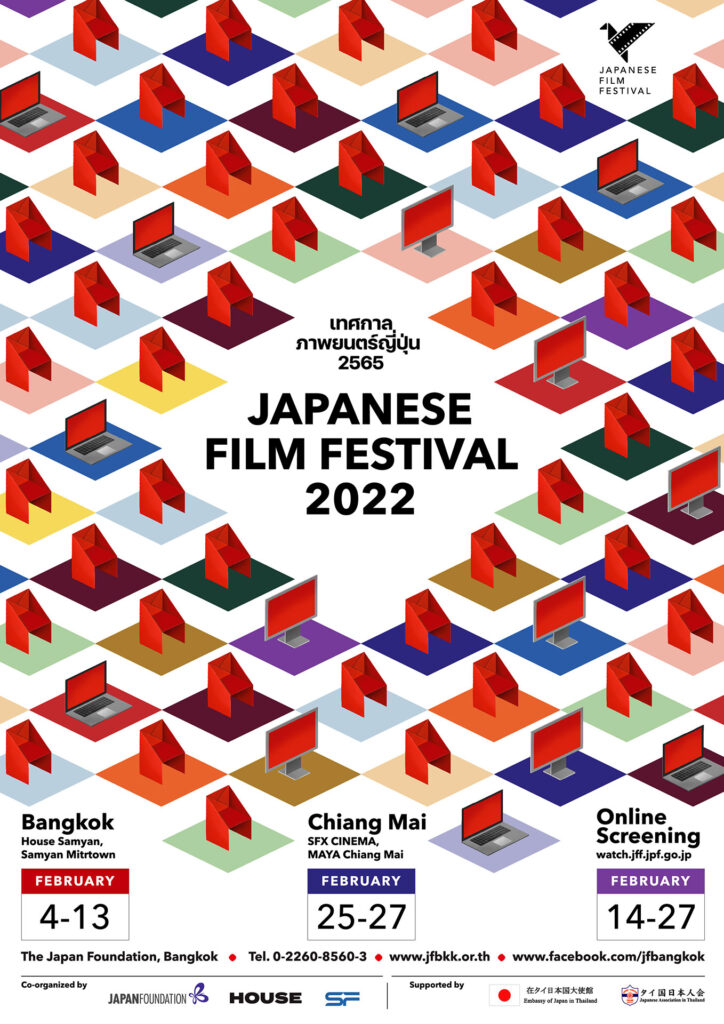 Japanese Film Festival 2022
■ Bangkok ■
[Duration]
Fri 4 – Sun 13 February 2022
[Number of visitors]
Opening 109 people
Whole period 2,449 people
[Venue]
House Samyan 5th fl Samyan Mitrtown
[Media coverage]
N:\6 Asia Center\01 Arts and Culture\01 HQ Project\FY2021\JFF\JFF Onsite @House Samyan+\Report\House Samyan
■ Chiang Mai ■
Feb 25 (Fri) – 27 (Sun)
SFX CINEMA
5th fl. MAYA Lifestyle Shopping Center, Chiang Mai
■ Online Screening■
Feb 14 (Mon) – 27 (Sun)
https://watch.jff.jpf.go.jp/
The Japan Foundation, Bangkok; House Samyan; and SF Corporation Public Company Limited proudly co-organized the onsite "Japanese Film Festival 2022 (JFF 2022)" in Bangkok and Chiang Mai. Supported by the Embassy of Japan in Thailand and the Japanese Association in Thailand, the onsite JFF 2022 this year featured twelve films spanning a wide range of genres, including nine films for Bangkok and seven films for Chiang Mai (four films overlapping with those in Bangkok). JFF 2022 in Bangkok took place at House Samyan from February 4th to 13th, 2022, while SFX CINEMA MAYA screened the films for JFF 2022 in Chiang Mai from February 25th to 27th. Concurrently, the Japanese Film Festival Online 2022 were launching for free from February 14th to 27th (three films overlapping with those in Bangkok), offering variety of films for our cinephiles, Japanophiles, and film enthusiasts to relish in these highly anticipated events.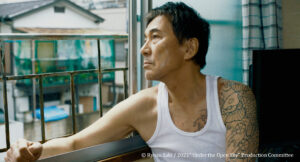 The highlight film was "Under the Open Sky," adapted from the novel "Mibuncho" by Saki Ryuzo, a Naoki Prize-winning author. This film tells the story about former yakuza Mikami (starring Yakusho Koji) who is released from prison after serving a 13-year sentence and struggles to reintegrate into society. Mikami applies to a TV show in the hopes of finding his mother, from whom he was separated as a child. Thus, he meets the young director of a television show, Tsunoda (Nakano Taiga).
The film won the Silver Hugo for Best Performance in an International Feature Film Competition (YAKUSHO Koji) and Best International Feature Audience Choice Award at the 2020 Chicago International Film Festival and received Official Selection at the 2020 Toronto International Film Festival.
We were delighted to present another two outstanding films in our lineup: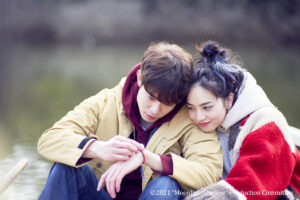 "Moonlight Shadow" follows the story of Satsuki (starring KOMATSU Nana), who lost her boyfriend in a car accident and has been unable to cope with the loss. She meets Hiiragi, her boyfriend's brother, who also lost his girlfriend in the car accident. Then, a mysterious woman named Urara leads her to witness the "Moonlight Shadow Phenomenon." Directed by Edmund Yeo, a Malaysian director, the film will be premiered in our festival before its commercial release.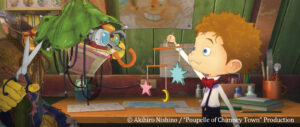 "Poupelle of Chimney Town" is thestory of young Lubicchi, who yearns to see the starsbeyond the thick smoke of his isolated town. One Halloween night, he meets Poupelle, a man made of garbage, and their adventure begins. This film is produced by Studio 4°C, a renowned, awarding-winning Japanese animation studio.
The screening times in Bangkok were mentioned below, while the schedule in Chiang Mai and the lineup for the Japanese Film Festival Online 2022 was announced later.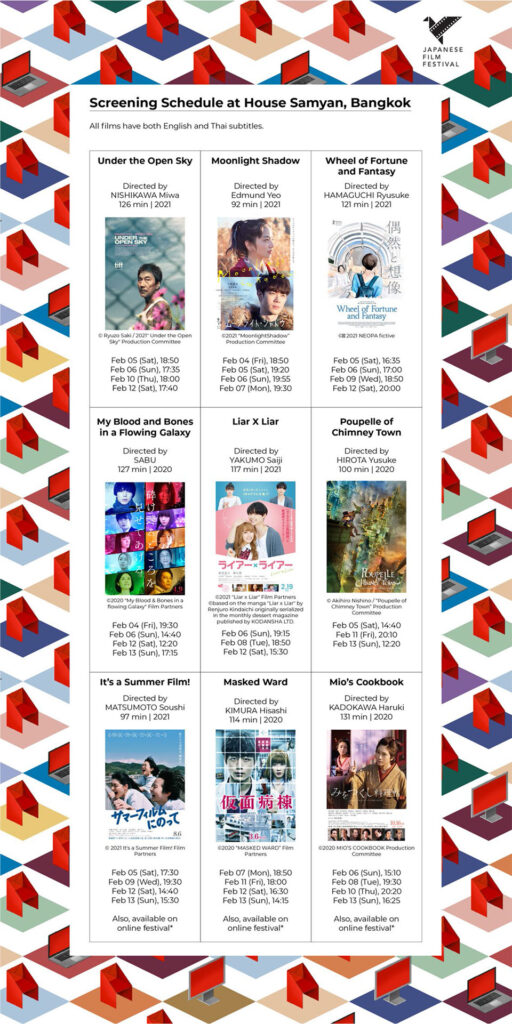 *Online festival will be held from February 14th – 27th, 2022, and all films are free of charge.
*Note: This event will be held under precautionary measures in accordance with the guidelines of the Department of Disease Control to ensure the safety of all participants.
For film synopses and more updates, please visit the following links:
Contact Information
The Japan Foundation, Bangkok
10th Fl. Serm-mit Tower, 159 Sukhumvit 21,
Bangkok 10110
Tel: +66-2-260-8560~3
FAX:+66-2-260-8565
Email: acdept@ba.jpf.go.jp
Co-organized by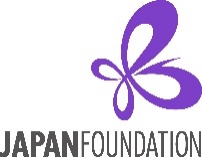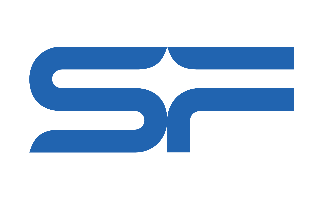 Supported by


Opening Ceremony of the Japanese Film Festival 2022