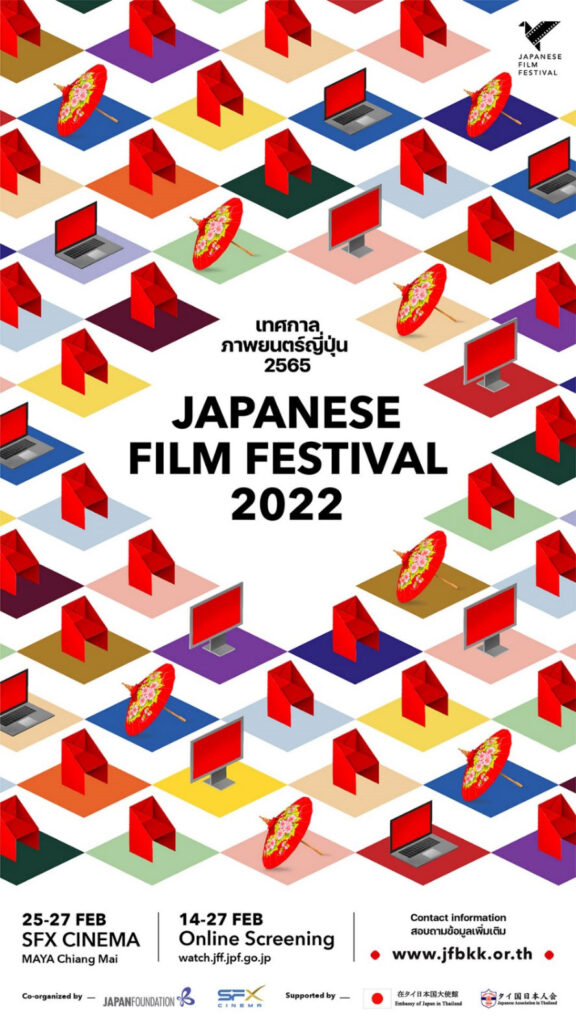 Japanese Film Festival 2022
■ Chiang Mai ■
| | |
| --- | --- |
| [Duration] | Feb 25 (Fri) – 27 (Sun) |
| [Venue] | SFX CINEMA, 5th fl. MAYA Lifestyle Shopping Center |
| [Number of visitors] | 348 people |
| [Media coverage] | N:\6 Asia Center\01 Arts and Culture\01 HQ Project\FY2021\JFF\JFF Onsite @House Samyan +\Report\SF MAYA |
The Japan Foundation, Bangkok and SF Corporation Public Company Limited proudly co-organized the onsite "Japanese Film Festival 2022 (JFF2022)." Supported by the Embassy of Japan in Thailand and the Japanese Association in Thailand, JFF2022 in Chiang Mai this year earnestly brought together seven enchanting films for our cinephiles, Japanophiles, and film enthusiasts. JFF2022 in Chiang Mai at SFX CINEMA Chiang Mai was held from February 25th to 27th, 2022 in concurrence with the online JFF2022 available from February 14th to 27th.
It was very chance to watch four new films plus the three popular films screened at JFF – House Edition 2020 in Bangkok. The screening schedule in Chiang Mai was available below.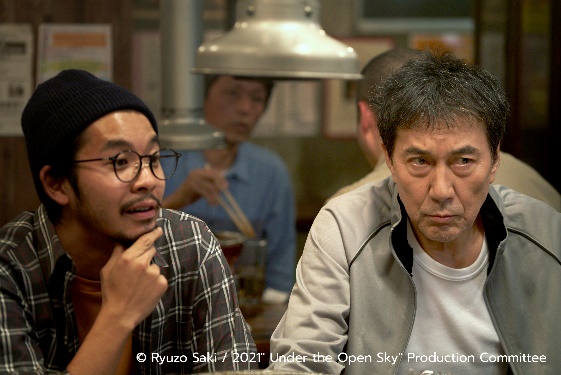 The highlight film is "Under the Open Sky," adapted from the novel "Mibuncho" by Saki Ryuzo, a Naoki Prize-winning author. This film tells the story about former yakuza Mikami (Koji Yakusho) who is released from prison after serving a 13-year sentence and struggles to reintegrate into society. Mikami applies to a TV show in the hopes of finding his mother, from whom he was separated as a child. Thus, he meets the young director of a television show, Tsunoda (Taiga Nakano).
The film won the Silver Hugo for Best Performance in an International Feature FilmCompetition (Koji Yakusho) and Best International Feature Audience Choice Award at the 2020 Chicago International Film Festival and received Official Selection at the 2020 Toronto International Film Festival.
We are thrilled to present another two famous films from JFF – House Edition 2020 as below: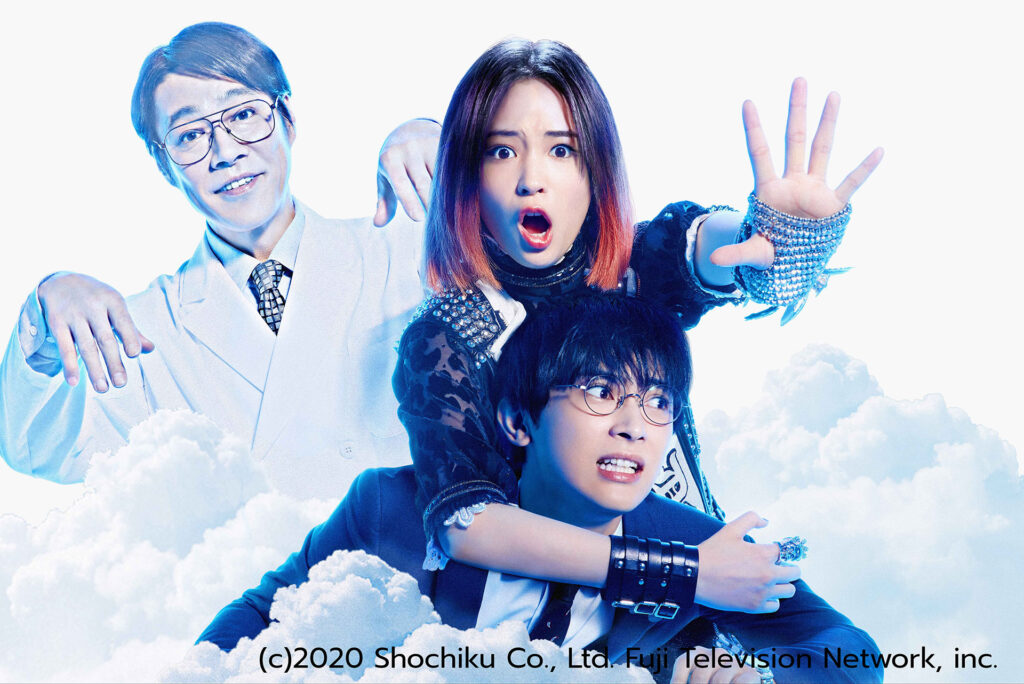 "Not Quite Dead Yet" Nobata Nanase's father is always busy with his work and barely has time to stay beside his wife. Infuriated, Nanase (starring Suzu Hirose) often tells her father daily to "Drop dead (once)!" One day, her father suddenly passed away because of the "reverse aging" drug that he invented, causing him to appear to Nanase as a ghost. She must protect her father from getting cremated by a rival firm before the drug wears off. Hirosewas nominated for Best Actress in the 44th Japan Academy Film Prize for this role.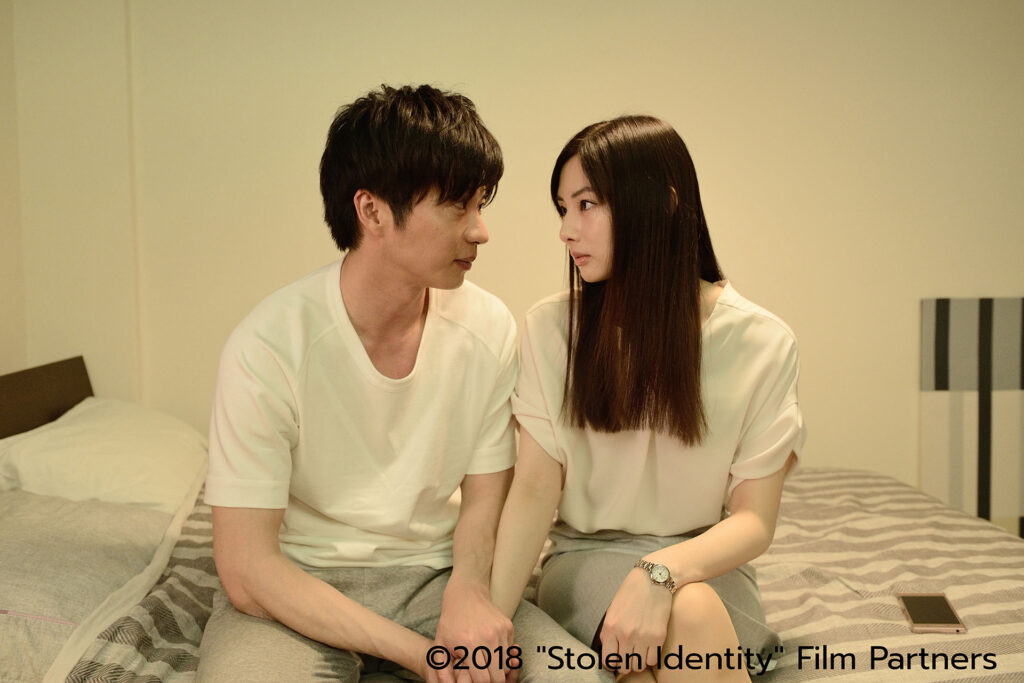 "Stolen Identity" Asami, an office lady, becomes the target of a serial killer who hacked her boyfriend's phone. The secret that Asami is desperate to keep will be exposed. Directed by HideoNakata who has won the Japan Academy Prize, this film Keiko Kitagawa, a famous actress, along with Ryo Narita and Yudai Chiba, starred in was adapted from a best-selling novel in Japan "Sumaho o otoshita dake na no ni."
See the entire online JFF2022 lineup and register for access at the Japanese Film Festival Online 2022 website (https://jff.jpf.go.jp/watch/jffonline2022/thailand/) from today until February 27th, 2022.
Screening Schedule at SFX CINEMA, MAYA Lifestyle Shopping Center
All films have both English and Thai subtitles.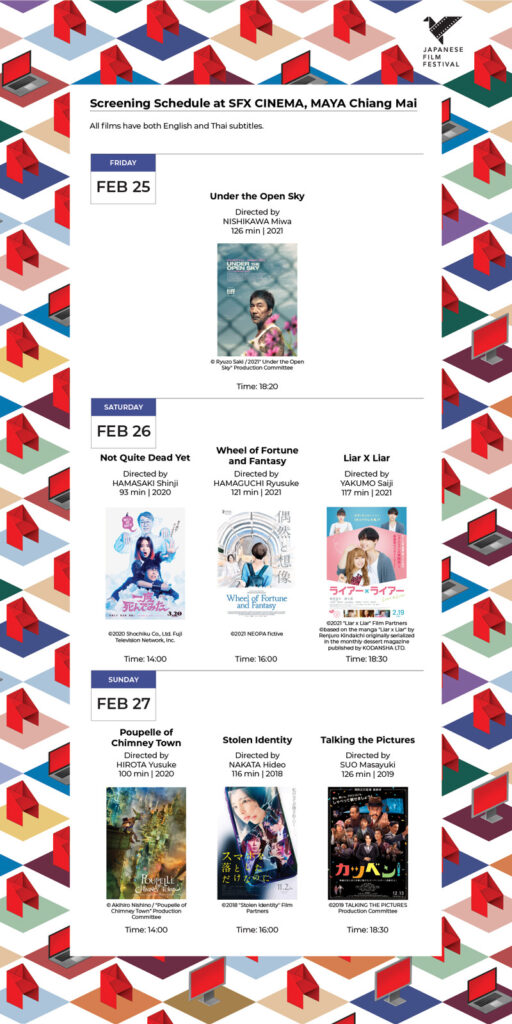 *Note: This event was held under precautionary measures in accordance with the guidelines of the Department of Disease Control to ensure the safety of all participants.
For synopsis and more updates, please visit our links as follows.
Contact Information
The Japan Foundation, Bangkok
10th Fl. Serm-mit Tower, 159 Sukhumvit 21,
Bangkok 10110
TEL:+66-2-260-8560~3 FAX:+66-2-260-8565
Email : acdept@ba.jpf.go.jp
Co-organized by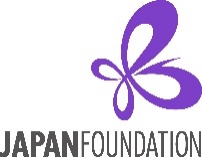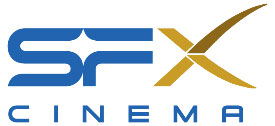 Supported by


Opening Ceremony of the Japanese Film Festival 2022 at Chiang Mai