Learning Through Play: Practices and Principles
Special Talk feature Takeshi Matsumoto, dance performer and choreographer from Japan.
as part of BICT on(line) the MOVE Festival 2021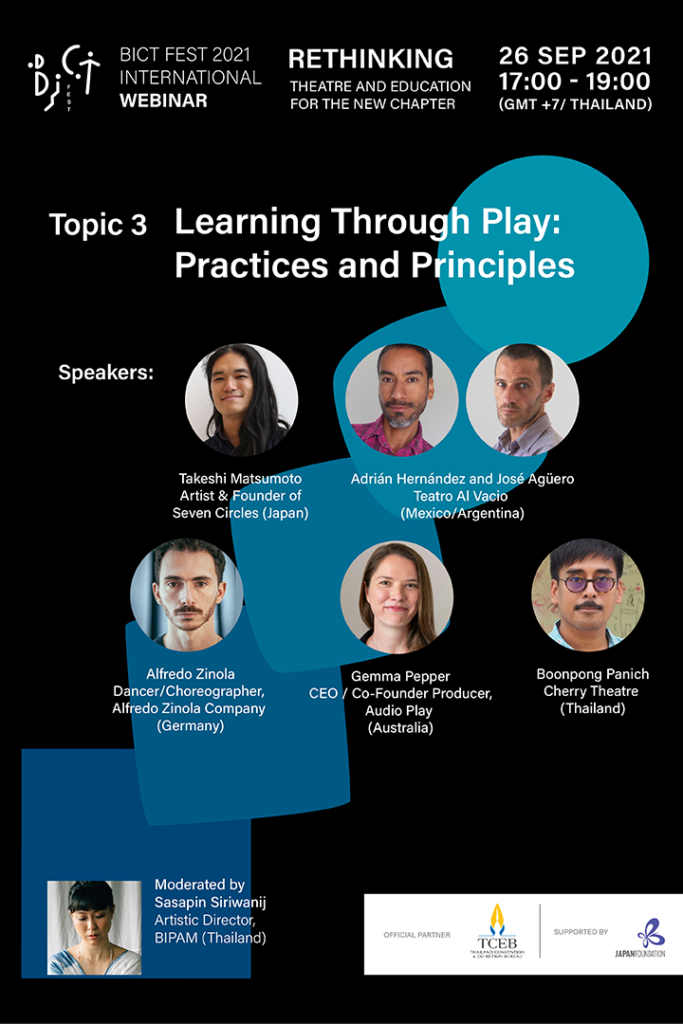 [Date] 26 September 2021 (SUN)
[Time] 17:00 – 19:00 (GMT+7)
[Platform] Online Webinar
[Language] Thai and English
[Number of the audiences] 149 accounts
[Free of Charge]
(For those who could not join the webinar in September, you can watch the recordings during the main festival period in November.)
Bangkok International Children's Theatre Festival 2021, with support from the Japan Foundation, Bangkok, presented an online talk entitled 'Learning Through Play: Practices and Principles' on Sunday 26th September via online webinar.
Believing that Play is central to children's development for social, emotional ,intellectual and physical skill, this artist–led panel has reflected on how to encourage children to learn through play. Living in the reality of the global pandemic, while children need to face lockdown challenges and limitations, is it possible for children to remain their creativity in this new normal world? How to nurture their social skill and to keep at a distance only physically not socially from others. The speakers shared their experiences, inspiration ,and how arts practice invites children to express freely and have full freedom to play.
The panel featured 7 professional artists from different countries, including Takeshi Matsumoto, a Japanese inclusive dance artist who experienced in working internationally with children and children with disabilities, creating art as a motivation and influence. His works explore the possibilities of dance and performance as a tool to acknowledge diversities and encompass the different aspect of identity, emphasis on empathy, communication and body-mind integration, focusing on the coming generations.
Also, the festival will organize a special workshop led by Takeshi Matsumoto. The program and details will be announced soon. Please stay tuned for more information.
Speakers:
Alfredo Zinola (Germany) Dancer/Choreographer, Alfredo Zinola Company
Boonpong (Bird) Panich (Thailand), Founder and Artistic Director of Cherry Theatre -Theatre for Development
Gemma Pepper (Australia), Producer, Audioplay
Takeshi Matsumoto (Japan) Founder, Seven Circles
Adrián Hernández & José Agüero (Argentina/Mexico) from Teatro al Vacío
Moderated by Sasapin (Pupe) Siriwanij (Thailand), Artistic Director of BIPAM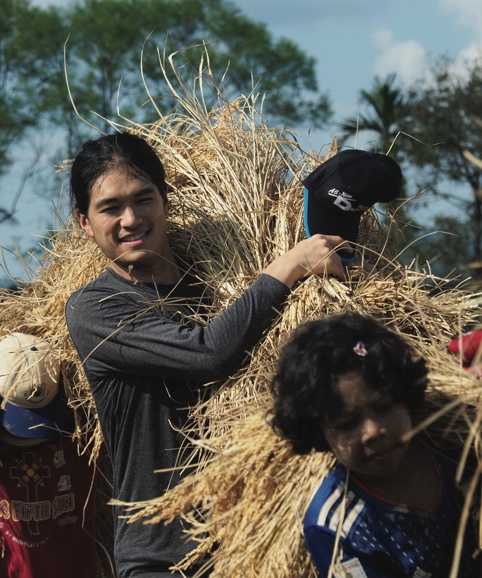 Takeshi Matsumoto
Founder of Seven Circles
He is a Japanese inclusive dance artist, performer and choreographer. He is also a qualified dance movement psychotherapist, having experience in working with children with autism and learning disabilities both in the UK and Japan. Growing up in Japan, his practice both in life and performing art is influenced by 和-Wa, harmony, peacefulness, quiet and contentment ways of living and balancing with others and environment.
On a local level, he has been engaged with dance projects for and with children and adults with learning disabilities (SLiDE, Icandance, RADiate) and people living with dementia (working with another artist, Beatrice Allegranti) in the UK. On a global level, he has led dance projects for families who survived nuclear disaster in northern Japan and stateless refugee children in Thailand collaborating with other artists.
For more information, please visit https://www.sevencircles.one/
Bangkok International Children's Theatre Festival
BICT team ,a small group of theatre practitioners and arts managers, has been delivering high quality performing arts experiences to children and families in Thailand since 2016. Now, they are back to entertain, inspire and amaze with this year's the first all-digital edition BICT on(line) the MOVE ,taking place on 5-14 November 2021 on www.bictfest.com. As BICT Fest 2021's focus is on theatre and children's creative development, leading up to the festival was a 2-day webinar in September that examined the relationship between theatre and education in a range of contexts. From imaginative performances to artistic workshops and stimulating artist talks and panel discussions, the festival is sure to move and excite both the young and their grown-ups. Highlights include brand new productions by Thai artists and innovative work by international artists . This year, BICT on(line) the MOVE is inviting you to tap into your imagination, journey to different 'virtual schools' – ranging from puppetry, storytelling, dance, and magic performances to arts and craft workshops. Moreover, all of the programs this year are FREE OF CHARGE!
Organized by the Bangkok International Children's Theatre Festival 2021 with support from the Japan Foundation, Bangkok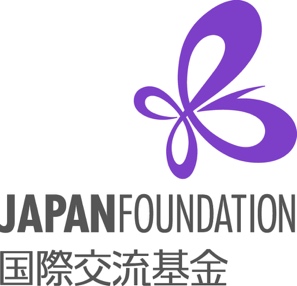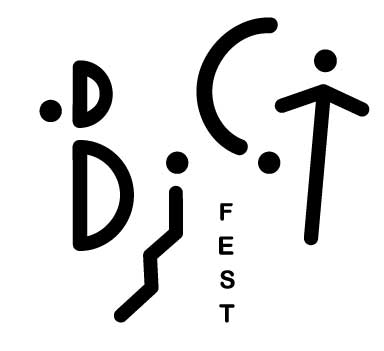 For more information on the event, please contact https://www.facebook.com/bictfest