Film Screening and Talk Session of
"Mlabri in the Woods"
As a part of Sound of the Soul Exhibition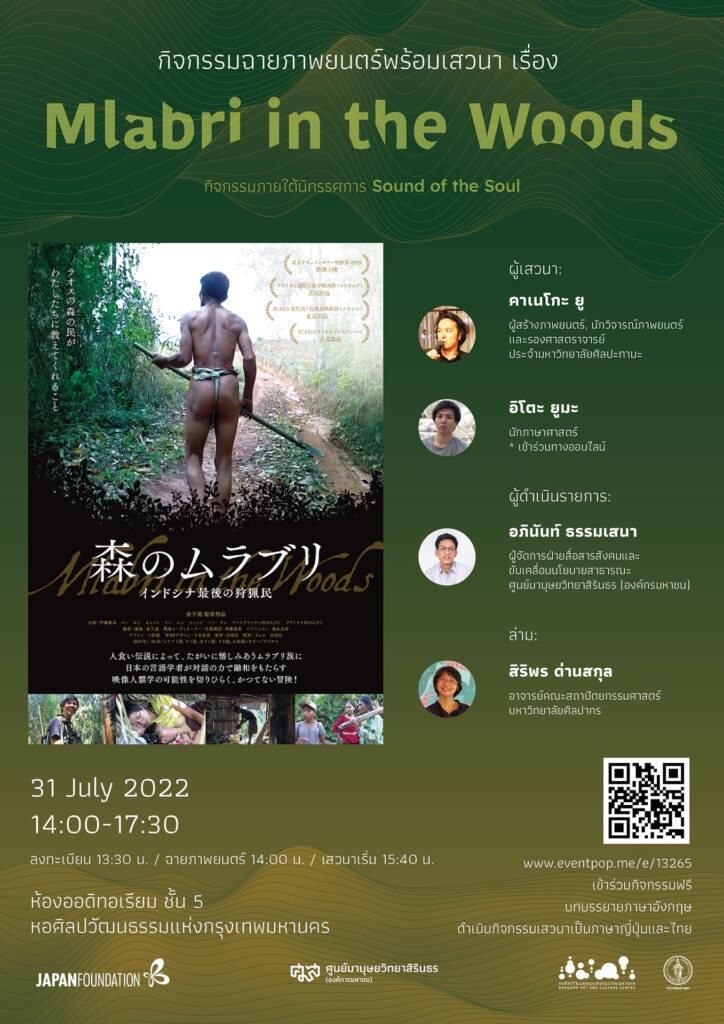 | | |
| --- | --- |
|   |   |
| Date&Time: | Sun 31 July 2022, 14:00 – 17:30 |
| Venue: | Auditorium, 5th Floor, Bangkok Art and Culture Centre (BACC) |
| Admission: | 105 people |
| Language: | The screening had Thai, Japanese and Mlabri audio with English subtitles. The talk was conducted in Japanese and Thai. |
| Registration: | https://www.eventpop.me/e/13265 |
The Japan Foundation, Bangkok, in collaboration with Princess Maha Chakri Sirindhorn Anthropology Centre (SAC) and Bangkok Art and Culture Centre (BACC), has co-organized the film screening and talk session of "Mlabri in the Woods" on Sunday 31st July 2022, 14:00 – 17:30 at the Auditorium, 5th floor of BACC.
This event was divided into two parts: the film screening of "Mlabri in the Woods" and the post talk session, conducted by KANEKO Yu, a Japanese filmmaker and film critic, ITO Yuma, a linguist. This event aimed to enhance a mutual understanding about the Mlabri people, one of the least recognized ethnic groups.
Consecutively directed by KANEKO Yu for 2 years, "Mlabri in the Woods" is a documentary film presenting the Mlabri tribe who live in the woods, normally escape from people by making temporary shelters from bamboos and banana leaves. ITO Yuma who is fluent in six languages, including Mlabri, also accompanied him during the filming. The discussion part was moderated by Apinan Thammasena, an anthropologist at Princess Maha Chakri Sirindhorn Anthropology Centre, and translated by Siriporn Dansakun, a lecturer from the Faculty of Architecture, Silapakorn University. This event was a part of the exhibition entitled "Sound of the Soul" held during 19th – 31st July 2022 at BACC.
Schedule
Venue: Auditorium, 5th floor, BACC
Sunday 31 July 2022
13:30 – 14:00 Registration
14:00 – 15:30 MC greetings and Screening (85 min)
15:30 – 15:40 Break
15:40 – 17:10 Talk session about "Mlabri in the Woods" by
KANEKO Yu, Filmmaker, Film Critic and Associate Professor of Tama Art University
ITO Yuma, Linguist (Online participation)
Moderated by Apinan Thammasena, Manager of Social Communication and Public Policy at Princess Maha Chakri Sirindhorn Anthropology Centre
Translated by Siriporn Dansakun, Lecturer of the Faculty of Architecture, Silpakorn University
17:10 – 17:30 Q&A session
Registration: https://www.eventpop.me/e/13265 (Limited walk-ins available.)
*After registering, the audience has receive a QR code ticket via email to be presented at registration desk.
About the speakers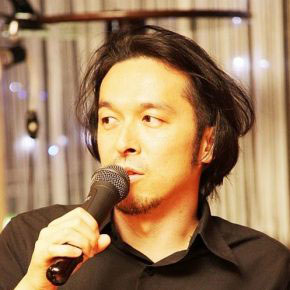 KANEKO Yu
Filmmaker, Film Critic, and Associate Professor of Tama Art University
He is a filmmaker and film critic born in 1974 in Saitama. Also is a program director of Tokyo Documentary Film Festival since 2018. His theatrical release films include "Belgrade1999" (2009), "Muneo-ism" (2012), and "Imperial" (2014). His recent film, "A Man Who Became Cinema" (2018), was released theatrically across Japan. His film produced work, "The Garden Apartment" (2018), was also screened at International Film Festival Rotterdam and Osaka Asian Film Festival. "Mlabri in the Woods" was his fifth feature-length documentary film, released in 2019 and screened at Tokyo Documentary Film Festival, Cambodia International Film Festival, IUAES Anthropological Film Festival and etc. He has also published more than 20 books in the field of history of cinema and cultural anthropology, such as "Folklore in Borderland" and "Boundary of Images," (the SUNTORY Academic Awards winner) and "Ethnography of Photology." Written and Edited books include "Chris Marker," "Apichatpong Weerasethakul," "Jean Rouch," and "Agnes Verda."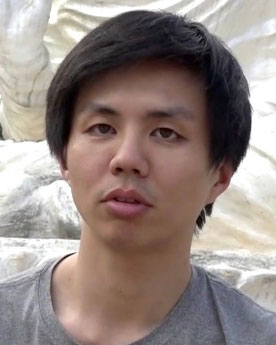 ITO Yuma
Linguist (Online Attendance)
He is a linguist and independent researcher born in 1986 in Shimane. After resigning from the Graduate School of Letters, Kyoto University, he works as a researcher at the Japan Society for the Promotion of Science at the Research Institute for Languages and Cultures of Asia and Africa (ILCAA), Tokyo University of Foreign Studies. From 2018 to 2020, he also worked as a full-time lecturer at Toyama University of International Studies. He has entered the local areas in Thailand and Lao and has researched language culture since he was an undergraduate student. Thus, apart from his Japanese, he becomes fluent in the Mlabri language.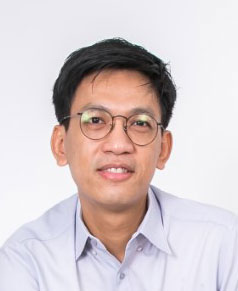 Apinan Thammasena
Manager of Social Communication and Public Policy at Princess Maha Chakri Sirindhorn Anthropology Centre (SAC)
Born in Chiangmai, Apinan Thammasena earned his Master's Degree in Arts Program in Anthropology from the Faculty of Sociology and Anthropology, Thammasat University. As an anthropologist, he has various interests, including media anthropology, ethnic groups and development issues. He has advocated laws concerning the protection of indigenous people's wellbeing while promoting their rights through academic works and disseminating knowledge and understanding about ethnic groups to the public.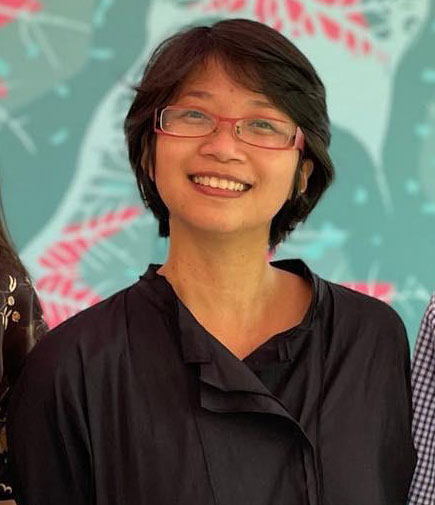 Interpreter
Siriporn Dansakun
Lecturer of the Faculty of Architecture, Silpakorn University An Architect and Interpreter in Artistic Field
She received her B.E. in Architecture, Architecture, and Industrial Design Department, Faculty of Engineering, Chiba University, and M.E. in Architectural Planning, Graduate School of Engineering, The University of Tokyo, Japan. She currently works as a lecturer at the Faculty of Architecture, Silpakorn University. Collaborating with The Japan Foundation, Bangkok, in 2018, she translated the pamphlet for the exhibition entitled "Struggling Cities: from Japanese Urban Projects in the 1960s."
Contact Information
The Japan Foundation, Bangkok
10th Fl. Serm-mit Tower, 159 Sukhumvit 21, Bangkok 10110
Tel: +66-2-260-8560~3
Email: acdept@ba.jpf.go.jp
For more updates, please visit
The Japan Foundation, Bangkok Facebook Page
Organized by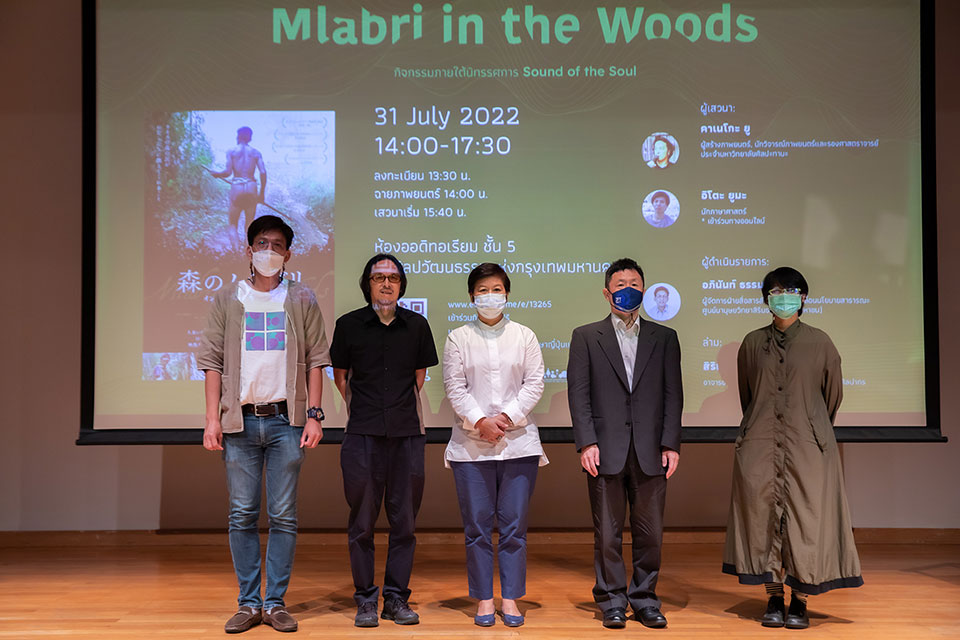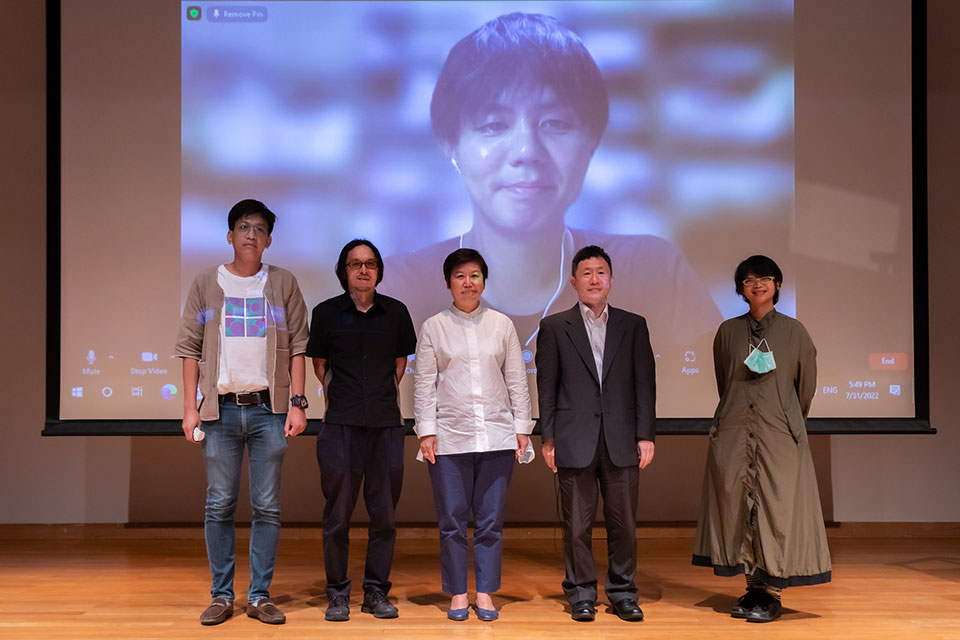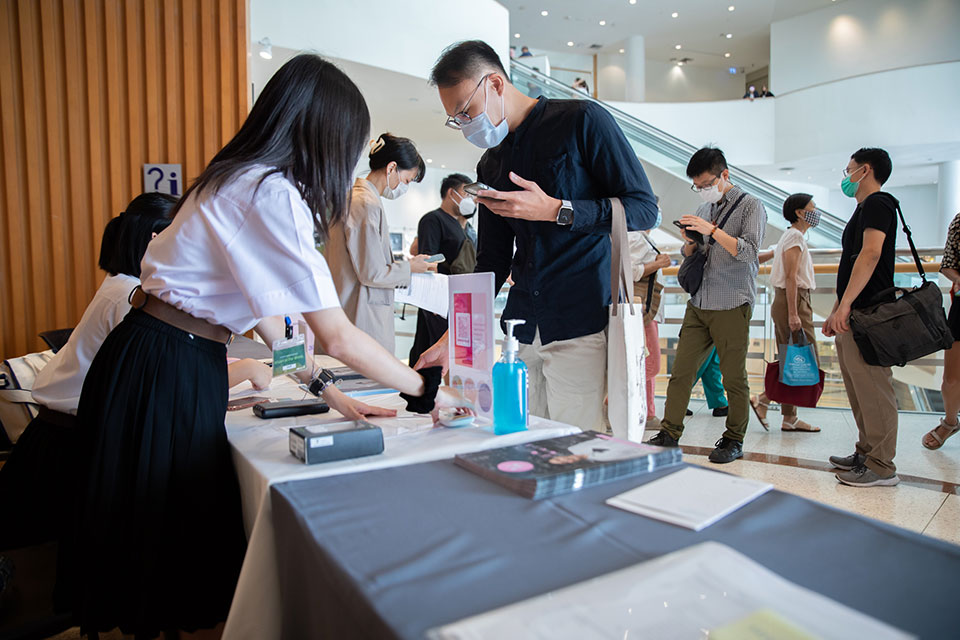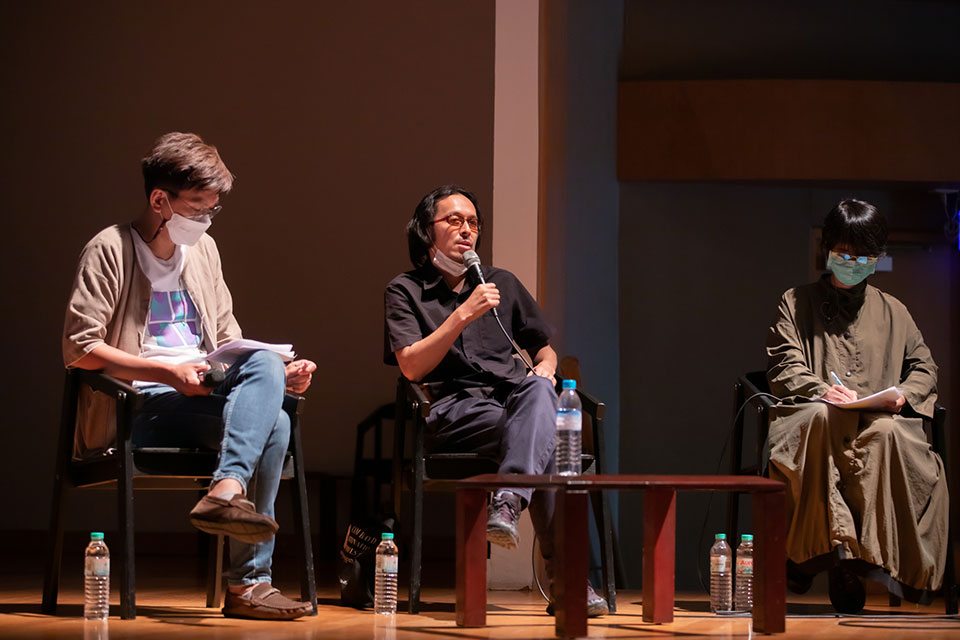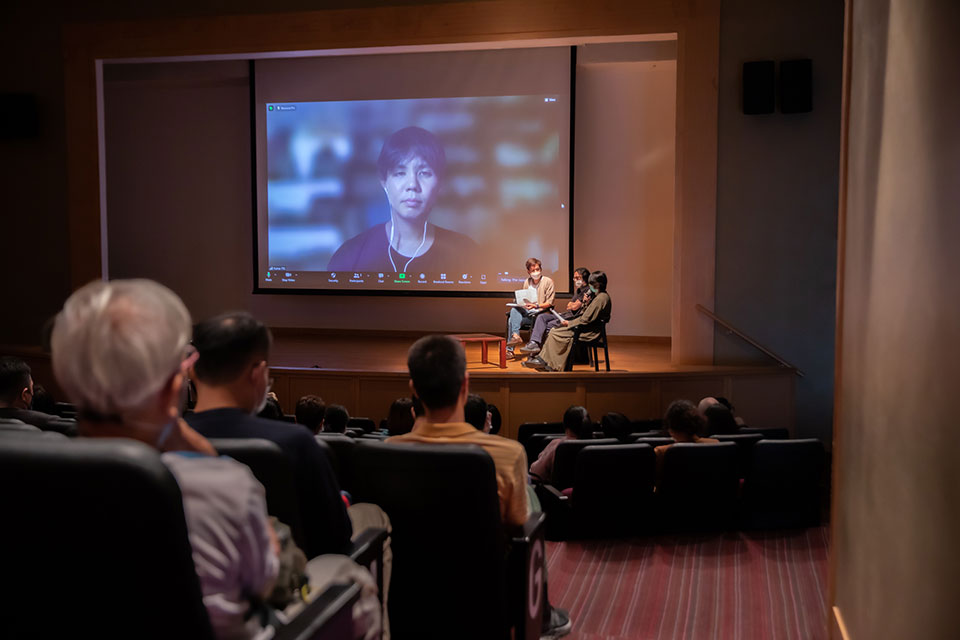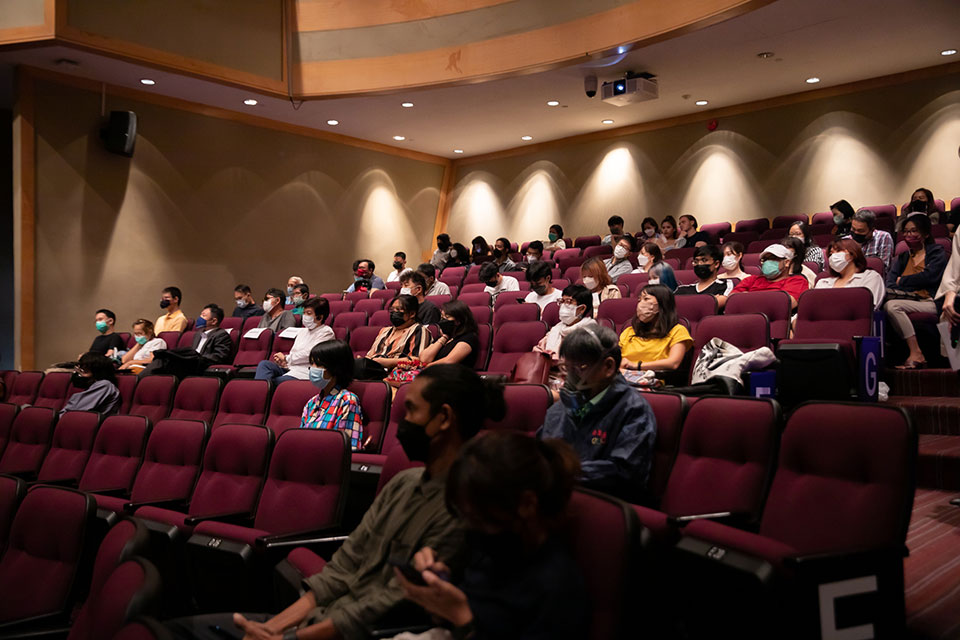 *Photos from Princess Maha Chakri Sirindhorn Anthropology Centre (Public Organisation)