'Nihon no Ocha – Taste of Japan'
Lecture – Workshop on how to appreciate different types of Japanese tea and modern tea etiquette with hands-on experience.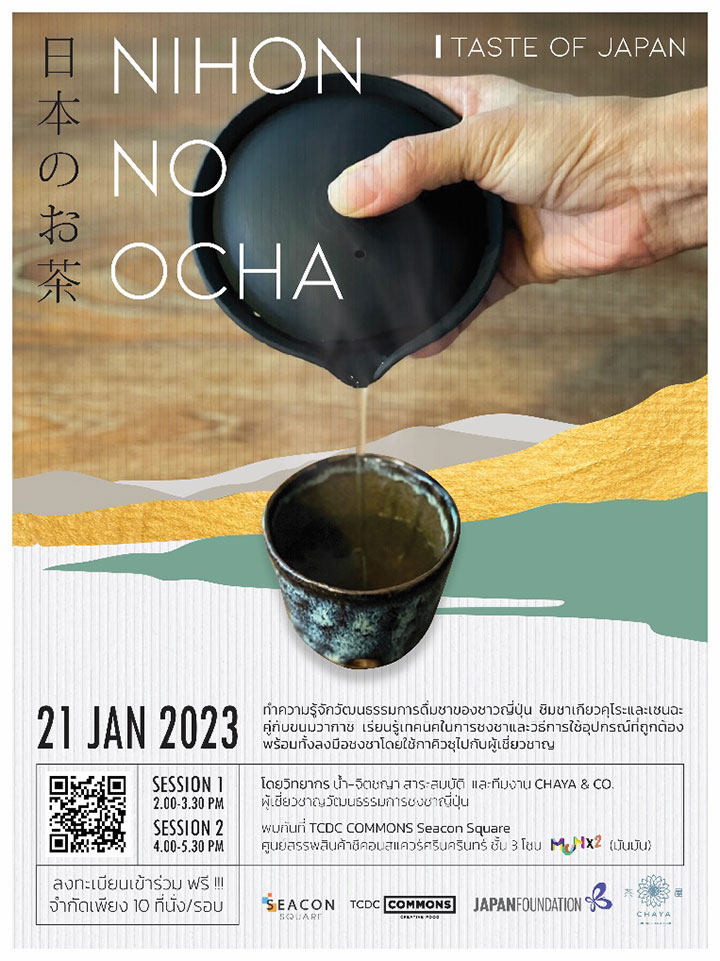 Date:

(Sat) 21 January 2023

Time:
1st Session 14.00 – 15.30
2nd Session 16.00 – 17.30
*The contents of 1st and 2nd session are the same
Venue:

TCDC Commons

Admission:

10 persons/session

Language:

Thai

*Free of Charge
The Japan Foundation, Bangkok, in collaboration with TCDC COMMONS and CHAYA & CO., organized Nihon no Ocha – Taste of Japan on Sat 21 January 2023, from 2:00 PM – 3:30 PM and 4:00 PM – 5:30 PM at TCDC Commons. This event was part of the Charm O' Cha showcase organized by TCDC COMMONS.
"Tea" is a beverage that is associated with food culture around the world. In Japan, tea is not just a beverage, but it is also deeply connected to the Japanese way of life. From the meticulousness of planting and harvesting, the process of brewing and the way people drink tea with wagashi, Japanese dessert, that goes perfectly with tea. This Japanese tealogy combines life and culture together.
To pass on such knowledge, 'Nihon no Ocha – Taste of Japan' event has brought everyone to an aromatic tea journey by introducing different types of Japanese tea, how they are cultivated and processed, tasting 4 types of looseleaves tea (Gyokuro, Sencha, Bancha), learning how to brew tea using the perfect utensils, water temperature, and time. The participant got to make tea using "Kyusu" teapot and learned how to serve tea the proper way, and perfectly ended the session with a cup of tea with a piece of Wagashi! We were honored to have Nam – Jitchaya Sarasombat, the founder of CHAYA & CO., as our speaker of the sessions. She has shared the knowledge and experience, gained from the passionate love for tea. We hope that everyone discovered the charm of Japanese tea and let it aromatize your memories.
About the Speaker and CHAYA & CO.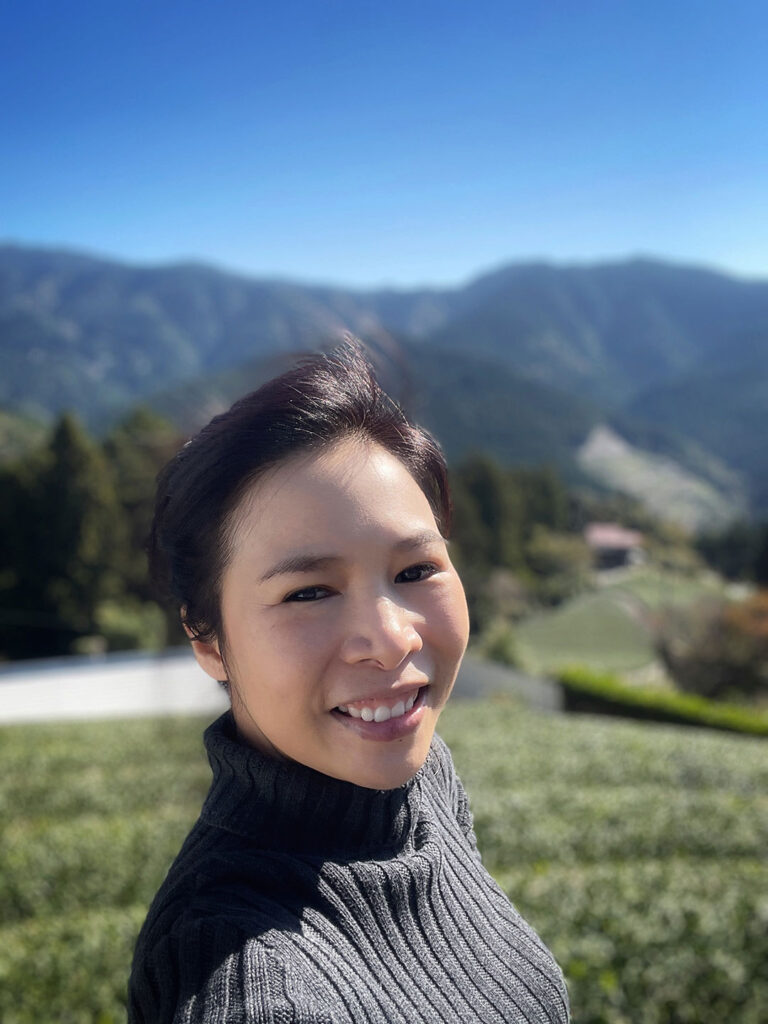 Nam – Jitchaya Sarasombat, founder of Chaya & Co, the business started in 2018 with a passion in Japanese tea and its exquisite culture. On a trip to Japan, Jitchaya, was introduced to a tea farm where she has spent time working and learning about tea. The owner and the farmers have poured their heart in growing organic tea. She has witnessed great care and efforts that the tea master and farmers have put into making tea. Jitchaya has selected the best of green tea and decided to share the love of Japanese tea to everyone at home. Be it matcha, sencha, gyokuro, and other Japanese tea, you will find a tea that satisfies your palette as well as your health.
About TCDC COMMONS Seacon Square
TCDC COMMONS Seacon Square is a collaboration between Creative Economy Agency (Public Organization) and Seacon Development Public Co., Ltd. It has foreseen the opportunity to develop a new generation of entrepreneurs who will use their creativity to develop the food business. As a result, it became a creative food learning center in the name of TCDC COMMONS Seacon Square (Creative Food), a source of information that will bring you to open the world of food. Such as exhibition and fun activities served with creative food knowledge.
TCDC COMMONS Seacon Square is located at Seacon Square Srinakarin, 3rd Floor, Zone MUNx2, open daily from 10:30 a.m. to 8:00 p.m.
Contact Information
The Japan Foundation, Bangkok
10th Fl. Serm-mit Tower, 159 Sukhumvit 21, Bangkok 10110
Tel: +66-2-260-8560~3
Email: acdept_jfbkk@jpf.go.jp
Co- organized by