Original novel by: Uthis Haemamool × Script & Direction: Toshiki Okada
"Pratthana – A Portrait of Possession"
World Premiere: Bangkok Performance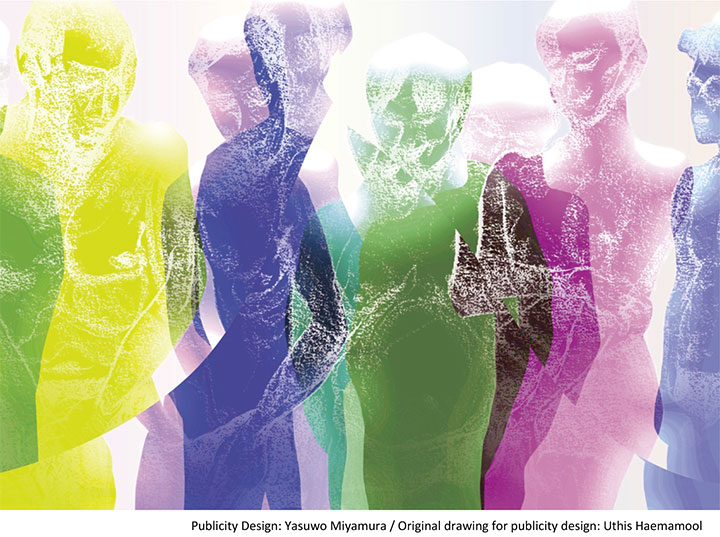 To live and create is to question the times.
The day of shame about lust for life/sex is also the day of salvation.
Our "self portrait" by two artists born in the 1970s.
【World Premiere】
Bangkok Performance Aug. 22nd – Aug. 26th, 2018

@Sodsai Pantoomkomol Centre for Dramatic Arts, Faculty of Arts, Chulalongkorn University
Since the special talk and discussion event on literature and theatre between Uthis Haemamool and Toshiki Okada back in late 2016, Toshiki spent approximately 2 years in learning and understanding the Thai context, and building up a creative team through means such as, staging their own original performance in Bangkok, researching onsite, and interviewing specific people. Finally, as an outcome, he created and staged a special collaboration project; "Pratthana: A Portrait of Possession". The stage play was based on a novel "Rang Khong Pratthana" (Translates to "Silhouette of Desire" in English) by Uthis Haemamool. The project was a collaboration effort of 11 Thai actors, and a creative team consisting of both Thai and Japanese artists. The 3-hour performance was jam packed with the stories of life, love, and the Thai contemporary history and had turned many heads within a wide range of audiences. Now, the production is ready to take another leap in touring France and Japan.
Contemporary Asia, awash with goods, money, and information amid the turmoil induced by fast-paced urbanization and globalization.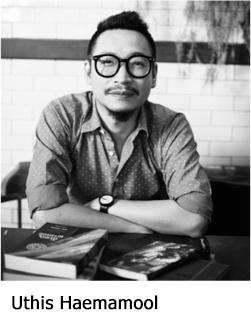 A winner of the Southeast Asian Write Award and the Seven Book Award, and one of the most energetic novelists active today, Uthis Haemamool is renowned for his brilliant depictions of the nebulous identity and psyche of individuals alive in this Asia of today. He has been given the highest accolades internationally and remains at the forefront of contemporary Thai literature.
Ranking as one of Japan's major playwrights and novelists, Toshiki Okada is active both inside and outside his country and also leads the theatrical company chelfitsch. He quickly became a focus of attention throughout the world of theater for his penetrating insights into the daily doings and mindset of Japanese youth as well as his style updating contemporary theater.   He has since continued to unveil works reflecting his meticulous observations of the realities exposed by earthquake disasters and social phenomena.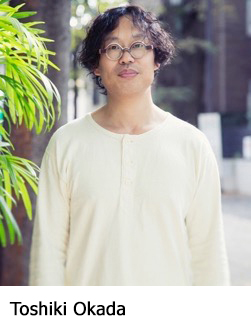 These two creators collaborated in the making of "Pratthana – A Portrait of Possession", a theatrical adaptation of Haemamool's latest novel by Okada, who felt a strong empathy with it. The protagonist of this work is a single painter who struggles in his pursuit of artistic activities and with the surrounding society while trying to find himself, and goes through a series of encounters and losses. Its vivid descriptions of the inner life and sexual feelings of the various characters have echoes from the flow of history and political turbulence of the society in which they live.
The work will make its world premiere in Bangkok and is set to be staged in Paris as well. The entire world of theater is eagerly anticipating this play by two artists who may very well have a more perspicacious vision of the current age than any others.
In this work, the two artists pose an exceedingly universal question to all individuals living in contemporary society: Just what is the fundamental business of life? It is a question sent out from Bangkok that will presumably reach the hearts of people alive in the same age around the world. 
Borderlines crisscrossing life – one of the themes of the adaptation
Within Haemamool's novel lie hidden borderlines between the self and others, life and death, man and woman, past and present, one class and another class, the individual and the nation, the controller and controlled, and desire and its object. Boundaries of this sort are things that have been experienced at least once by anyone living in contemporary society, and can be factors that make life harder in a sense. In adapting the novel for the stage, Okada decided to put these borderlines on the stage by employing theatrical methodology for superimposing them on the narrative and the actors' bodies.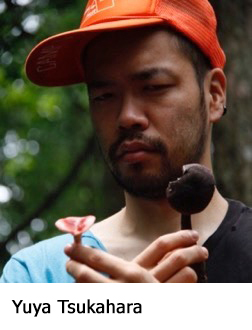 The pair is joined by Yuya Tsukahara, who is participating in the role of scenographer in charge of spatial orchestration and design. Tsukahara is a member of contact Gonzo, which is known in Japan and other countries for its stunning performances that sometimes even resemble brawls, and is especially adept at application of various techniques across conventional genre borders, using body, space, video, and other media. He can make borderlines between the stage and other space, reality and fiction, and other dichotomous pairs appear in the structure of the stage to envelope the audience, only to make them disappear later. The theatrical presentation revolving around borders will gather momentum with this ideal lineup of personnel.
A multi-talented cast and a team of emerging creators
The cast of 11 actors were selected through auditions held in Bangkok, and vary in age and experience, from novices to veterans. Moreover, their activities are not always confined to acting; they are engaged in hybrid activities on their own initiative, in fields of interest to them, without being bound by conventional categories. More specifically, some of the actors are also musical composers, lighting technicians, artists, or producers, for example.
The members of the creative team are emerging artists from both Thailand and Japan. The assistant director is Wichaya Artamat, a director who is now in the spotlight and has twice taken awards from the International Association of Theatre Critics (IATC) – Thailand Centre. Costuming is being handled by Kyoko Fujitani, who, while active as a member of the Tokyo theatrical troupe FAIFAI, brings a unique perspective to stage costuming for works of theater, dance, art, and music in Japan and other countries. Lighting design has been assigned to Pornpan Arayaveerasid, an innovative lighting designer who was in charge of the lighting design for Apichatpong Weerasethakul's "Fever Room" and has come to the fore for her experimental directions. Sound design is in the hands of Masamitsu Araki, who has unveiled installations and performance works as a "sound artist" in his own right. Takuya Matsumi, who is a member of contact Gonzo alongside Tsukahara and also works as a graphic designer and photographer, is handling the video chores.
Haemamool, Okada, the cast of 11 actors, and the creative team are all artists living and working in the same age. Through their vision, this work definitely promises to expand the frontiers of theater itself as a form of artistic expression.
* The "Pratthana" in the title of the work is a Thai word meaning "desire," and is also in the Thai title of "Silhouette of Desire", the novel by Uthis Haemamool on which the work is based.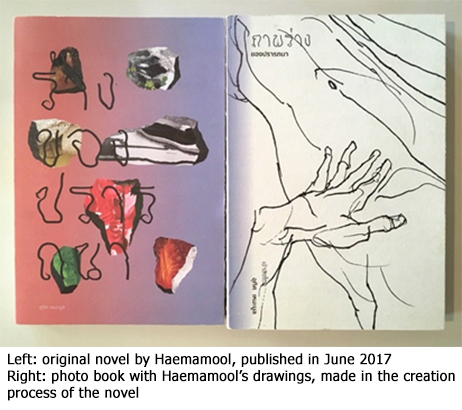 Original novel by Uthis Haemamool
(The original title of the novel in Thai is "Rang Khong Pratthana", "Silhouette of Desire" in English) [Published by Juti, June 2018]
Khao Sing, a painter living in Bangkok, agrees to have the youth Waree, who contacted him through Facebook, act as a model for him. In his belief that a model should not have life, Khao Sing refuses to get deeply involved with Waree, but continues to paint him, telling him about his own sexual escapades of the past in the process. He goes into an affair with a female poet he met at the time of the military coup d'etat in 1991 and "Black May" in 1992, another with a classmate of his at art school during the Asian financial crisis that struck in 1997, and a menage a trois with a young female artist who had come bac k from study abroad and a man working at a rental video shop at the time of the coup in 2006. The descriptions of the relationships Khao Sing formed with others bring in characterizations of body, desire, and art. The political situation in Thailand at the time forms the background of them all. Behind his relationship with Waree, too, lies the coup of 2014. Khao Sing longs to capture eternity in his paintings, but at the same time, all of the people connected with him leave his side in the end. The novel depicts the outlines and desires of the human body and nation as body, through the vicissitudes of Thai politics, art, and subculture.
"Pratthana – A Portrait of Possession" Bangkok Performance
Original novel by: Uthis Haemamool (Original novel title in Thai:"Rang Khong Pratthana")
Script, Direction: Toshiki Okada
Scenography: Yuya Tsukahara
Assistant Director: Wichaya Artamat
Casts: Jarunun Phantachat, Kemmachat Sermsukchareonchai, Kwankaew Kongnisai, Pavinee Samakkabutr, Sasapin Siriwanij, Tap-a-nan Tandulyawat, Teerawat Mulvilai, Thanaphon Accawatanyu, Thongchai Pimapunsri, Waywiree Ittianunkul, Witwisit Hiranyawongkul
* Performed in Thai with English and Japanese subtitles
Venue: Sodsai Pantoomkomol Centre for Dramatic Arts, Faculty of Arts, Chulalongkorn University
Performance Schedule: August 22nd – 26th 2018

More information about this project:
https://pratthana.net/index_th.html
https://www.facebook.com/pratthanabkk/
https://www.youtube.com/watch?v=v4nXEfmgIuA
Articles from online medias:
https://themomentum.co/pratthana-uthis/
https://thematter.co/thinkers/pratthana-play/58368
https://readthecloud.co/area-theatre-pratthana/
https://gmlive.com/247-Trend-review-rangkhongprarthna-stage-play
https://kiji.life/pratthana-aportraitofpossession/
https://www.facebook.com/thejammag/photos/a.997536950262699/2289452071071174
https://www.facebook.com/adaymagazine/posts/10156710991455406
https://www.nationmultimedia.com/detail/art/30352895
https://artsequator.com/pratthana-review/
https://www.asahi.com/articles/DA3S13667855.html
https://togetter.com/li/1266304
https://natalie.mu/stage/news/296703
Images from rehearsals in Bangkok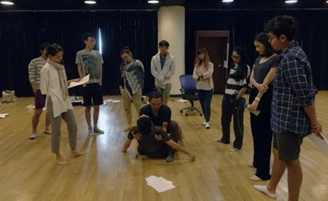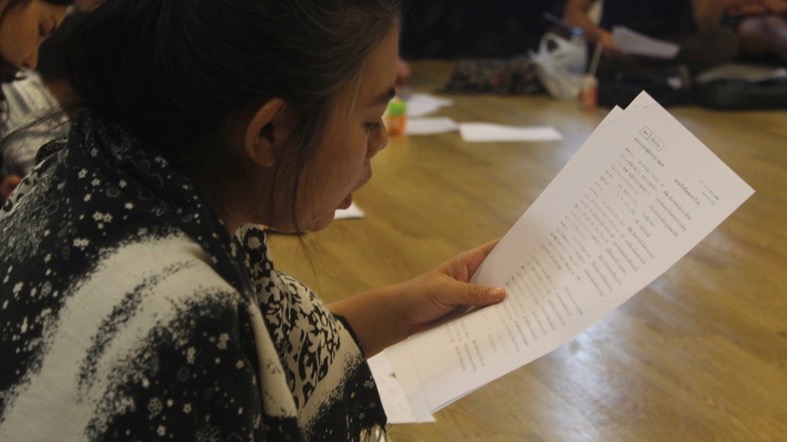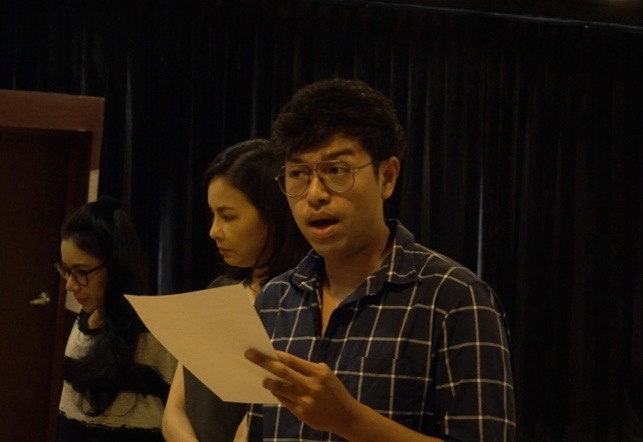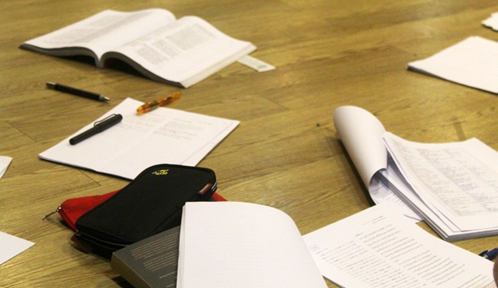 Talk event prior to the premiere performance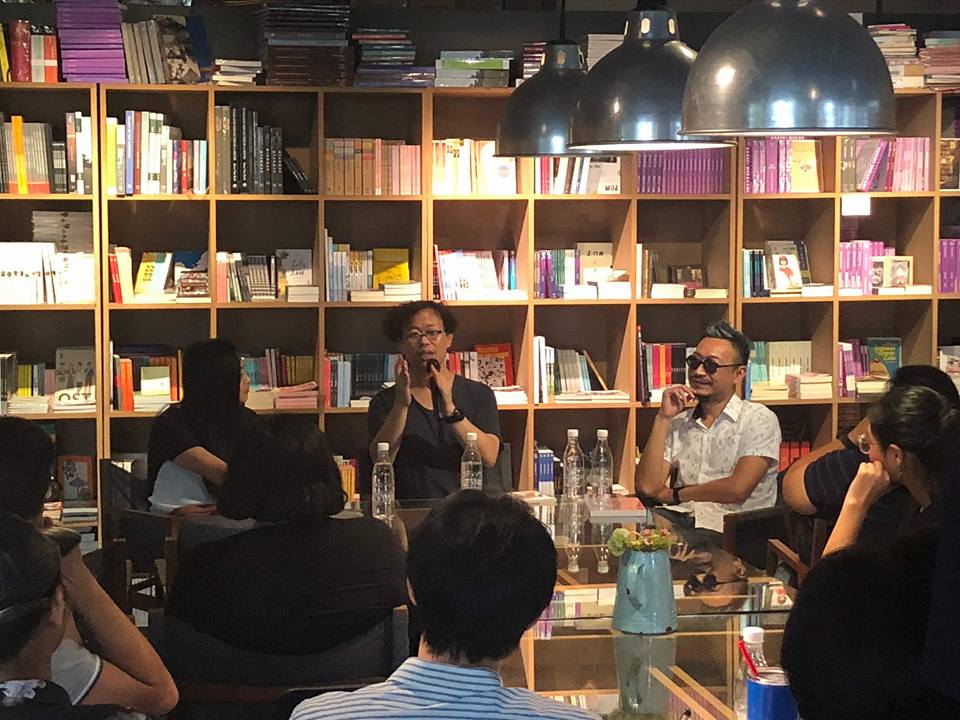 Images from premiere performance in Bangkok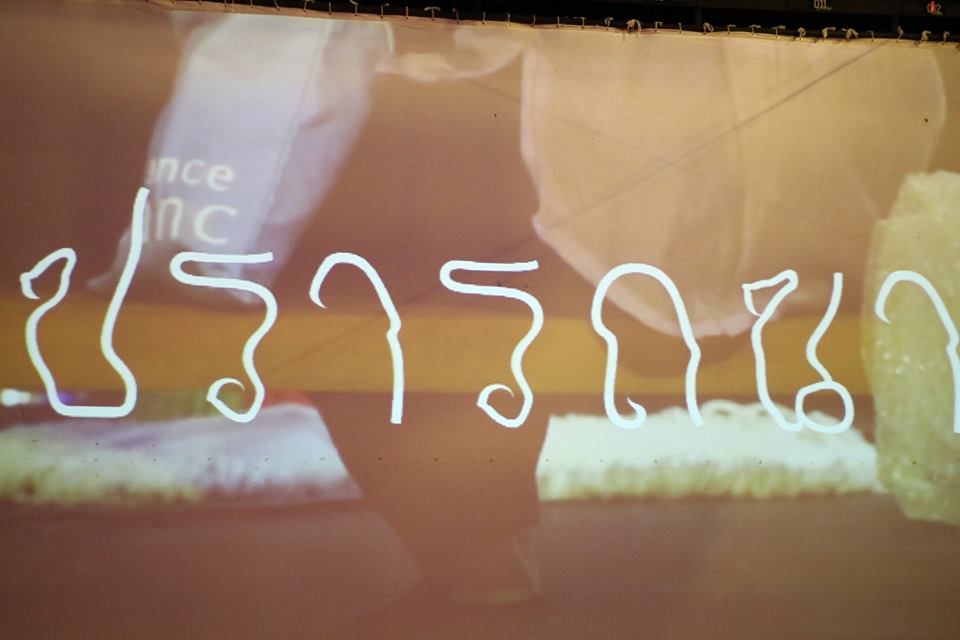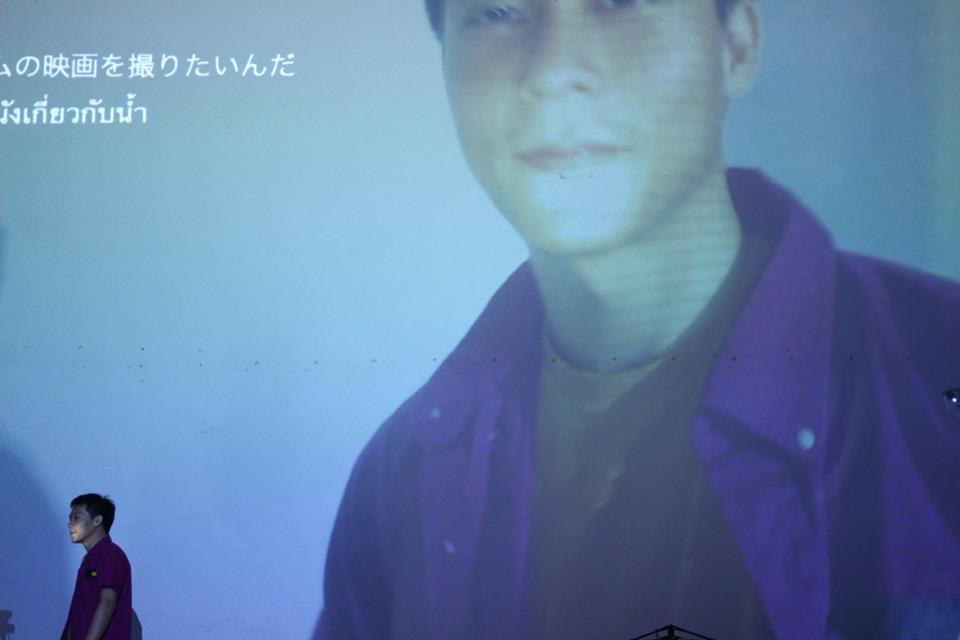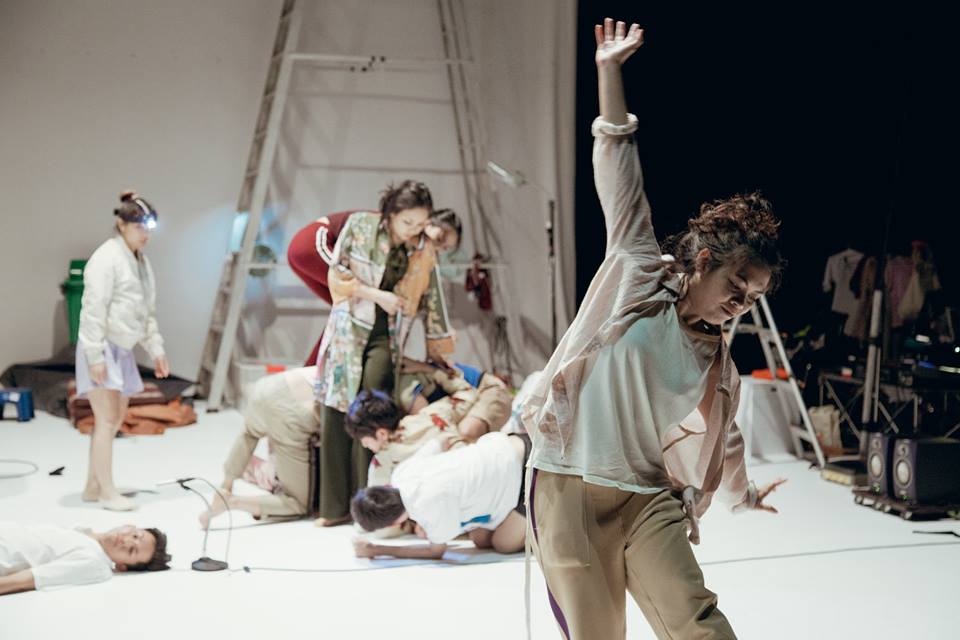 Photo by Sopanat Somkhanngoen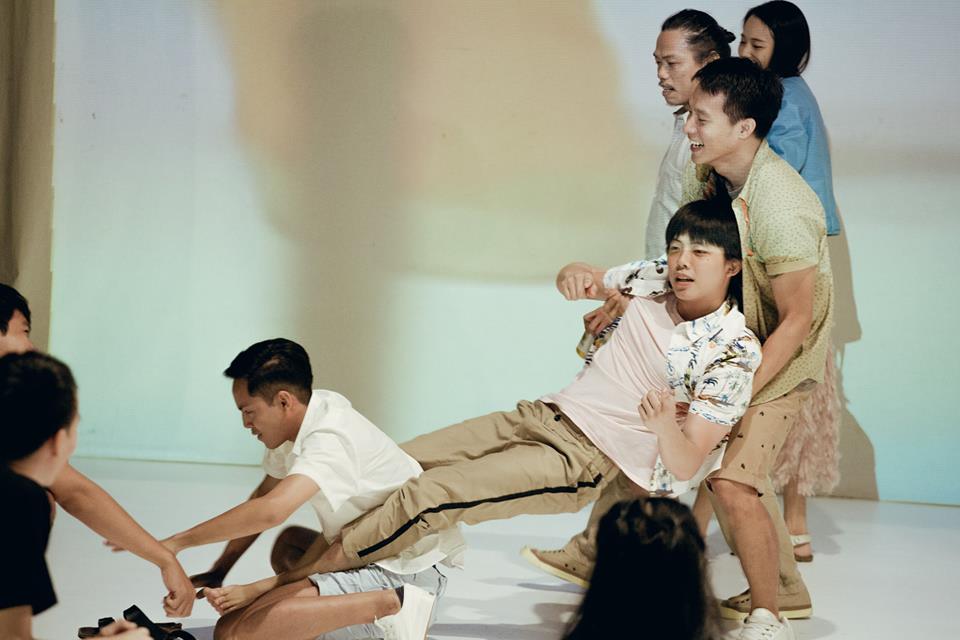 Photo by Sopanat Somkhanngoen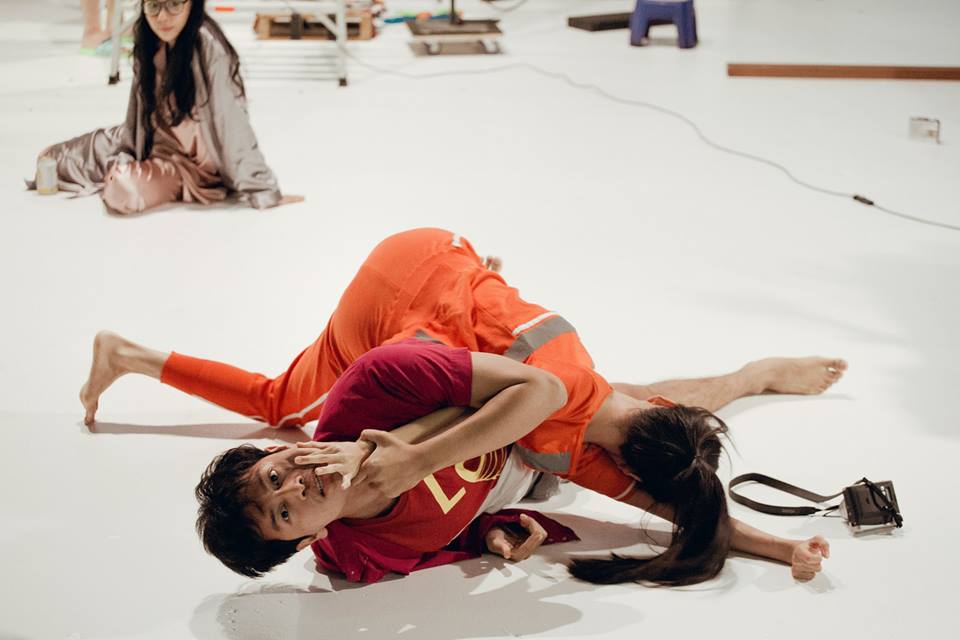 Photo by Sopanat Somkhanngoen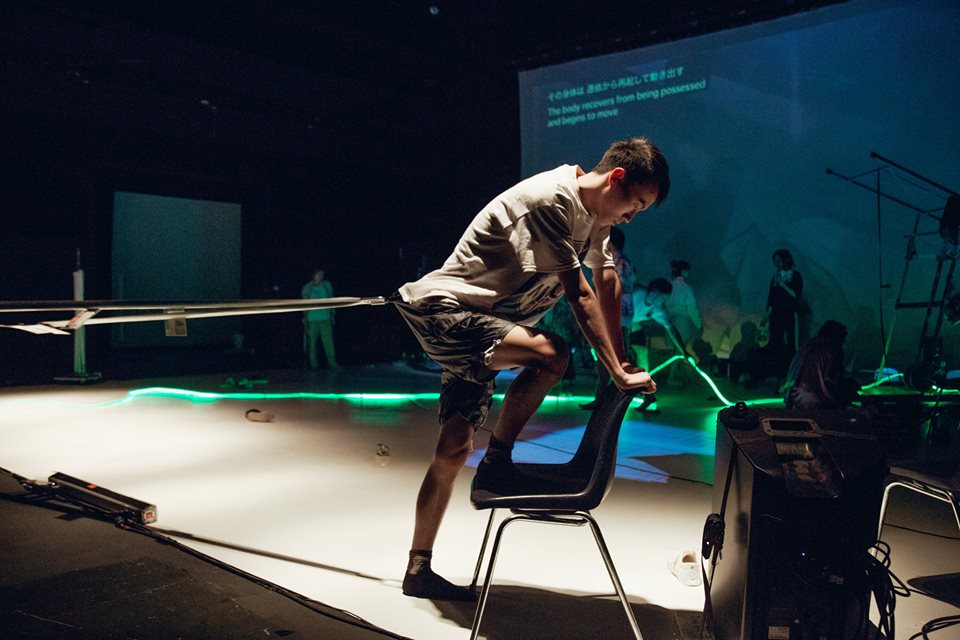 Photo by Sopanat Somkhanngoen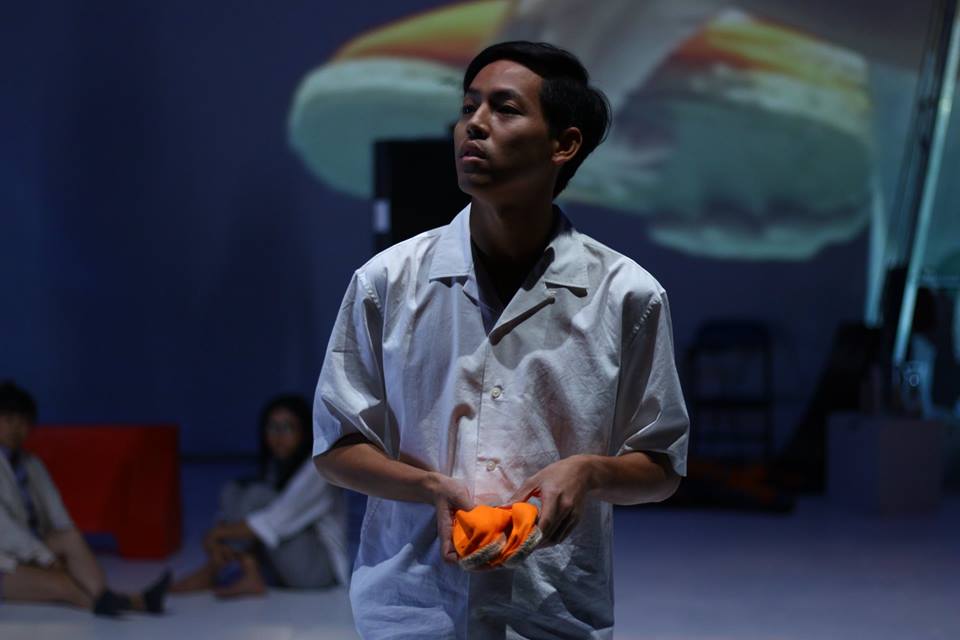 Credits
Costumes: Kyoko Fujitani (FAIFAI)
Lighting Design: Pornpan Arayaveerasid
Sound: Masamitsu Araki
Scenography assistant and Video: Takuya Matsumi
Technical director: Kazushi Ota
Original novel translation: Sho Fukutomi
Script translation: Muthita Panich
Translation cooperation: Patarasorn Koopipat, Matana Jaturasangpairoj
Interpreter: Patarasorn Koopipat, Paiboon  Patjareesakul
Publicity Design: Yasuwo Miyamura / Original drawing for publicity design: Uthis Haemamool
Executive producer: Akane Nakamura
Production manager: Yoko Kawasaki
Producer: Tamiko Ouki
Assistant producer: Megumi Mizuno, Pornjittra Vongsrisawat
Tickets: Jaturachai Srichanwanpe, Napak Tricharoendej, Ladda Kongdac
PR cooperation: Eriko Nishitani (Relay Relay)
Organized by: The Japan Foundation Asia Center, precog co.,LTD., chelfitsch
Supported by Arts Council Tokyo (Tokyo Metropolitan Foundation for History and Culture),
The Saison Foundation
Venue cooperation: Sodsai Pantoomkomol Centre for Dramatic Arts, Faculty of Arts, Chulalongkorn University, College of Social Communication Innovation Srinakharinwirot University, Democrazy Theatre Studio
In Cooperation with: Bangkok CityCity Gallery, Candide Books & Café, all(zone), ARTIST+RUN GALLERY, Bangkok Arts & Culture Centre, B-floor Theatre
Endorsed by Japanese Association in Thailand