The Photography Exhibition
"Metamorphosis of Japan After the War"
By Ihee Kimura, Yasuhiro Ishimoto, Ken Domon, Eikoh Hosoe, Hiroshi Hamaya, Kikuji Kawada, Shomei Tomatsu, Takeyoshi Tanuma, Shigeichi Nagano, Ikko Narahara and Tadahiko Hayashi
Curated by Tsuguo Tada and Marc Feustel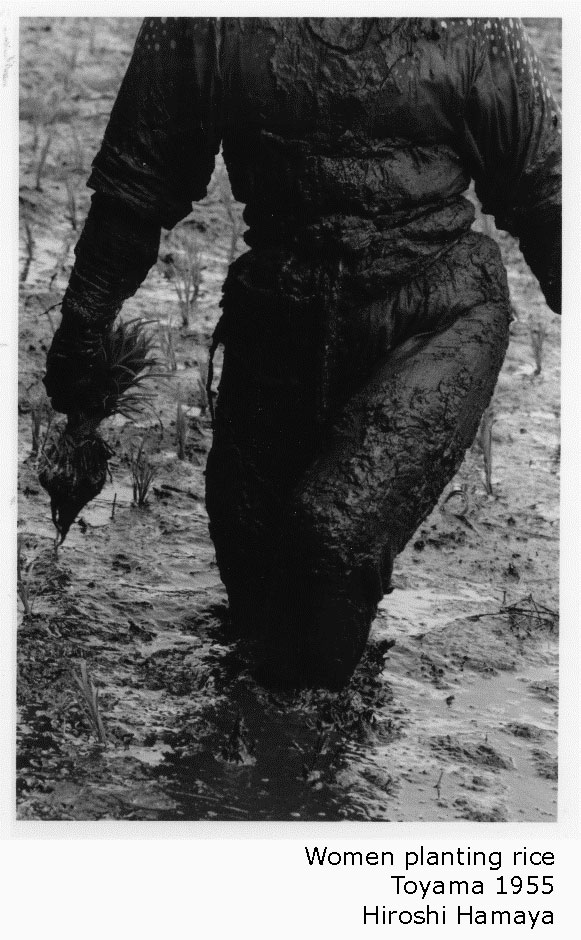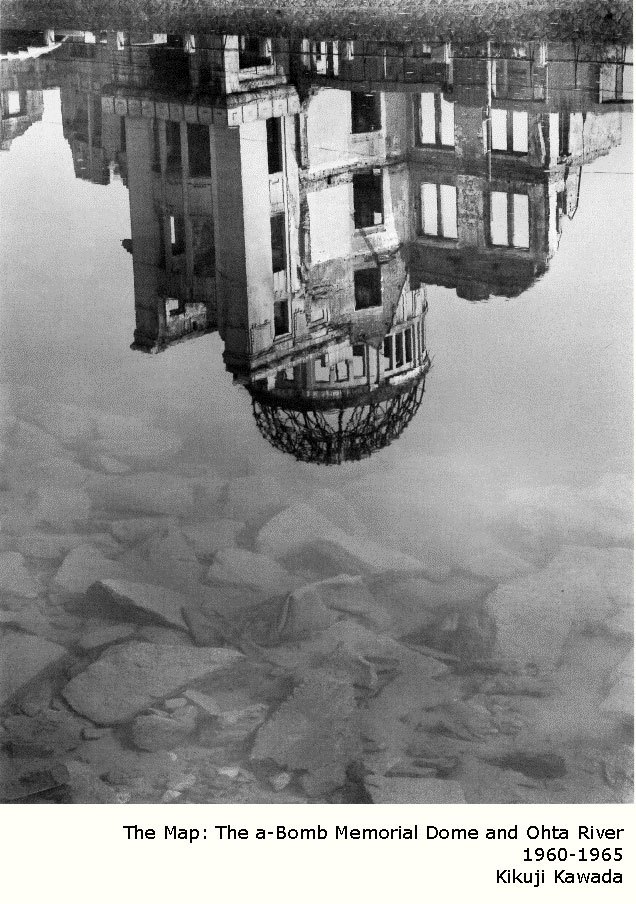 Exhibition periods and venues
In Chiang Mai

Friday 8th July – Sunday 28th  August 2016
Tuesday – Sunday  9.00 a.m. – 5.00 p.m.
Close on every Monday and public holidays
Opening Ceremony
Friday 8th July at 6.00 p.m.
Special seminar on "Japan in Retrospection" by Professor Attachak Sattayanurak, and Dr. Sing Suwannakij, Department of Humanities, Chiang Mai University at 5.00 p.m.
Venue
2nd floor of CMU Art Center
Participants
101 people (Opening)
2,412 people (exhibition period)
Media coverage
See N:2 AC Dept1 Arts and Cultural ProjectsFY20161607 Metomorphosis of Japan After the WarReportRCACClipping
In Bangkok
Saturday 17th September – Friday 14th October 2016
Opening ceremony
Saturday 17th September at 4.00 p.m.
Special talk by Ark Fongsamut, Curator of Bangkok University Gallery (BUG), at 3p.m.
Venue
1st floor, Zone B and C, Ratchadamnoen Contemporary Art Center (RCAC)
Participants
152 people (Opening)
570 people (exhibition period)
Media coverage
See N:2 AC Dept1 Arts and Cultural ProjectsFY20161607 Metomorphosis of Japan After the WarReportCMUClipping
The Japan Foundation, Bangkok, in collaboration with CMU Art Center of Chiang Mai University and Office of Contemporary Art and Culture (OCAC) proudly co-organized "Metamorphosis of Japan After the War," the photography exhibition of postwar Japan images from 1945-1964 by 11 talented Japanese artists including Ihee Kimura, Yasuhiro Ishimoto, Ken Domon, Eikoh Hosoe, Hiroshi Hamaya, Kikuji Kawada, Shomei Tomatsu, Takeyoshi Tanuma, Shigeichi Nagano, Ikko Narahara and Tadahiko Hayashi and curated by Tsuguo Tada and Marc Feustel. The exhibition was organized at two venues in two provinces: CMU Art Center, Chiang Mai University in Chiang Mai from Friday 8th July to Sunday 28th August 2016 and Ratchadamnoen Contemporary Art Center (RCAC) in Bangkok from Saturday 17th September to Friday 14th October 2016.
The exhibition features 123 photographs divided into three sections: the Aftermath of War, Between Tradition and Modernity, and Towards a New Japan. Despite being a defeated and devastated country after WWII in 1945, Japan underwent drastic transformations in terms of society, economy and culture after only two decades. This "postwar" era was characterized by various significant changes which occurred from the end of the war in 1945 to the year of the Tokyo Olympics in 1964. Reviving the country from scratch, Japan became a rising economic power as witnessed from the birth of "Shinkansen" bullets trains and the economic boom which had remarkably raised standards of livings in numerous homes.
This photography exhibition reveals the records of social transformation through the artistic perspectives of the 11 photographers who were each active in this period of dramatic upheaval. They include Ken Domon, the famous Japanese photographer of the 20th century for this photo realism, Ihee Kimura, whose approach to realism was unique, Hiroshi Hamaya, famed for photographing environments and ways of life of agricultural villagers, Tadahiko Hayashi, who created splendid portraits, Shigeichi Nagano, Ikko Narahara, Kikuji Kawada, Shomei Tomatsu, and Yasuhiro Ishimoto, representing a younger generation of photographers, and Eikoh Hosoe and Takeyoshi Tanuma, who possessed the creativity of photography. Although they have different photographic approaches, they are united in reflecting and searching for an understanding of the complexity of modern Japanese identity.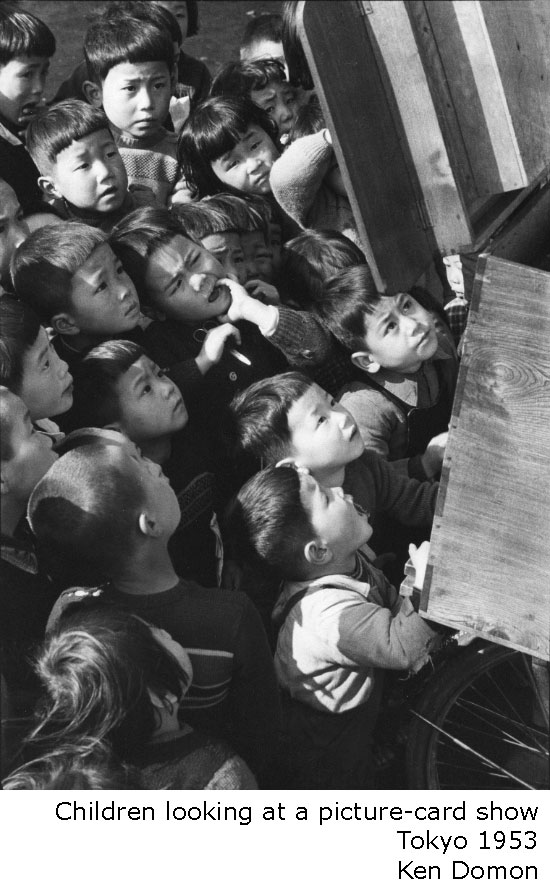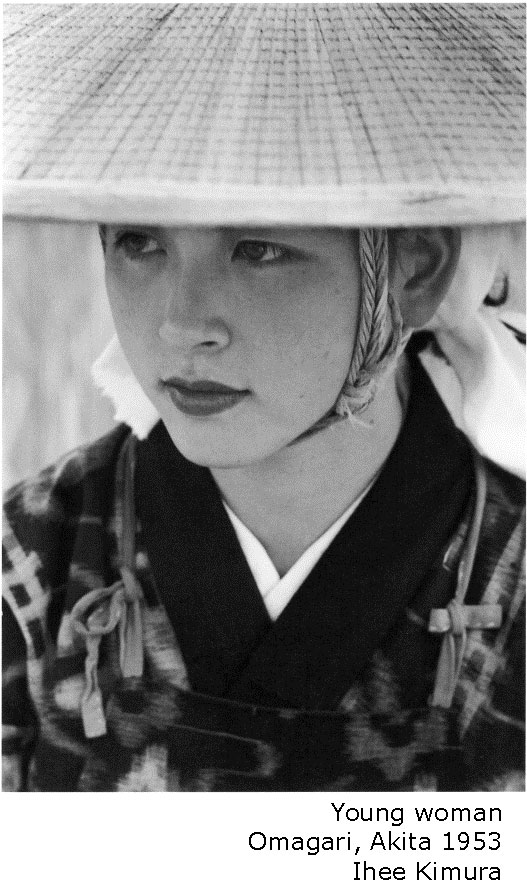 Chiang Mai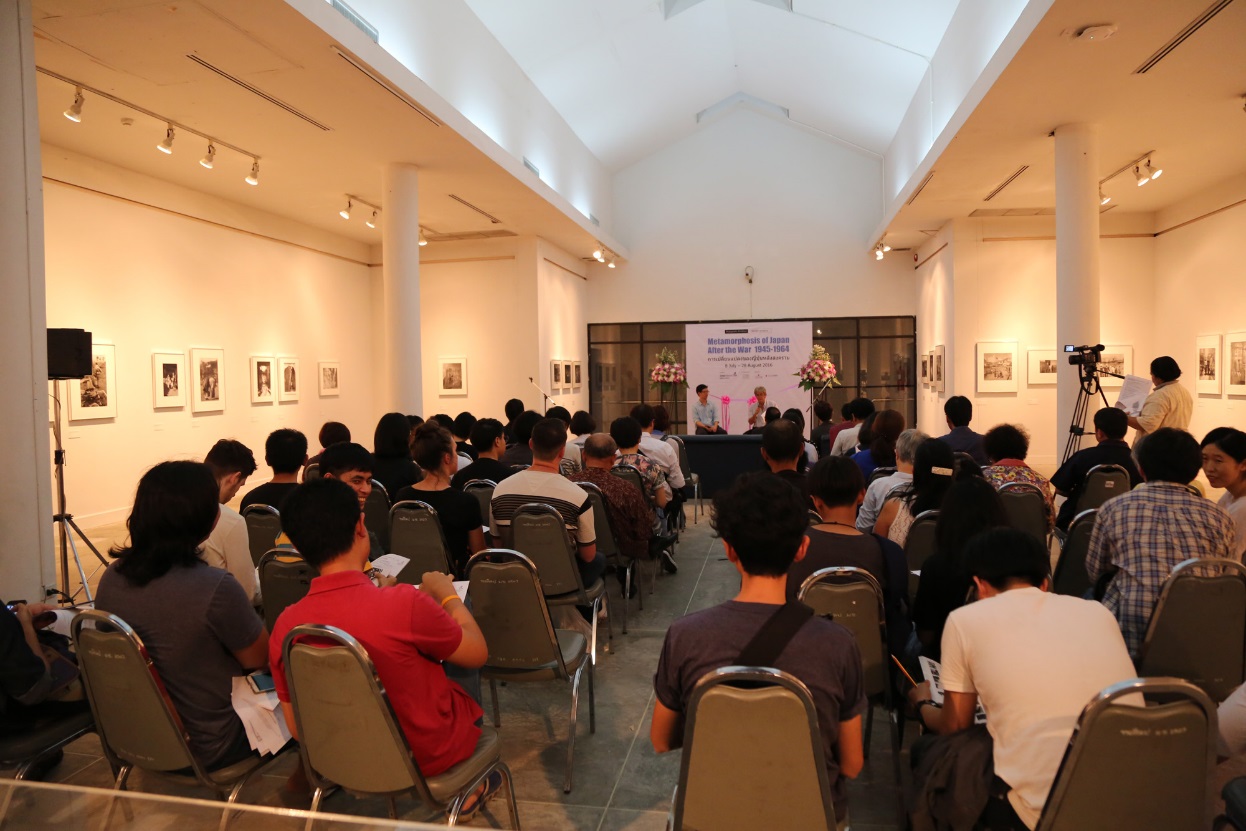 Many audience attends the special talk revealing their keen interests on the topic of
'Japan in Retrospection."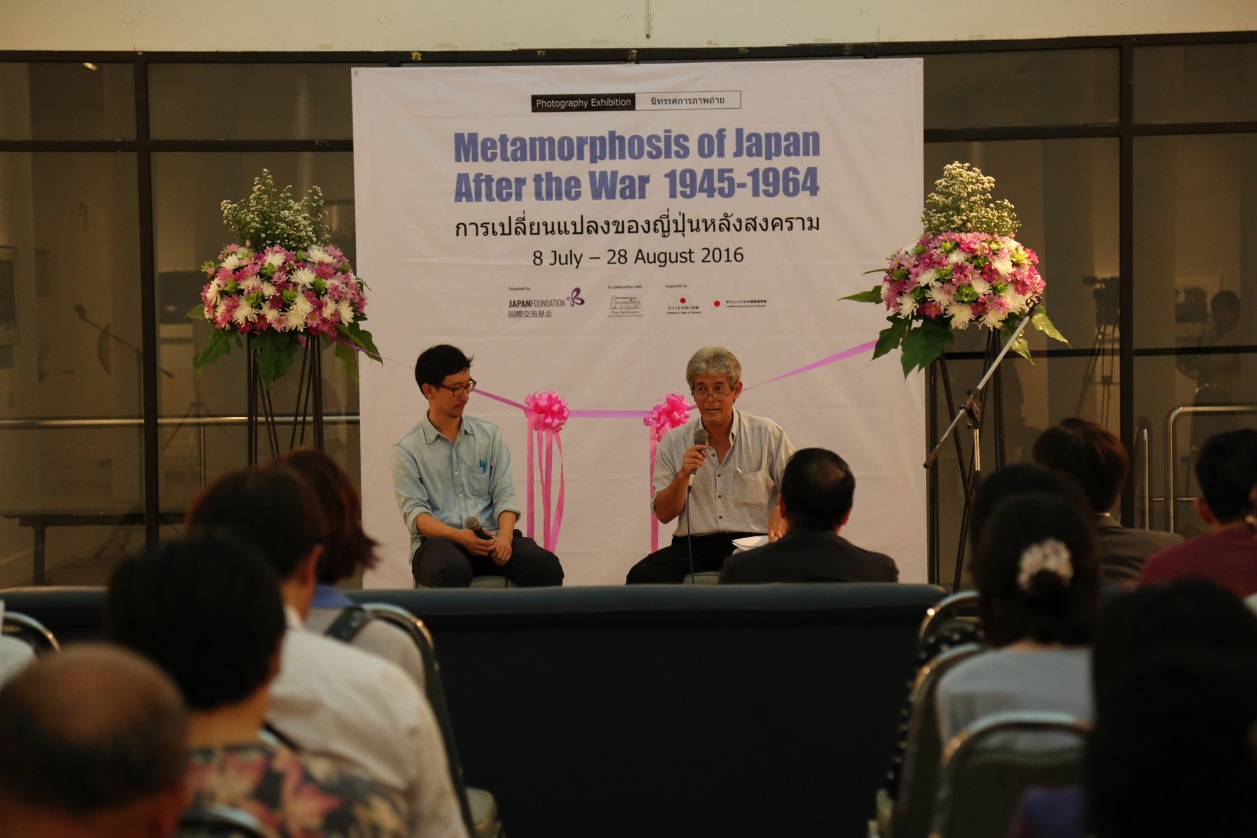 Professor Dr. Attachak Sattayanurak pinpoints about
the unique characteristics of this photo exhibition during their talk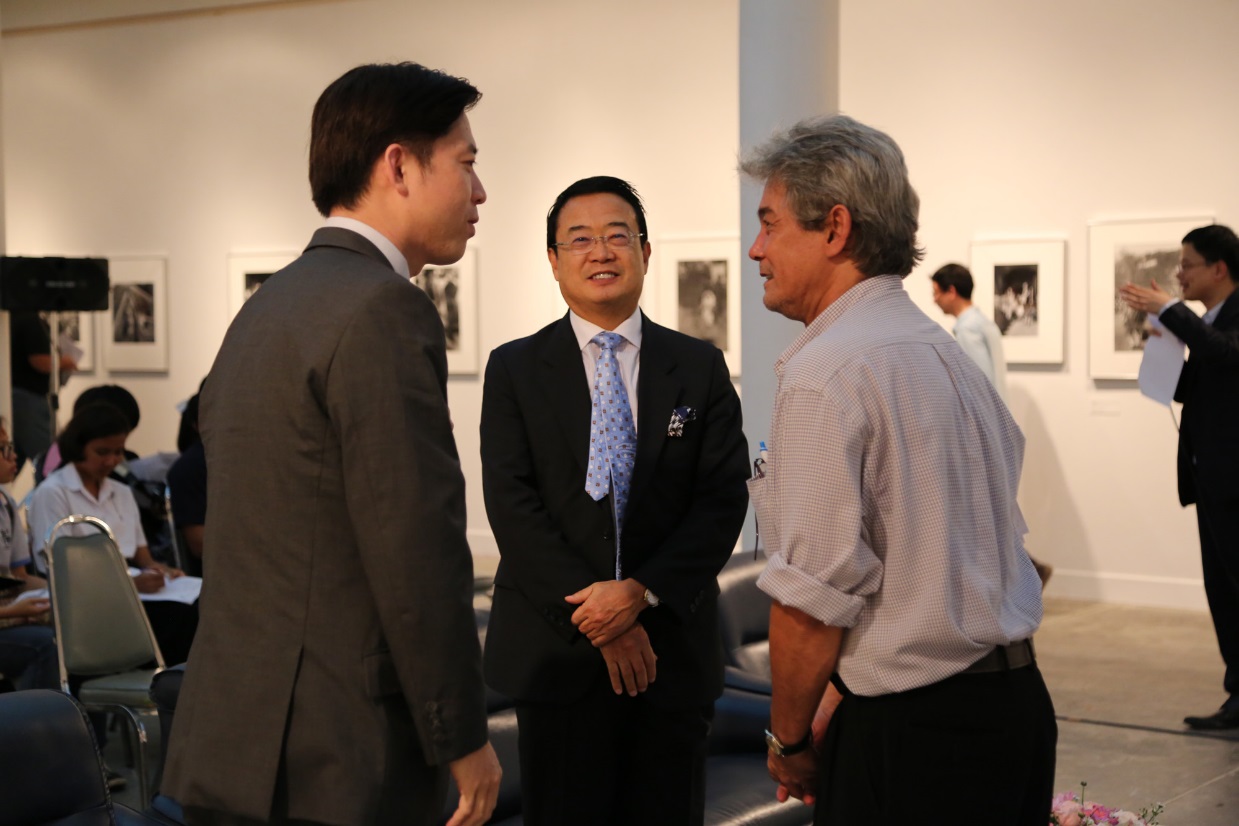 Mr. Norihiko Yoshioka (left),
Mr. Shinya Aoki, Consul-General of the Consulate- General of Japan in Chiang Mai (middle)
and Professor Dr. Attachak Sattayanurak greet each other before the Opening.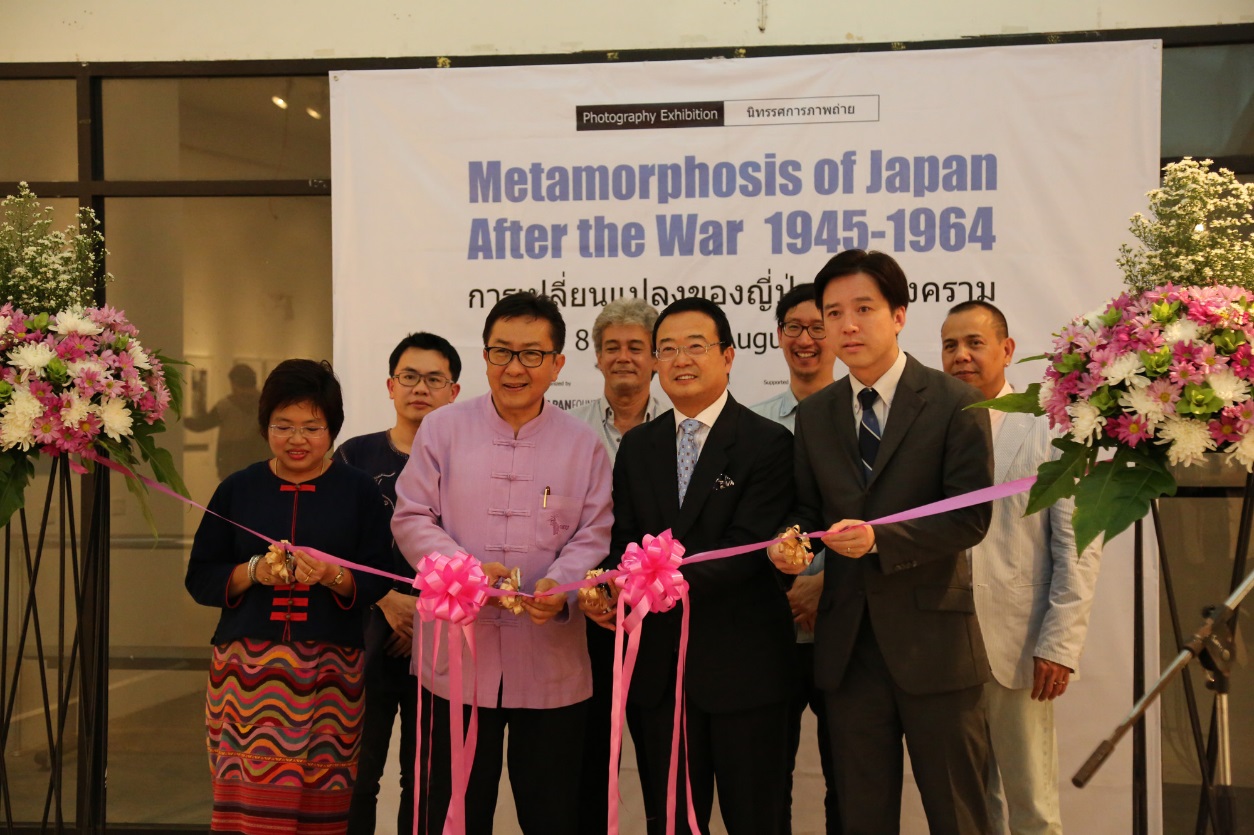 The ribbon cutting ceremony marks the inauguration of the photo exhibition.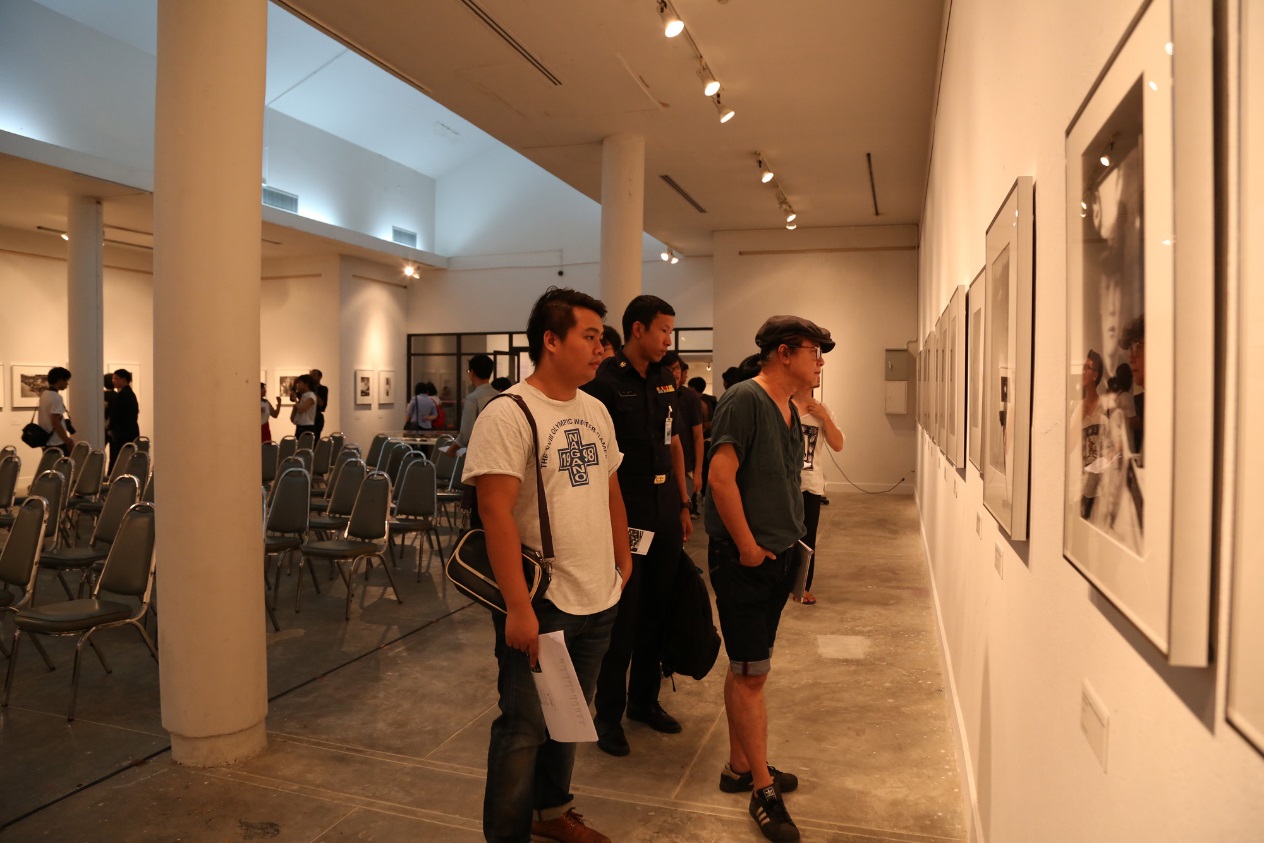 Audience pay their attention to the photos exhibited.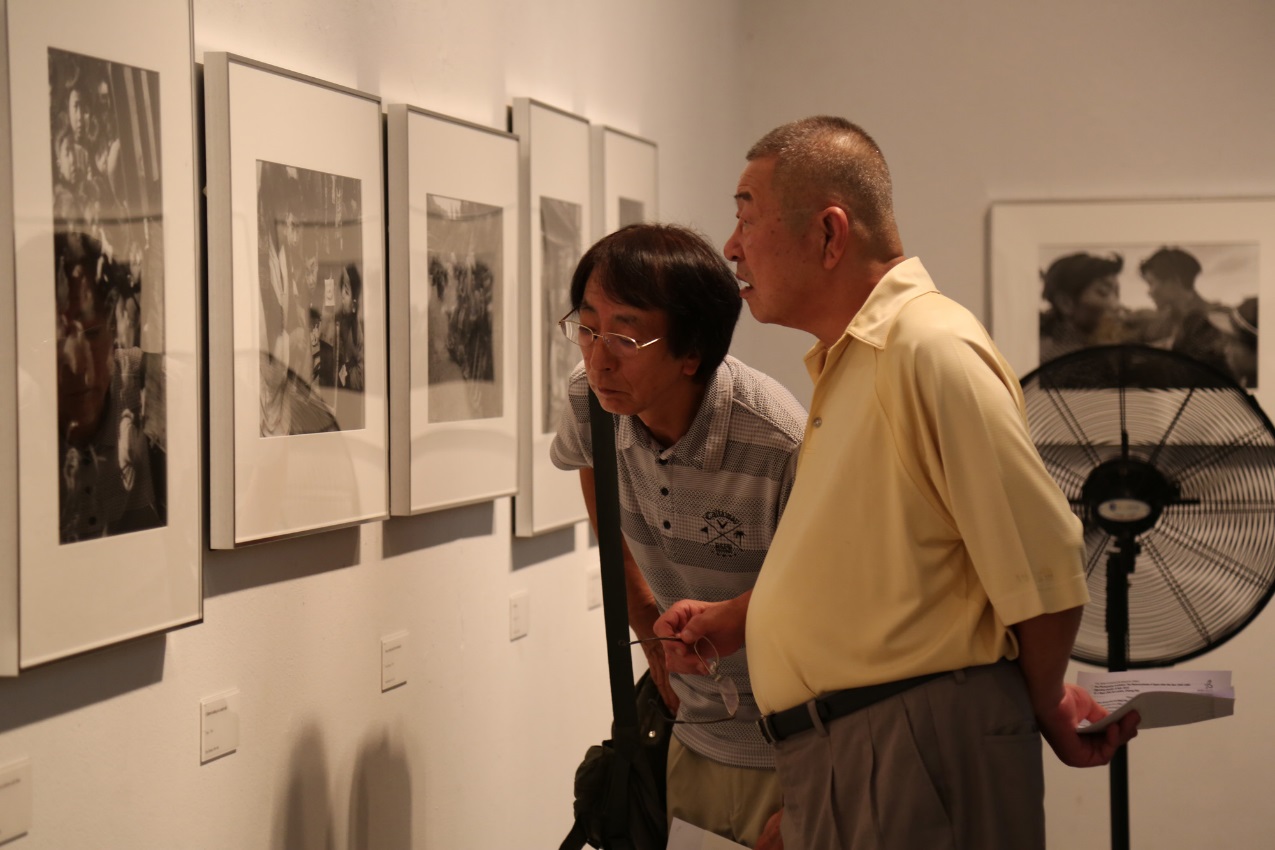 Two Japanese audience gaze the photo and read the caption details of a photo taken by Ken Domon.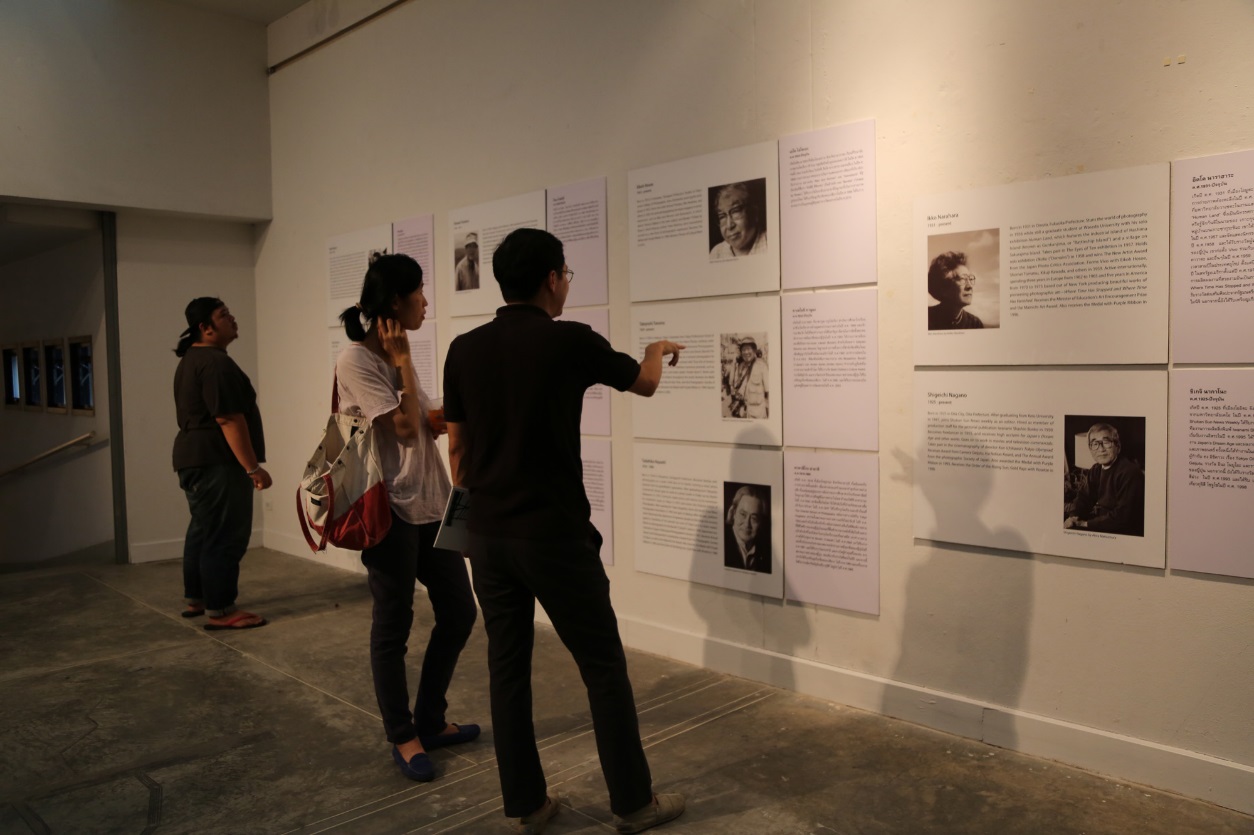 Audience view the biology of some artists of "Metamorphosis of Japan after the War."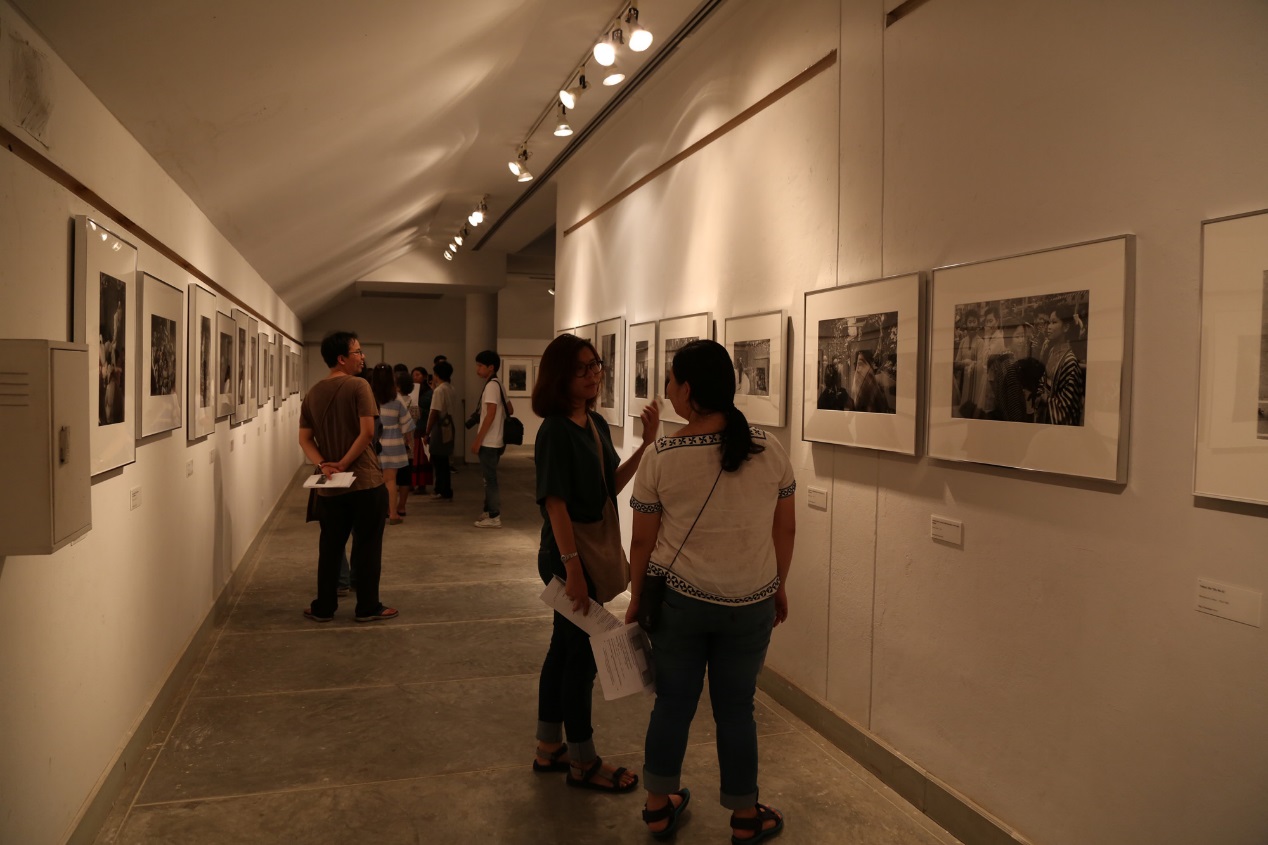 Visitors share their views while seeing the photo exhibited.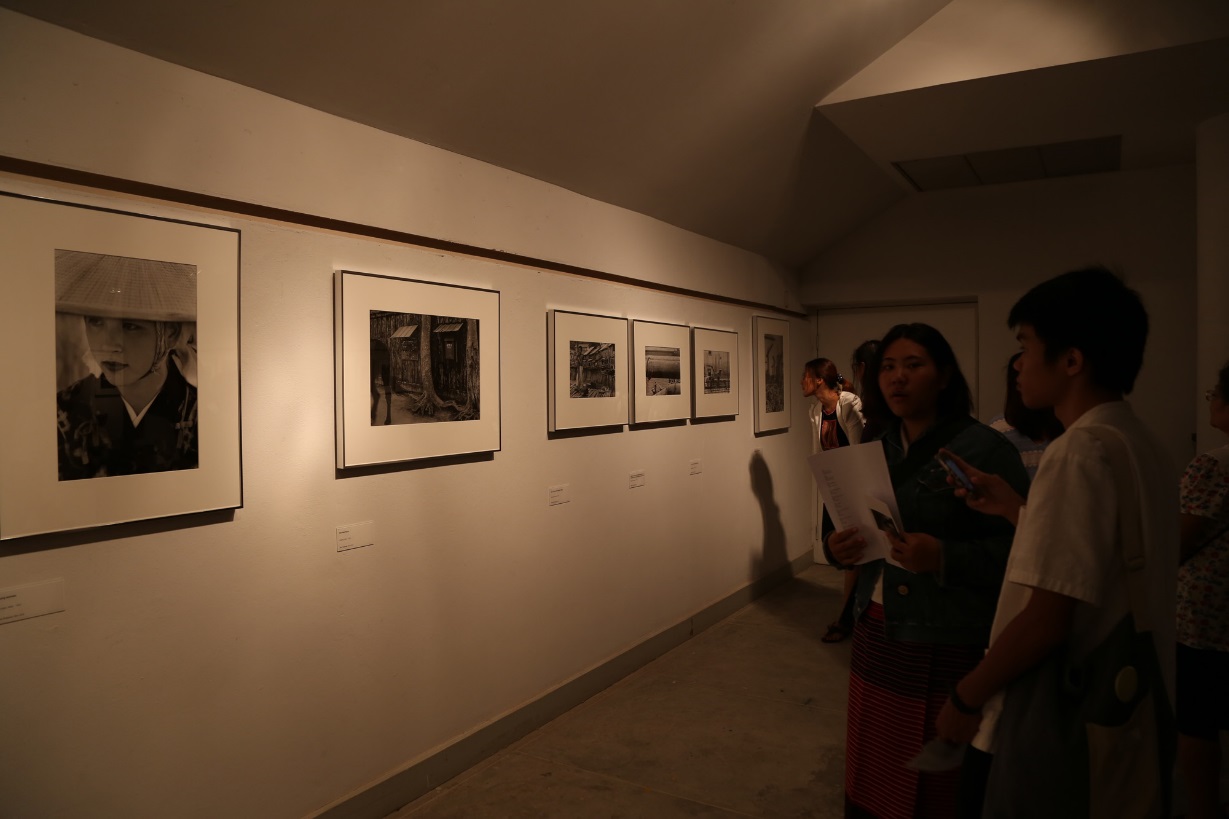 "Yong Woman" by Ihee Kimura is appreciated by the audience.
Bangkok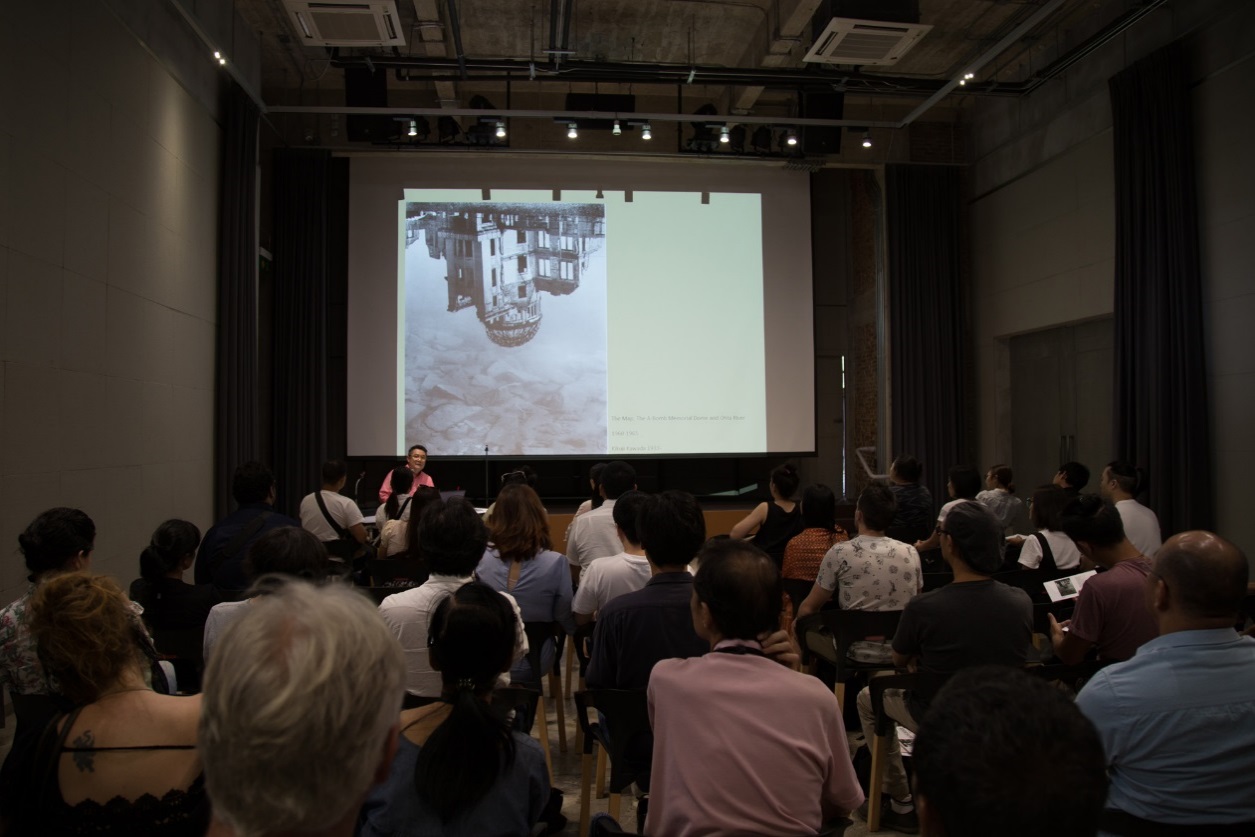 Mr. Ark Fongsamut captures the attention of audience
by showing the photo in this exhibition
with his interpretation from curatorial viewpoints.
VIP group photo session during the Opening ceremony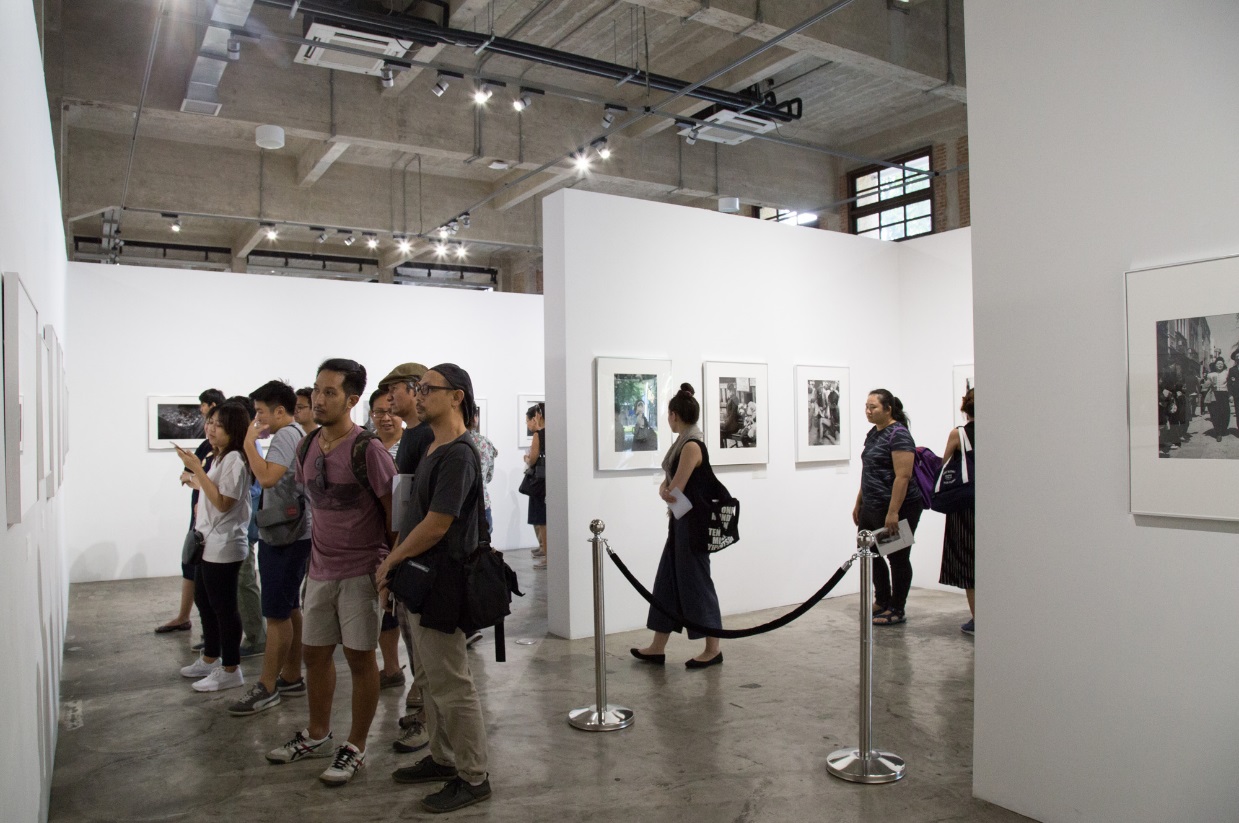 This photo exhibition attract quite a few of audiences due to its charming.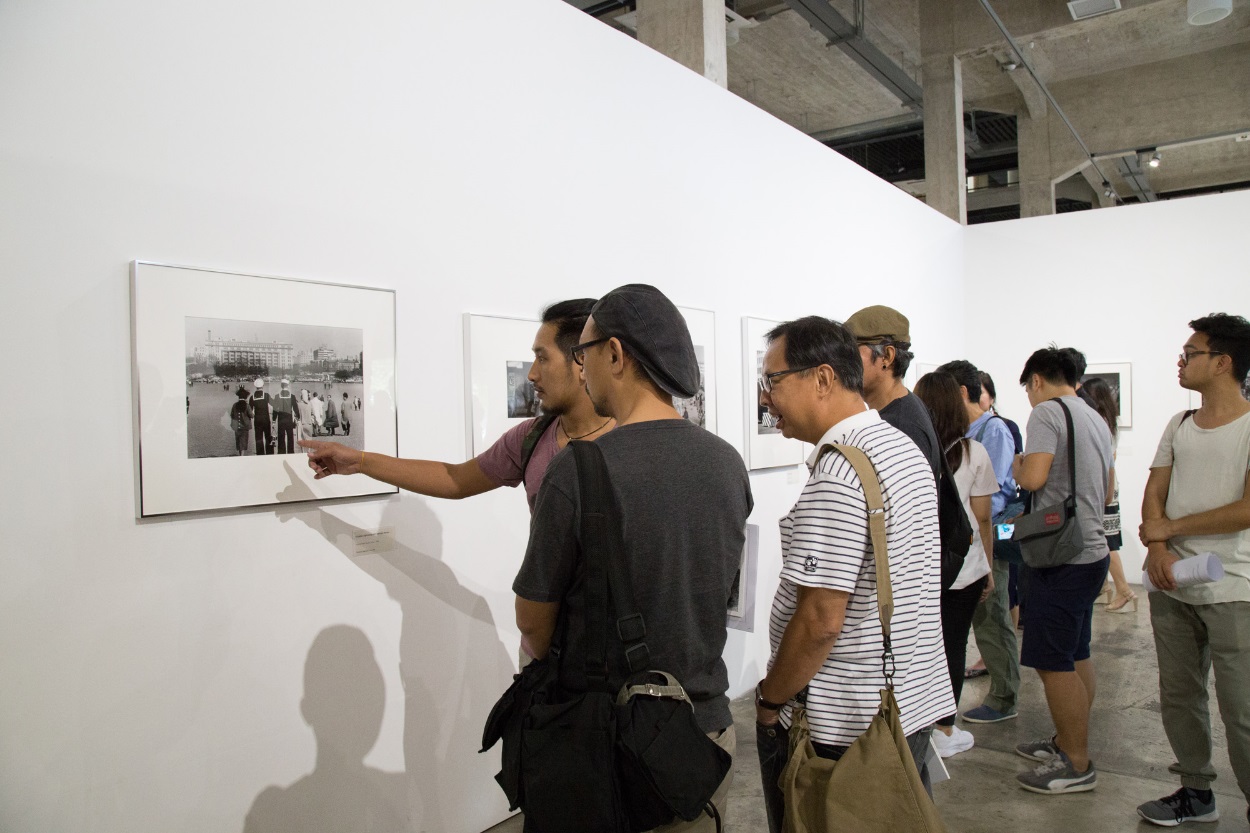 A group of audience spot at the photo and observe its contexts.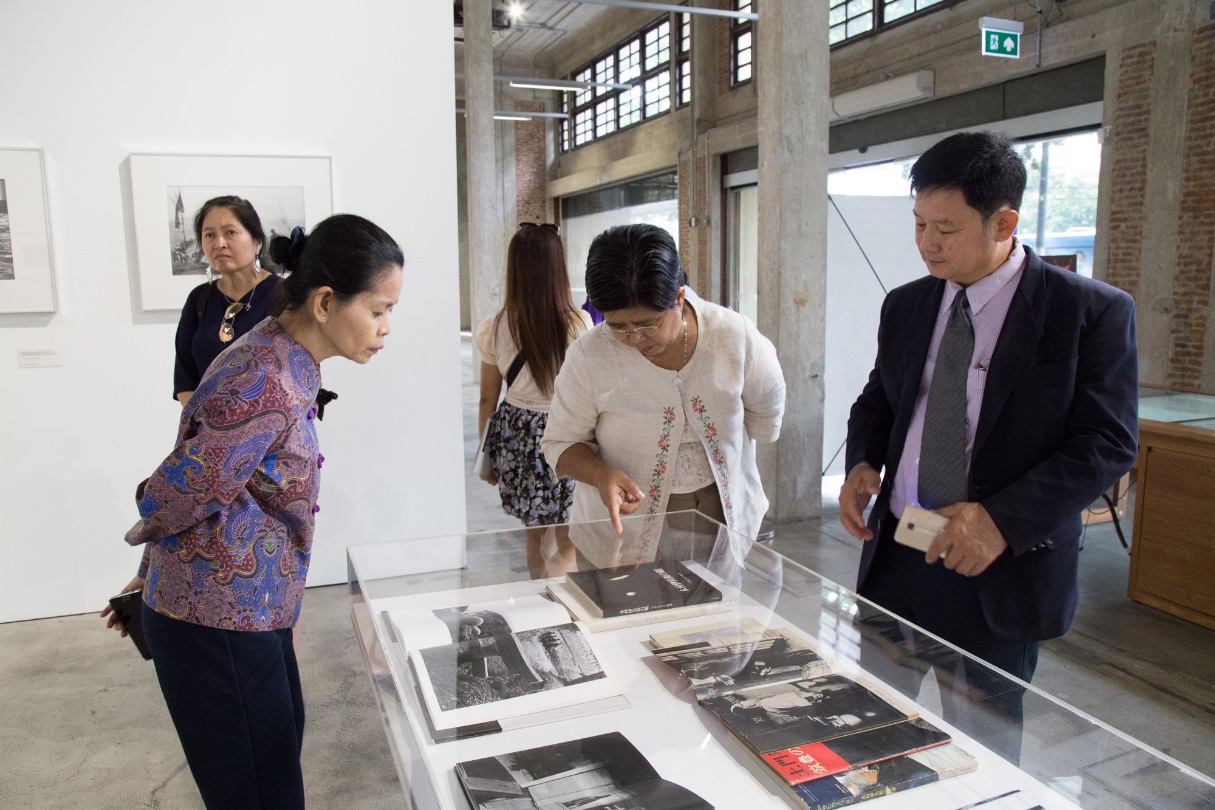 Catalogs of various artists are on display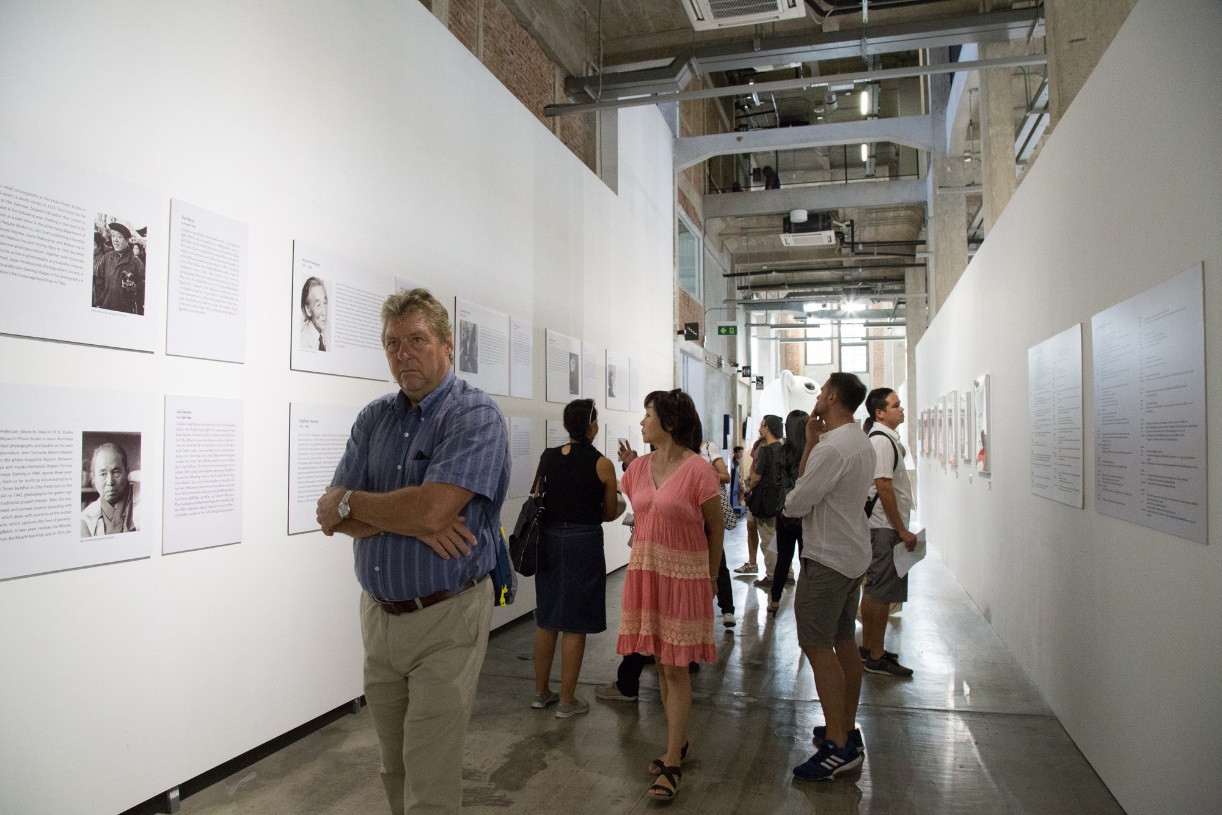 The audience are interested in knowing about artists of this photo exhibition.
Contact:
The Japan Foundation, Bangkok
10th Fl. Serm-Mit Tower
159 Sukhumvit 21 Rd.,
Bangkok 10110, Thailand
Tel: 02-260-8560-4/ Fax 02-260-8565
Co-organized by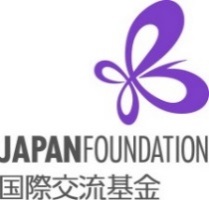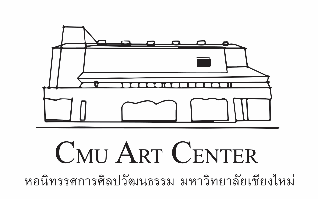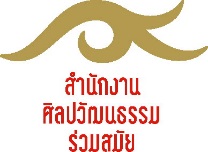 Supported by