Unfolding Kafka Festival 2022(4th edition)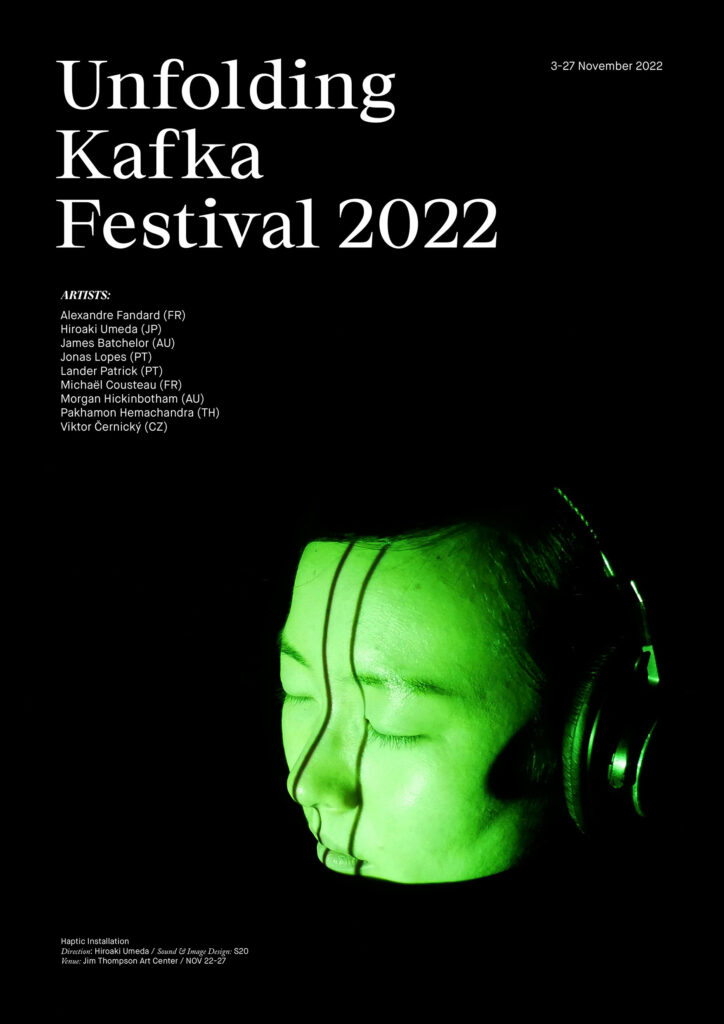 Franz Kafka died in Kierling,
Austria in 1924 (aged 40)
"I dream of a grave, deep and narrow,
where we could clasp each other in our arms as with clamps,
and I would hide my face in you,
and you would hide your face in me, and nobody would ever see us anymore."
—Franz Kafka, THE CASTLE (1926)
---
Unfolding Kafka Festival is a biennial platform for outstanding international artistic exchanges that enrich contemporary arts in Thailand. The grotesque universe of Franz Kafka blurs the line between human and non-human by allowing us to reflect on the otherness through humanized creatures. The 4th edition of the festival brought together international artists from multifaceted backgrounds to share their diverse approaches to conceptual creation.
The Japan Foundation, Bangkok, together with Unfolding Kafka Festival were delighted to present 2 video installations by Hiroaki Umeda, a Japanese dancer and visual artist whose installations were exhibited at Gallery 1 and Gallery 2 on the 3rd floor of Jim Thompson Art Center for 6 days, during Tuesday 22 – Sunday 27 November 2022 from 10.00 – 18.00.
As part of the festival, Hiroaki Umeda also gave a special lecture on Wednesday 23rd November 2022 at Jim Thompson Art Center, where he recapitulated the concept of 'Haptic' and 'Mold 1', as well the methodologies and ideologies of his other works and his definition of dance as a multidisciplinary artist.
Image©S20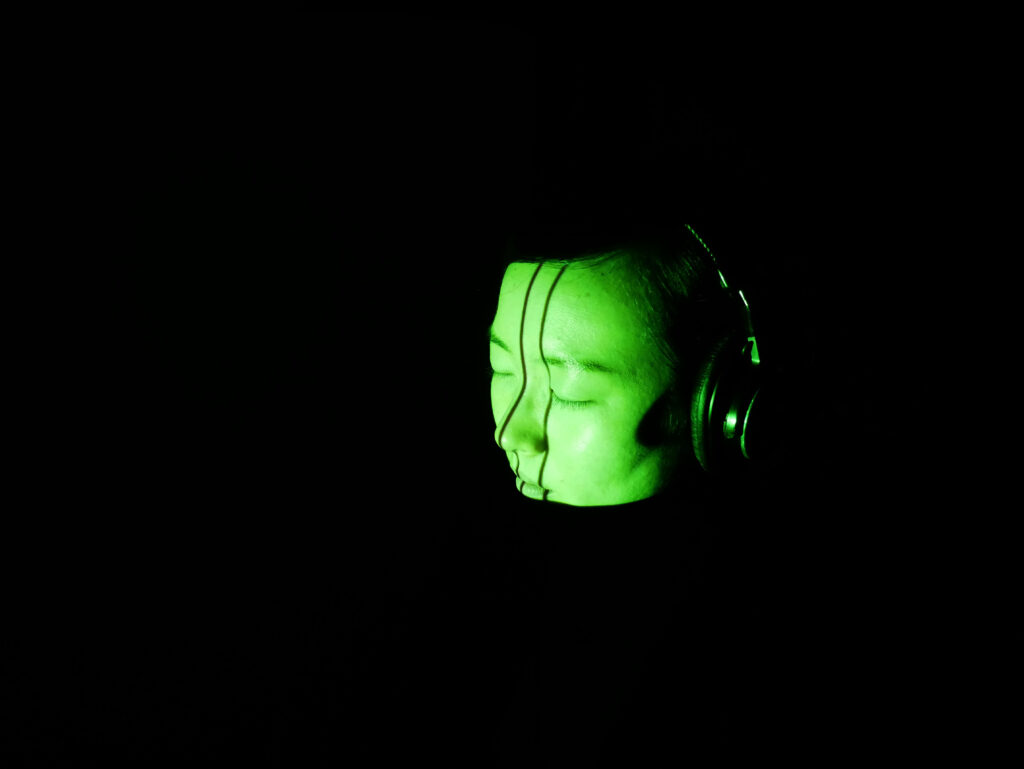 [Haptic installation]
Direction: Hiroaki Umeda
Sound & Image Design: S20
*Intense lighting will be used during this show.
The dance version Haptic (2008) was created on the basis of Umeda's thoughts considering ʻcolors as a form of haptic stimuli.' By filling the stage with extreme shades, the artist challenges the audience's body the receptive apparatus of light to the critical point. Deriving from the same concept, Umeda makes further investigation in this installation,
of the possibility of physically perceiving colors. When one shuts their eyes, the world usually turns pitch-black. However, in this piece, when the audience is guided to a little dark room to watch a video installation with their eyes closed for two-and-a-half minutes, he/she will be clearly seeing monochrome or color lines behind their eyelids. Synchronizing with the violent electronic sounds heard from the headsets, the grid lines are physically perceived as a form of photic stimuli. After going through the seemingly paradoxical experience of seeing with eyes closed, the audience starts questioning why he or she has observed light in the darkness, dazed by the disparity between ʻcognition' and ʻexperience.' Umeda, in fact, considers this work as a dance piece, since it provides the audience a physical experience of chromatic vision. Commissioned by Aichi Triennale, the Monochrome version and the color version of this video installation were presented together.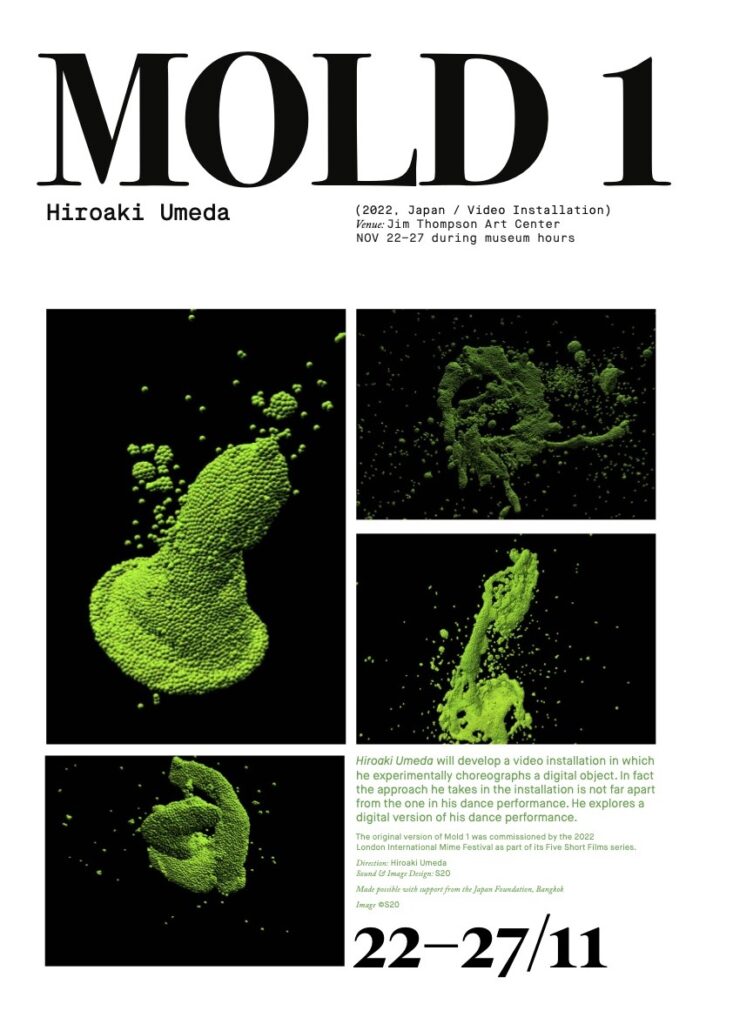 [Mold 1]
Direction, Sound Design: S20
Choreography: Hiroaki Umeda
Hiroaki Umeda will develop a video installation in which he experimentally choreographs a digital object. In fact, the approach he takes in the installation is not far apart from the one in his dance performance. He explores a digital version of his dance performance.
The original version of Mold 1 was commissioned by the 2022 London International Mime Festival as part of its five short films series.
About Hiroaki Umeda
Since 2002, Hiroaki Umeda's choreography has been invited around the world including Chaillot National Theater in Paris, with performances in over 150 cities in 40 countries. He was commissioned from and choreographed for festivals and companies such as GötenborgsOperans Danskompani and L.A Dance Project. His work goes beyond dance and choreography, encompassing sound, video and lighting design. In recent years, he has also produced installations focusing on physical sensation. His installations have been presented in 21_21 DESIGH SIGHT, NTT Inter Communication Center [ICC] and many other international festivals around the world
---
Contact Information
For inquiries and more information on other leading international artists and venues, please refer to the contact information of Unfolding Kafka's website. http://www.unfoldingkafkafestival.com/
---
Cooperation Partners: the Goethe-Institut Thailand, the Japan Foundation, Bangkok, Ambassade de France en Thaïlande, Embassy of Portugal, Camões – Institute for Cooperation and Language, Arts ACT and the Australian Embassy Thailand, Embassy of the Czech Republic in Bangkok, the Ministry of Culture of the Czech Republic, the City of Brno and the City of Prague, TCEB and 18 Monkeys Dance Theatre.
Venue Partners: Lido Connect, Princess Galyani Vadhana Institute of Music, The Peninsula Bangkok, Jim Thompson Art Center, Hostbkk and Alliance Française Bangkok
Hotel Partner: The Peninsula Bangkok, Holiday Inn Express Bangkok Siam
Educational program partners: Faculty of Fine and Applied Arts, Chulalongkorn University (FAA), Faculty of Fine and Applied Arts Multidisciplinary Art Innovation Program (FAAMAI), Faculty of Fine and Applied Arts, Khon Kaen University / Bachelor's Degree of Fine and Applied Arts (Performance Practice)
---