[ OPEN CALL ]
Virtual Workings: An e-residency for arts curators from the ASEAN region and Japan
Original site
:
https://culture360.asef.org/opportunities/virtual-workings-e-residency-arts-curators-open-call/
The Japan Foundation, Bangkok (JFBKK) and the Asia-Europe Foundation (ASEF) through its arts website culture360.ASEF.org are pleased to launch the open call for Virtual Workings, an e-residency for emerging arts curators from the ASEAN region and Japan. Organised as a response to the impact of the global pandemic, this e-residency will be held online for a period of 6 weeks and will offer an opportunity for capacity building, peer learning and collaboration with a support of an expert in the field who will serve as a mentor to each pair of curators.
About the Residency
Format:
Selected curators will work in pairs. Each pair will be assigned a mentor and will collaborate online over a period of 6 weeks (16 November – 22 December 2020).
Applicants are encouraged to apply in pairs. For individual applicants, the pairing will be done by the organisers.
Each applicant/pair of applicants is/are required to indicate their order of preference in the application form for the below-mentioned themes. This will be taken into consideration during the selection and "pairing" process. Within the chosen theme, each pair will further define and propose the specific topic of their project with the support of the assigned mentor.
Each pair will work on a final output that could take the form of an online presentation, photo documentary, podcast, video documentary, mock project presentation online, amongst others. The final output of the residency will be published on ASEF.org and partners' social media channels.
At the end of residency, each pair will take part in a podcast or video interview about the collaborative process as part of a wider sharing of their residency experience
Fee: Each participant will receive a fee of
USD 500
for their participation in the residency to be used for the implementation of their project idea (e.g. research fee, purchase of materials or any other necessary service fee)
Mentors and Themes
The 3 mentors for this residency include the following experts:
Ms Luckana KUNAVICHAYANONT
(Thailand), Arts consultant & Independent Curator and former Director of Bangkok Art and Culture Centre (BACC)
Ms TAKAHASHI Mizuki
(Japan/Hong Kong SAR), Executive Director and Chief Curator, Centre for Heritage, Arts and Textile, Hong Kong
Prof Amareswar GALLA
(Australia, India), Director, International Institute for the Inclusive Museum, Australia and Anant National University, India
To know more about the mentors see:
https://culture360.asef.org/news-events/asef-japan-foundation-announce-virtual-workings-e-residency-arts-curators/
The 3 themes for this residency are:
Resilience:
Resilience is the ability to adapt and thrive when encountering sudden changes, long-term urgent issues as well as new challenges. Never before in the 21st century has mankind witnessed more frequent and severe climate change, environmental decline and other related events, migration influx or even the recent COVID-19 pandemic, which leave us vulnerable to an uncertain future. The age of resilience is truly presented upon us. Resilience could be considered one of the fundamental survival skills of the modern world. This theme aims to engage in a discussion and exploration on resilience and its benefits to the improvement of life in the new challenging era during this residency. It delves into how artists and the art world would reflect upon and adapt to this changing world at an unprecedented speed with less stress, self-awareness and positive relationships and purposes.
First Voice – Curating Inclusion and Diversity:
The critical museological discourse of curating as a process with end products that define contemporary cultural experiences evidence that curators are powerful facilitators, who could be enablers, mediators or even manipulators. They have an important ethical responsibility in framing representations through the portal of curating and its contextual lens. In co-curating as a pair between two deep cultural regions of Asia – Japan and Southeast Asia, how does curatorship address the negotiation and crossing of a range cultural borders such as race, ethnicity, colour gender, sexuality, age, ability of all forms, economic status, faith and so on. What about intersectionality of the borders? In doing so, how do they centralise and valorise the First Voice of the primary stakeholders as rights holders. How do they overcome the agency of authorising and become listeners/enablers/facilitators?
Interweave Asian textile(s) with contemporary urgencies
Textile is one of the oldest artforms in human history as well as the most familiar material in our everyday lives. Asian countries have rich tradition and histories of textiles and they narrate the distinctive culture and the aesthetic of each region; thus, they are strongly connected with the local identities. On the other hand, textiles have been global products even before globalisation. Textile patterns and techniques have been transmitted from region to region and vernacularised through trading and exchanges. In modern textile production, we can see severe problems such as slavery in cotton farming and exploitation of technique by colonialism. Today's textile industry often threatens traditional textiles production in local communities and mass production causes textile waste. In competitive textile industry, many female workers serve this business with low wage. Textile serves not as beautiful material for products but provides food for thought of multiple contemporary urgencies we face. For further reading on this theme, follow the link:
https://www.mill6chat.org/event/unfolding-fabric-of-our-life/
Eligibility criteria
National of an ASEAN Member State or of Japan
Emerging curators with 2-5 years of work experience in a museum, cultural institution, exhibition space or as an independent practitioner
Excellent written and fluent spoken English (all communication and writing will be in English)
We invite applications submitted as a pair or as an individual. In the case of applications as a Pair, each member must be of different nationality within ASEAN and Japan. For individual applications, the organisers will pair the applicants based on the preferred theme and the interests expressed through the application.
Applicants who have never participated in/worked on international projects are encouraged to apply (see related question in the application form)
Applicants who have missed out on training opportunities as a result of the pandemic are encouraged to apply (see related question in the application form)
Requirements
Take part in the residency and work with a peer curator and assigned mentor for 6 weeks. Please note that for individual applicants, the pairing will be done by the organisers based on their preferred theme and interests expressed in the application form.
Submit weekly updates about the progress of the project through video clips and/or social media posts via culture360 Instagram page.
Prepare a final output that could take the form of an online presentation, photo documentary, podcast, video documentary, mock project presentation online, amongst others, which will be published on ASEF.org and it's social media channels
Take part in a podcast or video interview to share the learnings outcomes of the residency with a wider section of the arts community
Submission of applications
We invite you to submit your application through this form and attach the required documents latest by 30 October 2020:
https://asiaeuropefoundation.formstack.com/forms/virtual_workings_application_form
Selection Panel
A panel comprising one representative from JFBKK, one representative from ASEF and the 3 mentors will evaluate and select the participants. Please note that only successful candidates will be notified latest by 9 November 2020.
Project timeline
| | |
| --- | --- |
| Open call for applications | 1 to 30 October 2020 |
| Selection | 1-6 November 2020 |
| Announcement of selected participants | 9 November 2020 |
| Online residency | 16 November to 22 December 2020 |
| Presentation of outcomes and online activities | January and February 2021 |
About the partners

The
Japan Foundation, Bangkok (JFBKK) is an institution dedicated to carrying out comprehensive international cultural exchange programs throughout the world. To cultivate friendship and ties between Japan and the world, the Japan Foundation creates global opportunities to foster friendship, trust, and mutual understanding through culture, language, and dialogue. Opened in 1974, JFBKK has been enthusiastically implementing a diverse range of cultural activities including art, culture and society, and coordinating various programs supporting Japanese language education and Japan studies, in cooperation with the Thai fellow counterparts.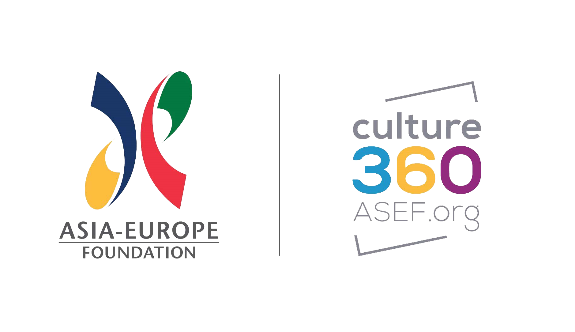 ASEF promotes understanding, strengthens relationships and facilitates cooperation among the people, institutions and organisations of Asia and Europe. culture360.ASEF.org is an online platform managed by ASEF since 2008. It counts over 280,000 unique visitors yearly and offers up-to-date information on arts, culture, and heritage from 51 countries in Asia and Europe. Publicly funded by the Asia-Europe Meeting (ASEM), culture360.ASEF.org is for artists, cultural professionals, policy makers, and anyone interested in international cultural cooperation. With the support of

Centre for Heritage, Arts and Textile (CHAT)
CHAT (Centre for Heritage, Arts and Textile) is a part of the heritage conservation project of The Mills, the former cotton-spinning mills of Nan Fung Textiles in Tsuen Wan. Through its multifaceted curated programmes, which include exhibitions and co-learning programmes, CHAT aims to be an art centre that weaves creative experiences for all. For more information:
https://mill6chat.org

Inclusive Museum
The International Centre for Inclusive Cultural Leadership (ICICL) is an interdisciplinary global action-think tank and research/praxis network established within Anant National University, Ahmedabad, India. ICICL works towards inclusivity, inspirational leadership, and all forms of sustainable heritage development which are grounded in SDGs, UN 2030 Agenda, and HABITAT III. ICICL works as a mentoring and empowering network. It brings together the research, professional and community capital of the International Institute for the Inclusive Museum at the Anant University. For more information
https://inclusivemuseums.org/