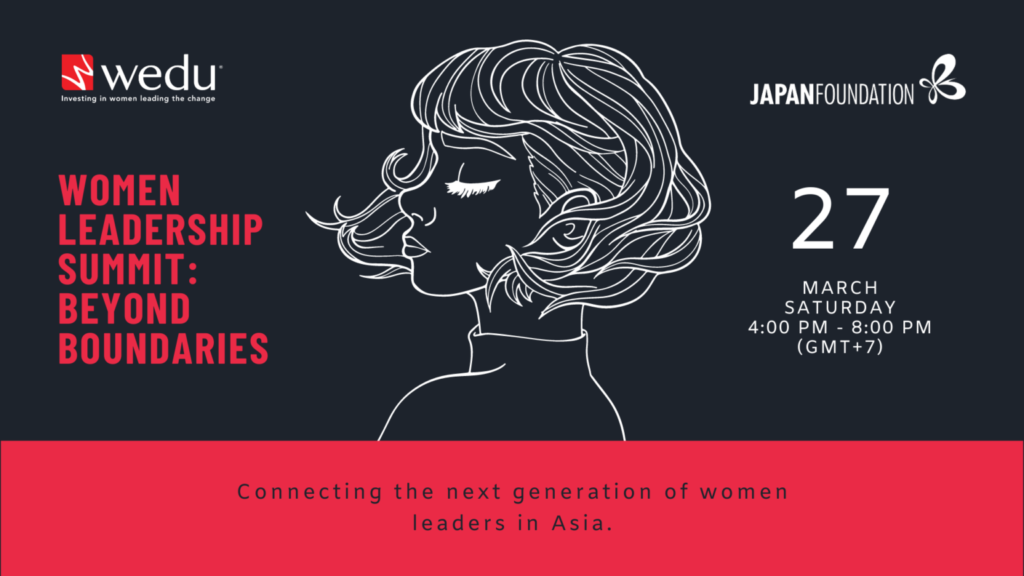 Wedu Thailand Foundation is organizing an online event of " Women Leadership Summit: Beyond Boundaries. Connecting the Next Generation of Leaders in Asia" on Saturday March 27th from 4:00 – 8:00 PM (Bangkok time). This event is granted by the Japan Foundation, and it aims to connect the next generation of women leaders in Asia.
The one day event will include keynote speakers, panel discussions, and networking components, and will feature Asian female leaders and change-makers as speakers.
The Summit will be open to 100 young women leaders (aged 19-35) across Asia who are interested and/or have expertise in gender equality, particularly as it relates to promoting women's leadership. During the Summit, the attendees will develop a deeper appreciation for women's leadership in Asia, make new connections, and expand their horizons.
Those who are interested in gender equality and women leadership in Asia, please do not miss this event and register well in advance for participation at the below link. For any queries, please reach out directly to info@weduglobal.org
https://www.weduglobal.org/iwdvirtualsummit2021/