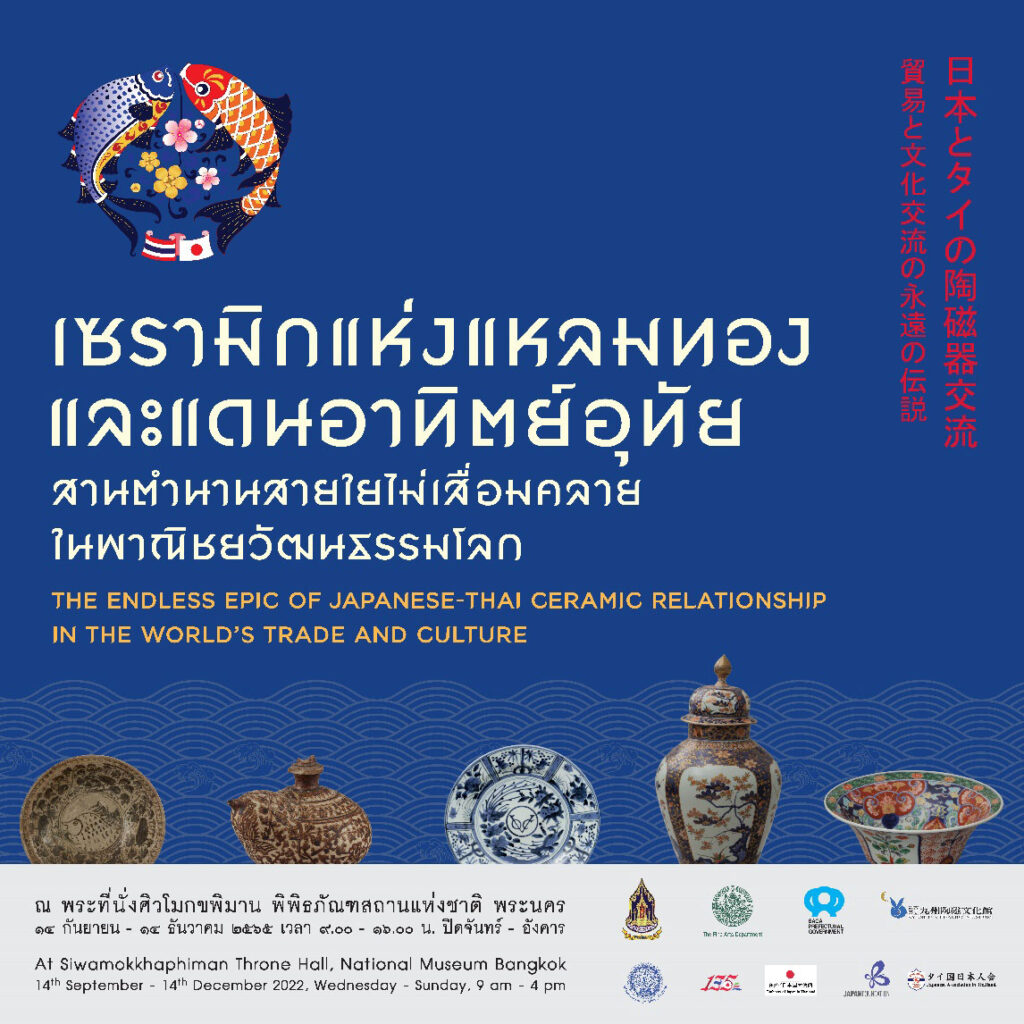 Date – Time:
14th September – 14th December 2022
9.00 – 16.00 hrs.
Opening hours from Wednesday – Sunday(Close on Monday and Tuesday)
Venue:
Siwamokkhaphiman Throne Hall, National Museum Bangkok
Entrance fee:
30 THB (Thai visitor)
200 THB (Foreigner)
The Fine Arts Department of the Ministry of Culture Thailand and Saga Prefecture with support from the Japan Foundation, Bangkok will hold its last exhibition of the year, entitled "The Endless Epic of Japanese-Thai Ceramic Relationship in the World's Trade and Culture" to commemorate the auspicious occasion of H.M. Queen Sirikit The Queen Mother's 90th birthday anniversary and the 135th anniversary of the diplomatic relations between Japan and Thailand. Arita porcelains from Kyushu Ceramic Museum and Thai ceramics will be on display on this joyous occasion at Siwamokkhaphiman Throne Hall, National Museum Bangkok from 14th September to 14th December 2022 to cultivate and deepen the relationships and ties between Japan and Thailand, and to further the knowledge and understanding of archaeology, history and arts of Japan, especially in Edo, Ayutthaya and Rattanakosin periods.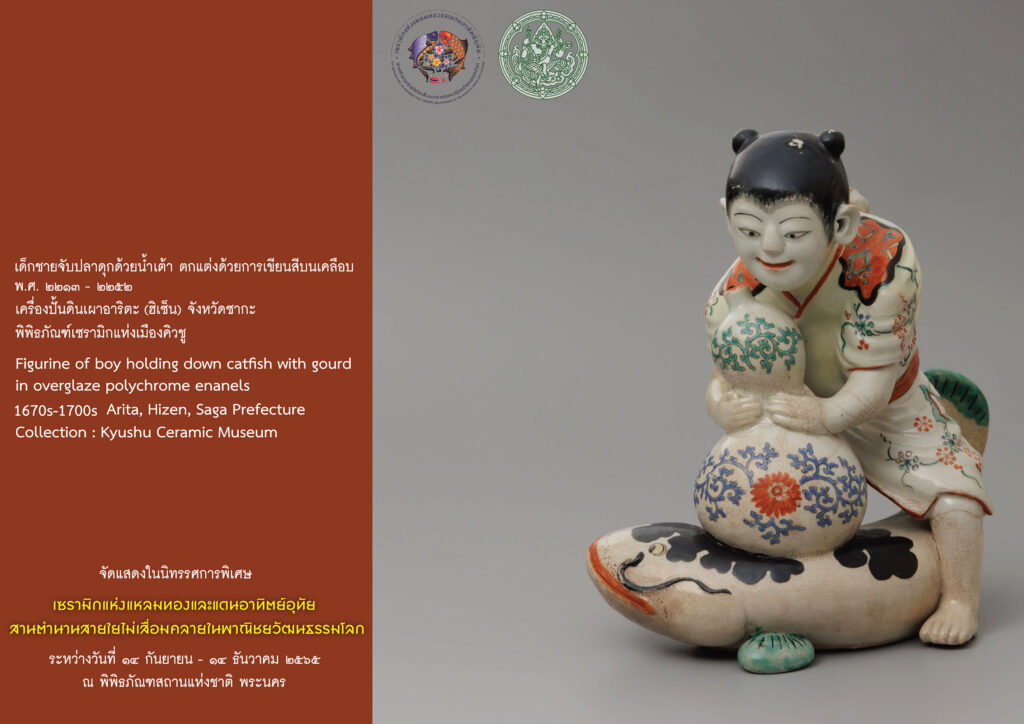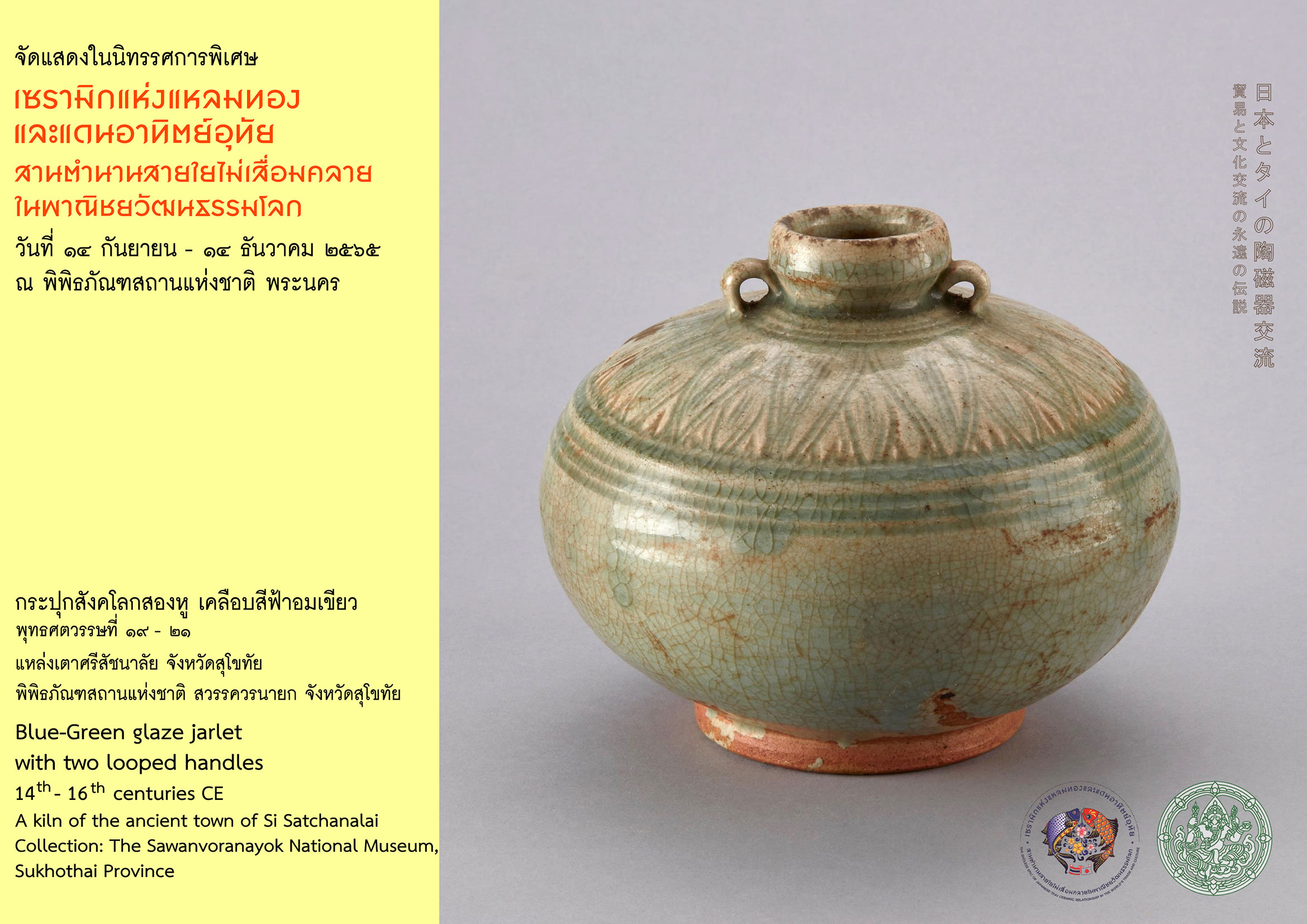 The famous Arita porcelains from Japan, such as the figurine of boy holding down catfish with gourd in overglaze polychrome enamels (1670s-1700s) and whisk-shaped bottle with peony design in overglaze poly chrome enamels (1650s-1660s), will be exhibited together with the ceramics from Thailand, including a set of 'Bencharong' covered bowls (the late 18th – 19th Centuries CE) and blue-green glaze jarlet with two looped handles (14th – 16th centuries CE), a kiln of the ancient town of Si Satchanalai, Sukhothai province.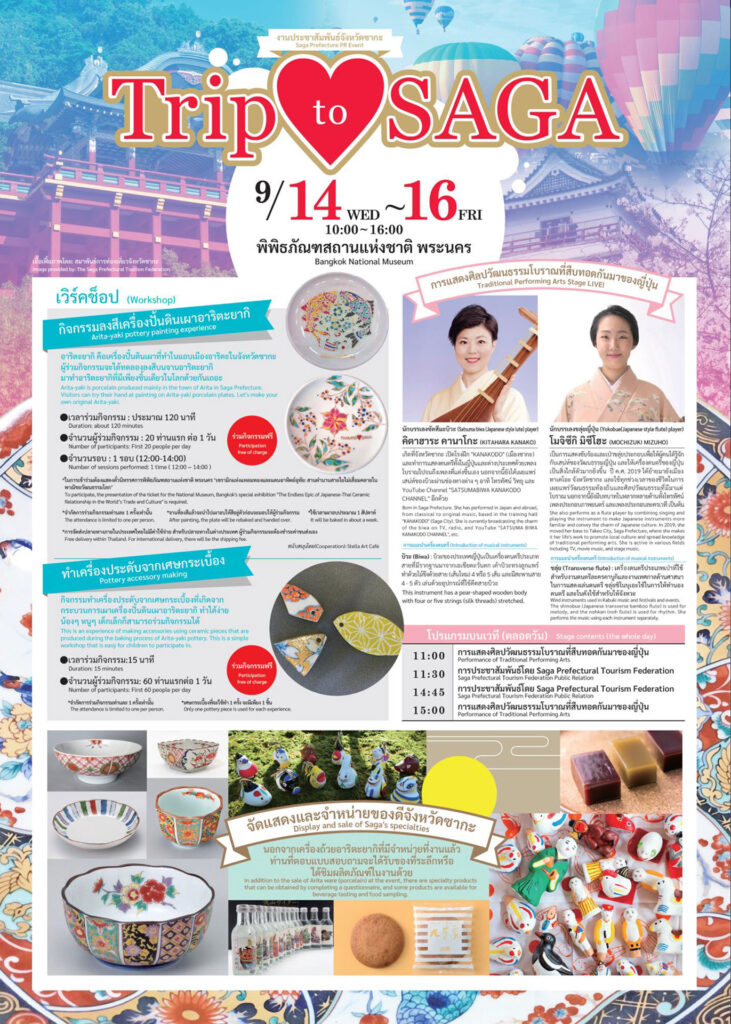 In addition, as a related project of the exhibition, Saga Prefecture will organize 'Trip to Saga', an event aimed to promote the specialty products and tourism resources of Saga Prefecture on the site of the museum during the first week of the exhibition. Moreover, an academic lecture will be held at the National Theatre (Small Hall) on Wednesday 14th September 2022. Particularly during 14th – 16th September, there will be two special workshops where you can join to paint Arita porcelain plates and make accessories by using Arita ceramic fragments, and attend the stage performances by Satsuma Biwa player and Flute player. Last but not least, there will be specialty products (food, beverages and crafts) to be sampled and purchased.
Apart from 'Trip to Saga', don't miss a set of workshops by Office of Traditional Arts, the Fine Arts Department. The workshops includes:
Plate-making from stoneware workshop. The participant can create a 12 cm – diameter plate with their own design, using press mold, scraper, and stamping tools.
Underglaze workshop the participant will receive 2 plates and 2 chopstick rests and can paint them using underglaze technique.
Date
Sunday 25th September 2022 Plate-making
Sunday 9th October 2022 Plate-making
Sunday 23rd October 2022 Plate-making
Sunday 6th November 2022 Underglaze
Sunday 20th November 2022 Underglaze
Sunday 4th December 2022 Underglaze
Time
The workshop will be held 4 times a day with a limitation of 30 participants per time.
(Morning)
9.30 – 10.30
11.00 – 12.00
(Afternoon)
13.30 – 14.00
15.00 – 16.00
* Remarks: the workshop participants can receive their works at the National Museum Bangkok during 10th – 14th December 2022. In case of delivery, there will be some additional charge.
Register for the workshop by Office of Traditional Arts following below QR code: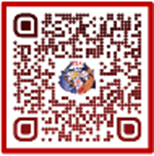 For more information, please follow > finearts.go.th
The Japan Foundation, Bangkok's contact Information
10th Fl. Serm-mit Tower, 159 Sukhumvit 21,
Bangkok 10110Tel +66-2-260-8560~3 Fax +66-2-260-8565
Email: acdept@ba.jpf.go.jp