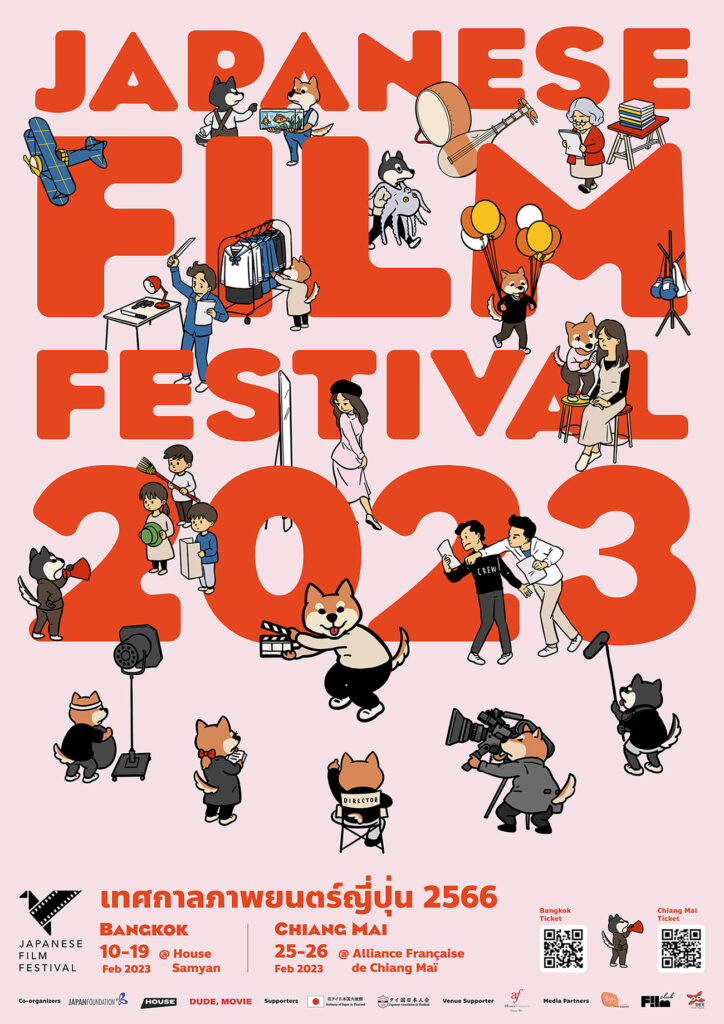 Japanese Film Festival 2023
■ Bangkok ■
Feb 10 (Fri) – 19 (Sun)
@House Samyan,
5th floor of Samyan Mitrtown
Total Admission (Including opening event): 3,256 people
■ Chiang Mai ■
Feb 25 (Sat) – 26 (Sun)
@ Alliance Française de Chiang Maï
Total Admission (Including opening event: 282 people
The Japan Foundation, Bangkok; House Samyan; and Dude, Movie proudly presented the onsite "Japanese Film Festival 2023 (JFF 2023)" in Bangkok and Chiang Mai. Supported by the Embassy of Japan in Thailand and the Japanese Association in Thailand, the onsite JFF 2023 was back this year with ten acclaimed films to relish these highly anticipated events, spanning a wide range of genres, including manga-adapted films, documentaries for family and early childhood's education, an extravaganza of a rock-musical animation and many more. 10 films for JFF2023 screened at House Samyan from February 10th to 19th , 2023, while 4 films screened in Chiang Mai at Alliance Française de Chiang Maï from February 25th  to 26th . The screening times in Bangkok and Chiang Mai were mentioned below.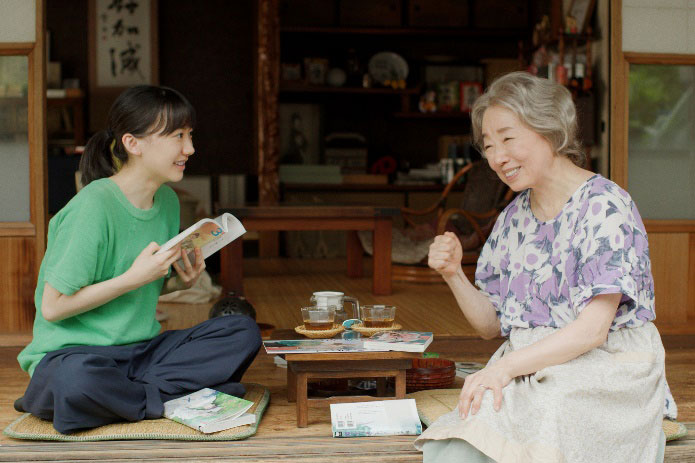 The highlight film this year was "BL Metamorphosis," a coming-of-age story of a17-year-old schoolgirl and a 75-year-old woman who are connected by "boys' love" (BL).
Urara Sayama is a high school student who is unable to sparkle like other girls her age. Her only joy in life is her secret hobby of reading BL manga. The other main character is Yuki Ichinoi who is 75. She is a widow with no particular interest or hobby who realizes that she is in the final stage of her life. One day, they are in the same bookstore where Urara works there part-time. Yuki, who is simply attracted to the pretty cover illustration, buys the manga without even knowing what BL means. They develop a "friendship" in which they can unabashedly discuss their favorite subject. With their 58-year-old age gap, Urara and Yuki embark on their challenge that brings about a metamorphosis in them.
We were delighted to introduce another two outstanding films in our lineup: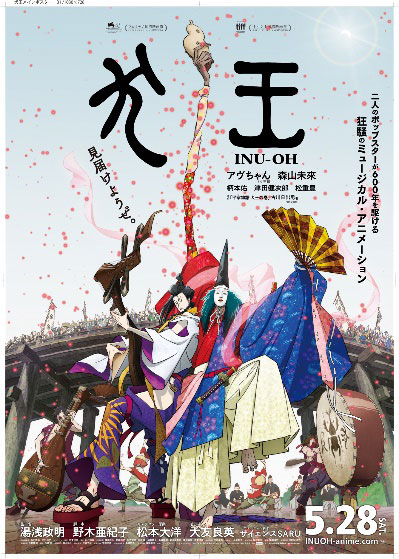 "INU-OH," a period drama as a bold and gorgeous rock musical animation.
Traditional musicians used songs to pass down the tale of the warfare that once divided Japan. In the 14th century those songs become fated for censorship when the government put their official history in order. Blind musician Tomona has a fateful encounter with Inu-oh, the dancer with unique physical characteristics, and they electrify the populace with their radically new music and dance. This animation uses bold concepts and beautiful visuals to portray the birth of a traditional Japanese performing art. Director Yuasa Masaaki conceived of the medieval hero entertainers as rock stars and is himself one of Japan's leading artists.
"Kids Konference," a hilarious but profound documentary, filmed at a nursery school where children enjoy "conferences" throughout a year.
"Why were you born?", "How can we avoid fighting?", "Who made the universe?" The strange ideas and straightforward words that the children unfold make us laugh and sometimes surprise. Their discussion may give us full of hints for thinking about "how we live in the world without answers."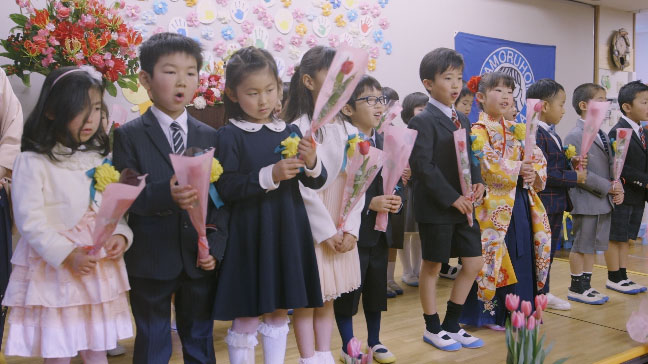 Exclusively for

JFF

this year at House Samyan!
Join our FUN – FACT activity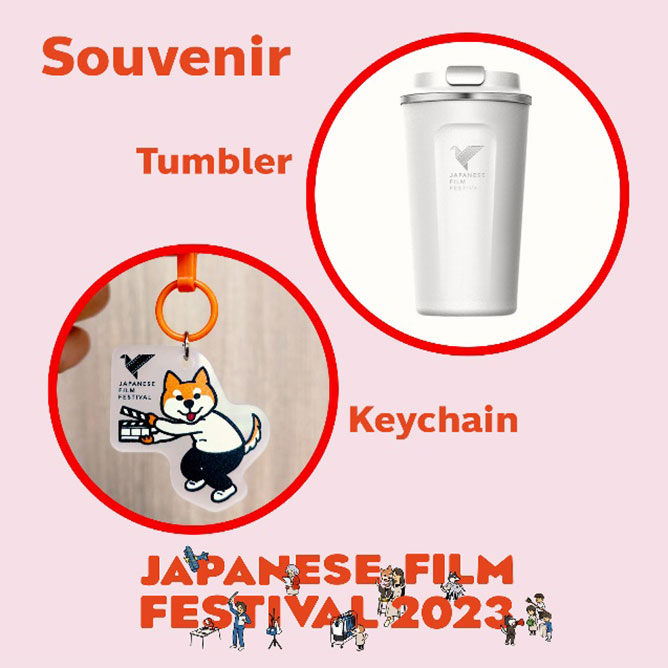 FUN! – Collect stamps to get rewards. After watching a film at our festival, don't forget to answer the questionnaire and get 1 stamp in return.
You can exchange 3 stamps for our limited-edition keychain and 6 stamps for JFF's water bottle.
*Available only while supply lasts.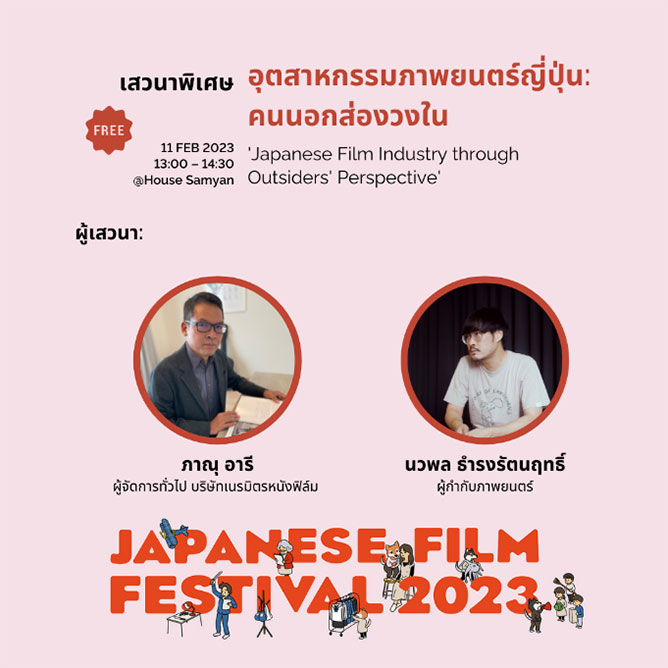 FACT! – special talk with our distinguished speakers on the topic of "Japanese Film Industry through Outsiders' Perspective", on Saturday 11th  February 2023, from 13:00-14:30
*The session will be in Thai.
Screening Schedule at House Samyan, Bangkok
All films have both English and Thai subtitles.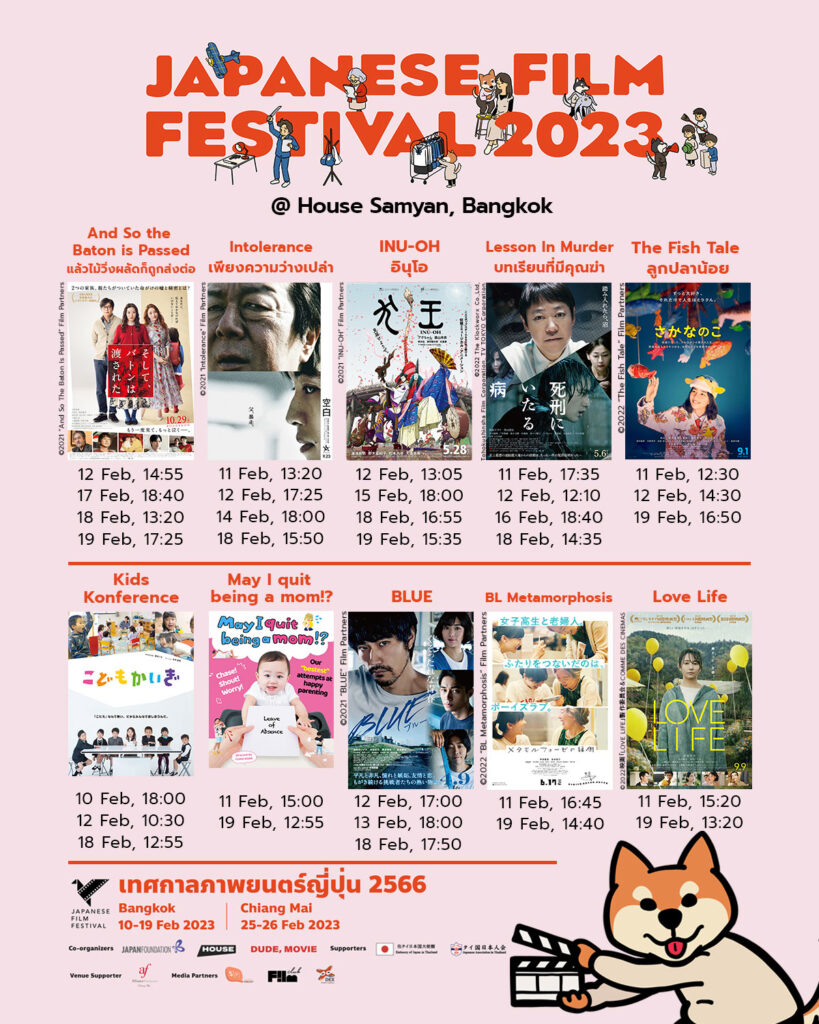 Screening Schedule at Alliance Française de Chiang Mai
All films have both English and Thai subtitles.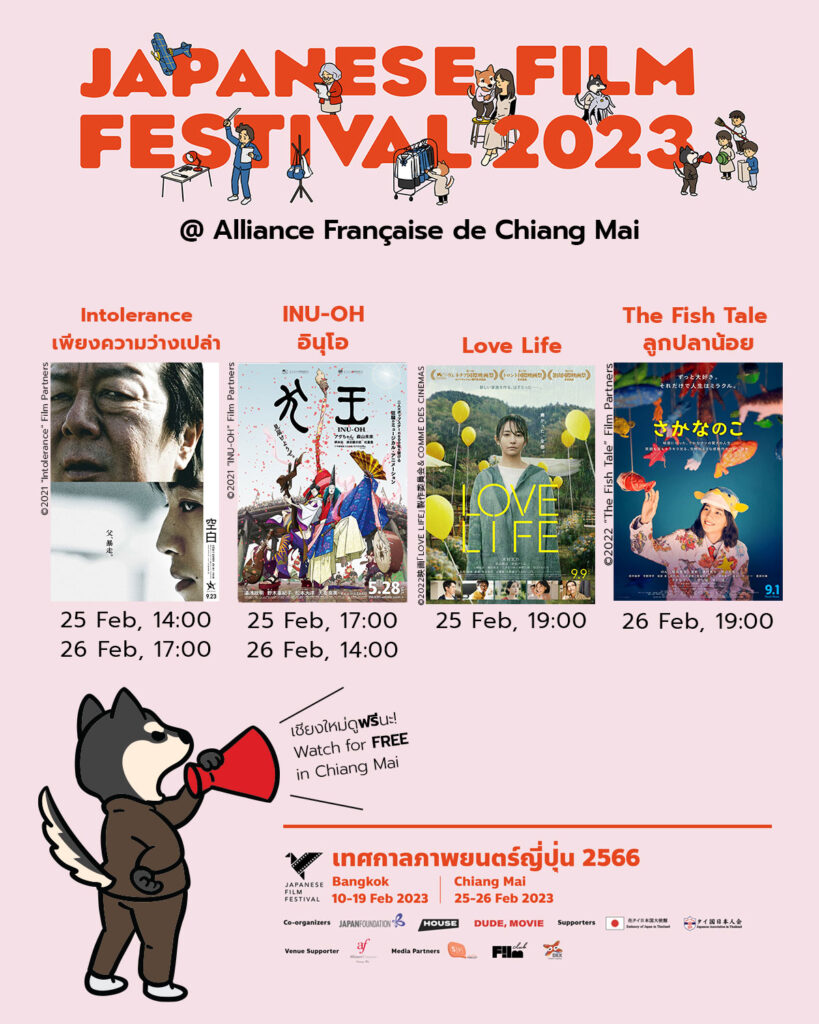 Ticketing
■ Bangkok ■
Ticket fee
160 THB – General Audience
140 THB – House Member
120 THB – Student
Ticket purchase*

1. Box office at House Samyan


2. Online ticketing at:

www.housesamyan.com


*All methods available from January 25th
■ Chiang Mai ■
Ticket fee

Free of Charge

Ticket purchase*
Reserve your seats through

linktr.ee/dude.movie


*All methods available from February 10th
——
Opening Event on 7th February 2023
——
Special talk "Japanese Film Industry through Outsiders' Perspective" on Saturday 11th  February 2023
Contact Information
The Japan Foundation, Bangkok
10th Fl. Serm-mit Tower, 159 Sukhumvit 21, Bangkok 10110
Tel: +66-2-260-8560~3
Email: acdept_jfbkk@jpf.go.jp
Co-organizers

Supporters

Venue and catering partners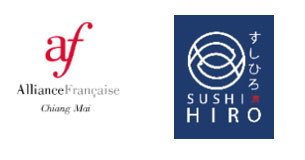 Media partners